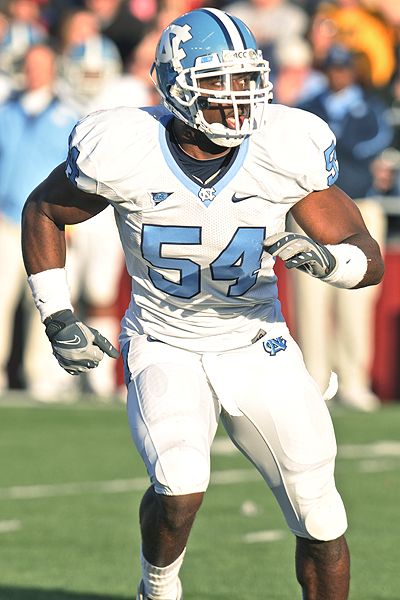 QB / RB / WR / TE / OT / OG / C / DE / DT / OLB / ILB / CB / FS / SS

Bruce Carter
Experience:
Senior |
School:
North Carolina
Height:
6-3 |
Weight:
235 lbs.
Projection:
Round 2-3
Strengths:
Explosive athlete. Has great discipline. Great speed and athleticism. Excellent range; Makes plays all over the field. Can possibly play in a 3-4 scheme. Consistent; Gets to the quarterback. Does well dropping into coverage. Hard worker; Great effort. Shows good leadership.
Weaknesses:
Could bulk up more. Can be overwhelmed by bigger offensive linemen. Takes him longer to diagnose plays than it should. Slow reaction to plays. Will have to recovered from an injury.
2010 Stats:
55 Tackles, 3.5 TFL, 2.5 Sack, INT, Forced Fumble, Fumble Recovered, 2 PBU, Blocked Kick.