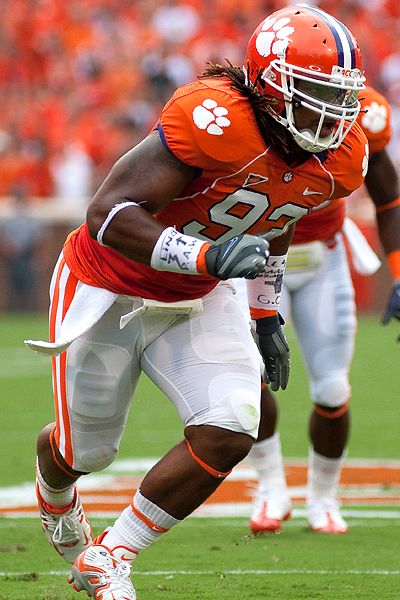 QB / RB / WR / TE / OT / OG / C / DE / DT / OLB / ILB / CB / FS / SS

Da'Quan Bowers*
Experience:
Junior |
School:
Clemson
Height:
6-4 |
Weight:
280 lbs.
Projection:
Top 5
Strengths:
Ideal size for a defensive end. Talented, natural pass rusher. Uses his hands well. Can play most positions among the defensive line. Possesses a variety of pass rush moves. Reads and reacts to plays well. Quick off the ball. Shows good lateral movement. Anchors at the point of attack. Very productive and consistent.
Weaknesses:
Not as strong as he could be. Has trouble changing directions. Can give up on plays occasionally. Potential may have already maxed out. Boom-or-bust prospect.
2010 Stats:
65 Tackles, 24.5 TFL, 15.5 Sacks, INT, 2 PBU.