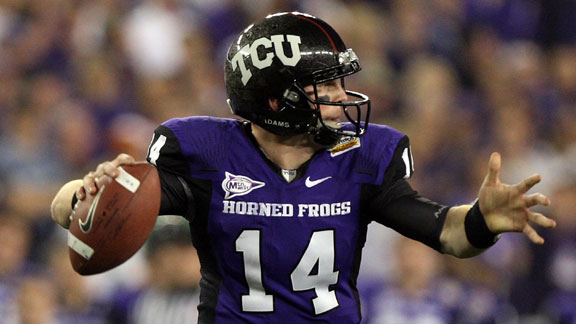 Several teams really cashed in at the 2011 NFL Draft. Whether they filled huge needs or took the best available players, they really drafted well. On the other hand, there were many teams that frustrated their fans by making several head scratching moves. Let's break it down.
Winners

Cincinnati Bengals
First, the Bengals took A.J. Green, the best receiver in the draft to replace Chad Ochocinco and Terrell Owens. But they actually did a great job of filling their needs. They waited for the quarterback they wanted to fall for them, and boom! Andy Dalton is now a Cincinnati Bengal. I also liked the picks of Clint Boling (Guard/Georgia), and Robert Sands (S/West Virginia). Both players filled needs and were solid value picks. I would have liked for them to add some depth to their defensive line, but overall they had an excellent draft.

Houston Texans
Houston did a great job of solidifying their 3-4 defense. J.J. Watt gives them depth at end, and should start opposite Mario Williams at the five technique. Brooks Reed was a steal in round two, but they were also able to trade back in and grab Brandon Harris, to improve their secondary.

Tampa Bay Buccaneers
After doubling up on defensive tackles in the first two rounds last year, they doubled up on two stud defensive ends this year. I was surprised they passed on Da'Quan Bowers in round one, but Adrian Clayborn was a great pick. But somehow, they were able to grab the talented Bowers in round two. They filled needs at linebacker and safety by drafting Mason Foster and Ahmad Black respectively.
Losers

Denver Broncos
Don't get me wrong, the Broncos had a good draft. The problem? They did not address their biggest need, defensive tackle. Taking Von Miller in the first round was questionable because he may not fit into their 4-3 scheme. But then I thought to myself, maybe they'll target a Marvin Austin or a Stephen Paea in round two. Wrong. They had several opportunities in that round and failed to capitalize.

San Diego Chargers
The Chargers may not have had the worst draft, but they made several questionable picks. I mean seriously, what was A.J. Smith and the front office thinking. Passing on Cameron Jordan for Corey Liuget in the first round, not to mention Liuget may not even be a scheme fit. They reach for Marcus Gilchrist, plus cornerback is not a huge need for them. The biggest head scratcher had to be Jonas Mouton in round two. That was a major reach, considering he was a fifth round prospect at best.

Seattle Seahawks
My question is, what were they smoking when making these picks. Seriously, they reached for James Carpenter, and every other player they selected with the exception of John Moffitt. Not to mention, they did not even look at a quarterback or a defensive tackle. They'll be picking in the top ten next year for sure.