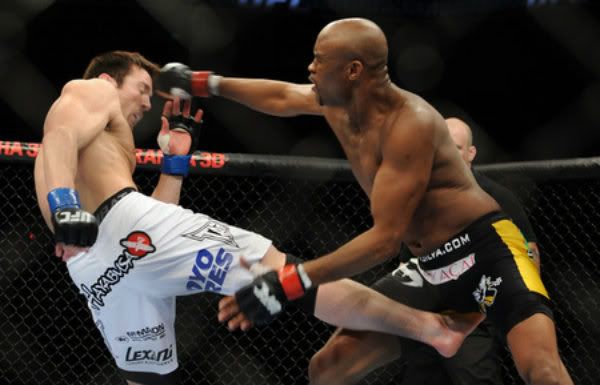 (Champion) Anderson Silva (Right) vs. (Challenger) Chael Sonnen (Left)
Anderson Silva Post Fight Record: 30-4
Chael Sonnen Post Fight Record: 28-12-1
Regarded as the "Greatest Mixed Martial Artist of All Time," the well-rounded Brazilian Anderson Silva looked to defend his Middleweight championship for the 13th successful time.
Sonnen entered this fight extremely confident that he would walk away with the Title, and it was evident that there was some bad blood between the two, especially after the first fight.
Much like in their first fight at UFC 117, Chael Sonnen dominated the first round, but unfortunately for him, this fight was much shorter. Sonnen was the first fighter to really dominate Silva, and I mean dominate. He won pretty much every round in the fight. This time around, the fight began the same way, with Sonnen owning Silva in the early going. He did so by displaying some awesome ground and pound, nothing too flashy or technical, just good old ground and pound. The Bad news for Sonnen, the fight didn't end the way he would've liked.
In their first bout at UFC 117, Chael Sonnen was on his way to victory, that is until he got caught by Anderson Silva and lost by submission. The ending wasn't the same, but the result was. In round 2, Silva did a good job defending take-downs, and landed a few good shots. But ultimately, A huge mistake by Sonnen cost him the fight.
Soonen was feeling very confident about the way the fight was going, but Silva stayed calm and he began to get into rhythm so to speak. This is when it appeared that Sonnen either panicked, or just got a little too over-confident, and he completely whiffed on a spinning back fist, falling to the ground. Not much needs to be explained after that, as the Champion capitalized.
I was very impressed by Anderson Silva's composure. This has always been something I've noticed about him, and it really allows him to zone in. He took an L in round one, but waited for his opponent to make a mistake in round 2 and capitalized.
As for Sonnen, it was another disappointing loss, as he appeared to be on his way to a win over Silva, which as mentioned before, was also the case in their first fight. He is a very confident fighter, which was actually his downfall tonight, but he is a fierce competitor which cannot be taken away from him.
Is Anderson "The Spider" Silva the greatest Mixed Martial Artist ever? I wouldn't argue against it. It's hard to say no. I mean, this is a guy who wins in so many ways and has dominated the competition for years. He is unquestionably the best Middleweight the world has to offer. As for being the greatest? I've learned not to bet against Anderson Silva.