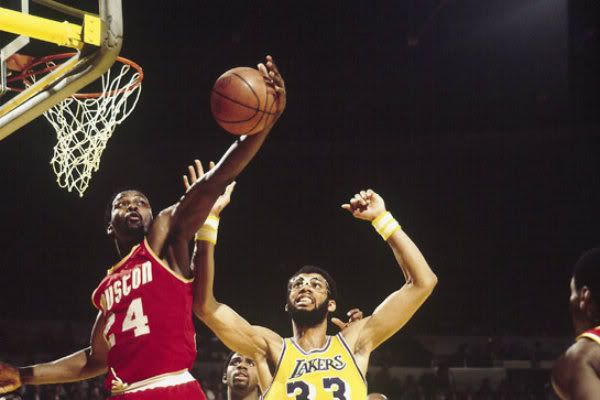 #24 Moses Malone, C, Houston Rockets
Here is something I've wanted to do for a long time now, assemble the greatest starting 5 ever with some of the greatest players to ever lace 'em up. Here is my fifth team.
First Team | Second Team | Third Team | Fourth Team | Fifth Team
Point Guard:
Bob Cousy
6-1, 175 lbs.
Retirement Age: 42 | Experience: 20 Years
Analysis:
Bob Cousy is a Celtic great. Not only that, he was one of the first great point guards in the NBA.
He led the league in assists for 10 straight seasons, as he was a great distributor. He also averaged about 18 points a game.

Shooting Guard:
George Gervin
6-7, 180 lbs.
Retirement Age: 38 | Experience: 18 Years
Analysis:
George Gervin was a great scorer in the NBA. He led the league in scoring on several occasions.
One of the staple players for the Spurs franchise, Gervin is considered one of the top shooting guards in league history.
Small Forward:
John Havlicek
6-5, 203 lbs.
Retirement Age: 38 | Experience: 16 Years
Analysis:
John Havlicek was known as a great all-around player who was a very key player in 8 Celtics championships. A 13-Time All-Star as well, Havlicek was a good scorer and rebounder, and is still one of the more underrated players of all-time.
Power Forward:
Moses Malone
6-10, 260 lbs.
Retirement Age: 40 | Experience: 19 Years
Analysis:
Moses Malone jumped straight into the NBA from high school and made an impact immediately. A 3-Time MVP and 12-Time All-Star, Malone is highly regarded as an all-time great.
An excellent rebounder and a very good scorer, Malone was one of the centers for the better part of 19 years, and spend a good amount of time at the 4.
Center:
David Robinson
7-1, 235 lbs.
Retirement Age: 37 | Experience: 14 Years
Analysis:
David Robinson is one of the better centers in league history, posting impressive career averages of 21 and 11, while scoring efficiently. He's also a former league MVP.
One knock on Robinson is that he didn't win a championship until Tim Duncan arrived, but who cares? That doesn't take away from the fact that Robinson was a top 20 player, and a two time NBA champion.