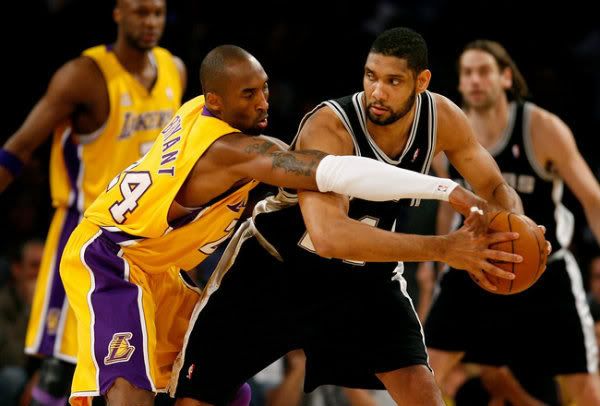 #32 Kobe Bryant, SG, Los Angeles Lakers (Left) | #21 Tim Duncan, PF, San Antonio Spurs (Right)
Here is something I've wanted to do for a long time now, assemble the greatest starting 5 ever with some of the greatest players to ever lace 'em up. Here is my second team.
First Team | Second Team | Third Team | Fourth Team | Fifth Team
Point Guard:
Oscar Robertson
6-5, 220 lbs.
Retirement Age: 36 | Experience: 14 Years
Analysis:
"The Big O" or "Mr. Triple-Double" as I like to call him, is another All-Time great with an excellent all-around game. At just 6-5, Robertson played like he was 6-10, rebounding better than most bigs.
Robertson is the only player in NBA history to average a triple-double in a season, and for his career, he averaged 26, 10 & 8. He won his only championship teamed up with Kareem in Milwaukee.
While some will knock him for his lack of playoff success, Oscar Robertson is a top 10 player of all-time, and should not be overlooked.
Shooting Guard:
Kobe Bryant
6-6, 205 lbs.
Current Age: 33 | Experience: 16 Years
Analysis:
Kobe Bryant has cemented his status as a top 10 player of all-time, and some would even say top 5. While I won't go that far, there is no doubt that Kobe defines greatness.
The closest thing to a modern day Jordan, Kobe is arguably the second best scorer of all-time. While his all-around game in terms of rebounding and assist numbers aren't great, they are above-average and compare favorably to Jordan's.
Defensively, Kobe is one of the greatest at his position, locking down the opposing team's best player(s) on many occasions, and he's made the All-Defensive First Team 9 times.
Most importantly, Kobe is clutch, constantly reliable in late game situations, he always delivers, and he's closest to Jordan in that regard as well. His 5 championships are nothing to sneeze at either.
Small Forward:
LeBron James
6-8, 250 lbs.
Current Age: 27 | Experience: 9 Years
Analysis:
LeBron James will go down as a top 10 player for sure, and has a chance to go down as the second greatest player of all-time. Now that he has a ring, he is now in the top ten conversation right now, but I'll wait until next year to move him into the top 10.
At this point "King" James is probably the greatest athlete to ever play the game. He has an impressive all-around game comparable to the likes of Magic, Bird, and Oscar Robertson. He is the modern day point forward.
His physique, basketball talent, and play making ability make him unique, and once he wins a few more tiles, we'll be talking about LeBron James vs. Michael Jordan.
Power Forward:
Tim Duncan
6-11, 255 lbs.
Current Age: 36 | Experience: 15 Years
Analysis:
While far from flashy, Tim Duncan is one of the greatest to ever do it, and he is by far the best power forward of all-time. His all-around game is impressive, and he is a huge reason that David Robinson has 2 rings.
Consistency is what makes Duncan so great, and he has put up impressive numbers for 15 years now. Statistical dominance wasn't really what Duncan was about, but yet he still dominated both ends of the floor.
He has led his Spurs teams to four NBA Championships, and yet people still overlook him as a top 10 player of All-Time.
Center:
Wilt Chamberlain
7-1, 275 lbs.
Retirement Age: 36 | Experience: 14 Years
Analysis:
Based on statistics, Wilt Chamberlain is the G.O.A.T. He was the most dominant player of his era, or any era for that matter.
"The Big Dipper" averaged a remarkable 38 points and 27 rebounds as a rookie, winning both the Rookie of the Year and MVP awards. He is also the only player to average 50 and 40 points per game in a season, and let's not forget he scored 100 points in a game, and pulled down 55 rebounds against Bill Russell.
The knock on Wilt is that he dominated in a fast-paced basketball era with smaller players and less defense. Could Wilt Dominate in this era? With all of the new NBA rule changes, he could, even in a slower paced NBA.