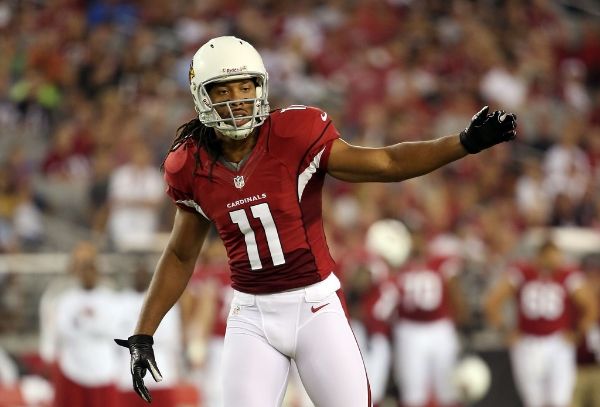 #11, Larry Fitzgerald, WR, Cardinals
































*Click on a team's logo to go to their draft recap and season outlook page. A few will be posted each day in alphabetical order.

Arizona Cardinals
Division: NFC West | Last Season Record: 5-11
What Needed to be addressed in the Draft:
The Cardinals gave up a league high 58 sacks last season, so obviously they needed to address the offensive line early. To be specific, the left tackle position and the right guard position needed to be upgraded.
The Cardinals best pass rushing linebacker last season was Daryl Washington, their weakside inside linebacker. Sam Acho, their top pass rushing outside linebacker has 11 sacks in his first two seasons. Adding another pass rushing linebacker would make a lot of sense.
Arizona added Antoine Cason and Jerraud Powers via free agency, but neither of them projects as a strong number two corner. Also, the Cardinals should look to add at least one or two safeties in the middle rounds.
2013 NFL Draft Individual Grades:

7. Jonathan Cooper, OG
Experience:
Senior |
School:
North Carolina
Height:
6-2 |
Weight:
311 lbs.
Analysis:
The Cardinals missed out on Fisher, Joeckel, and Johnson, so I give them props for not reaching for D.J. Fluker. And with the top pass rushers off the board, they chose to upgrade the guard position by drafting Jonathan Cooper. I thought Chance Warmack would be a better fit for Bruce Arians' offense, but Cooper is a solid, and "safe" pick for them.
Grade:
B+

45. Kevin Minter*, ILB
Experience:
Junior |
School:
Louisiana State
Height:
6-0 |
Weight:
246 lbs.
Analysis:
They traded back and drafted a stud inside linebacker who should start next to Daryl Washington for the next several years. Well done by Arizona. Arthur Brown is the better player, but Minter is a good fit for them.
Grade:
A-

69. Tyrann Mathieu*, CB
Experience:
Junior |
School:
Louisiana State
Height:
5-9 |
Weight:
186 lbs.
Analysis:
I wouldn't have touched Mathieu until the fourth round if at all. Based on his talent, this is really good value for the Cardinals, and it's the perfect situation for him to stay on track and focus on football.
Grade:
B-

103. Alex Okafor, DE/OLB
Experience:
Senior |
School:
Texas
Height:
6-5 |
Weight:
262 lbs.
Analysis:
The best pick of the entire draft for the Cards up to this point. Alex Okafor was a late first round prospect IMO, so getting him in the fourth round is an absolute steal. Okafor should pair with Sam Acho to form a solid pass rushing linebacker tandem.
Grade:
A+

116. Earl Watford, OG
Experience:
Senior |
School:
James Madison
Height:
6-3 |
Weight:
300 lbs.
Analysis:
Most of the top interior linemen were gone, but Earl Watford was a reach in the fourth round. There was better value at tackle and even quarterback. However, Watford is a nice developmental guard that could pair nicely with Jonathan Cooper down the line.
Grade:
D+

140. Stepfan Taylor, RB
Experience:
Senior |
School:
Stanford
Height:
5-9 |
Weight:
213 lbs.
Analysis:
Stepfan Taylor is a good investment at running back, considering the top two runners on Arizona's roster are injury-prone. Considering that Taylor could have easily been a day 2 pick, this is great value for the Cardinals.
Grade:
A

174. Ryan Swope, WR
Experience:
Senior |
School:
Texas A&M
Height:
6-0 |
Weight:
203 lbs.
Analysis:
His concussion history is apparently why Swope fell to the sixth round, but I love this pick by the Cardinals. They need a slot receiver, which is where Swope projects in the NFL.
Grade:
A+

187. Andre Ellington, RB
Experience:
Senior |
School:
Clemson
Height:
5-9 |
Weight:
199 lbs.
Analysis:
Well, I had a second round grade on Andre Ellington, so this is an excellent value pick. Andre Ellington may be the best running back in pass protection in the draft, and is a talented runner. At worst, he'll be a change-of-pace back early.
Grade:
A+

219. D.C. Jefferson, TE
Experience:
Senior |
School:
Rutgers
Height:
6-6 |
Weight:
255 lbs.
Analysis:
I didn't have Jefferson as a draftable prospect, but he's an interesting developmental tight end and they needed to add another one.
Grade:
C+
2013 NFL Draft Overall Review:
Analysis:
New Cardinals GM Steve Keim had a great draft in his first year. It's hard to penalize the Cardinals for not addressing their left tackle position when the top three were off the board, and guys like Terron Armstead and Menelik Watson would be projects in round 2, and they need an immediate fix.
Other than that, the Cardinals filled a huge hole on the offensive line at guard, and added an inside linebacker to pair with Daryl Washington. Their biggest need on defense was a pass rushing linebacker, and a first round talent in Alex Okafor fell in their lap in the fourth round.
Quarterback could have been addressed in the middle rounds, but with Brian Hoyer and Drew Stanton on the roster, they did not have to draft a developmental guy this year. However, I would have liked to see them add another defensive back or two, but overall, the Cardinals had some great value picks and filled some big needs.
Overall Grade:
A-
Undrafted Free Agent Signings:

Tony Jefferson*, FS
Experience:
Junior |
School:
Oklahoma
Height:
5-11 |
Weight:
213 lbs.
Analysis:
This time last year, I projected Tony Jefferson as a borderline first round pick. Fast forward a year later, Jefferson was not even drafted. He really struggled this season and played more like a late round pick down the stretch.
I still thought a team would take him early on day 3, because he's that talented. The Cardinals need a long-term answer at safety, and I expect Jefferson to make the roster and compete for a starting job down the line. Love this signing.
Other Free Agent Signings
Dan Buckner, WR, Arizona
Joe Caprioglio, OL, Colorado State
Javon Harris, S, Oklahoma
Jamaal Johnson-Webb, OL, Alabama A&M
Padric Scott, DT, Florida A&M
Ronnie Yell, CB, San Jose State
Michael Zordich, FB, Penn State
Analysis:
The Cardinals had a great draft, and had a really good off-season overall. Trading for Carson Palmer was a good move because it gives them an obvious short-term upgrade at the position, and he is a great fit in Bruce Arians's offense. If Palmer struggles or gets injured, they have two pretty good backups in Drew Stanton and Brian Hoyer.
The offensive line is still a question mark, because Levi Brown is currently projected to protect Carson Palmer's blindside. Besides that, the rest of the offensive line is in better shape. With Jonathan Cooper replacing Adam Snyder, the interior of the offensive line has improved, not to mention right tackle Bobby Massie showed promise last year.
In terms of weapons, Palmer has a much better supporting cast than he did in Oakland. One of the best receivers in football, Larry Fitzgerald finally has someone to throw him the football. Michael Floyd is expected to take the next step this year, while Andre Roberts returns as a solid #3 receiver. Add Ryan Swope to the mix, and this is a really good group of receivers, and Rob Housler is also expected to have a bigger role in the offense.
The Cardinals got better at running back as well. Andre Ellington and Stepfan Taylor may have been late round draft picks, but both boast the talent to see the field early and often this upcoming season, especially if Rashard Mendenhall and Ryan Williams struggle to stay healthy.
On the defensive side of the ball, they should be even better. They have two of the best 5 technique defensive ends in the league in Calais Campbell and Darnell Dockett. Both are good pass rushers, and Dockett will have more of an opportunity to rush the passer in the new defensive scheme. There is also depth with guys like Matt Shaughnessy and Frostee Rucker. Nose Dan Williams can still improve, but was pretty good in limited snaps.
With Sam Acho and Alex Okafor at outside linebacker, the Cardinals have a legit pass rushing duo, and I really like O'Brien Schofield as a third pass rusher. Once Daryl Washington comes back from his 4-game suspension, he'll pair with Kevin Minter to form a solid inside linebacker tandem.
Antoine Cason is expected to start opposite Patrick Peterson, but he has to be more consistent. They have decent depth with Jerraud Powers and Javier Arenas (acquired via trade on May 1st), so the secondary is in much better shape. Rashad Johnson is expected to step up for the departed Kerry Rhodes, and Yeremiah Bell is a decent short term option at free safety. Tyrann Mathieu will get some playing time early, and could prove to be a long-term option at free safety.
Analysis:
Arizona is currently picking 7th overall in my
2014 NFL Mock Draft
, which is where they picked in this year's draft. The NFC West is so tough with the 49ers and Seahawks being legitimate Super Bowl contenders, not to mention the Rams are a borderline playoff team. The moves made this off-season were good ones, and I do think the Cardinals could pull of an 8-8 record, but that won't get them into the playoffs.
Projected Record:
6-10 (Worst Case) | 8-8 (Best Case)
Projected Finish:
4th in the NFC West; Result: Miss the playoffs.