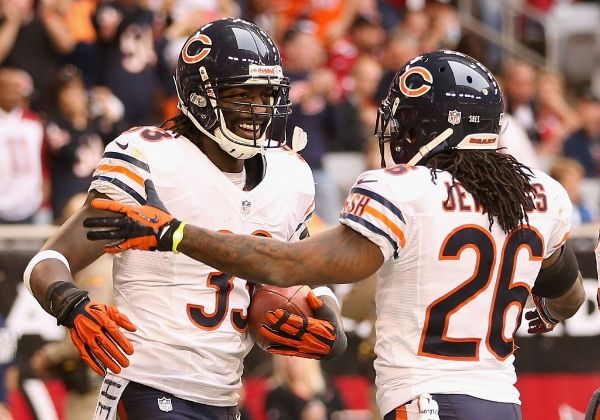 #33, Charles Tillman, CB, Bears | #26 Tim Jennings, CB, Bears
































*Click on a team's logo to go to their draft recap and season outlook page. A few will be posted each day in alphabetical order.

Chicago Bears
Division: NFC North | Last Season Record: 10-6
What Needed to be addressed in the Draft:
The Bears just missed the playoffs last year. The biggest thing that needed to be addressed this offseason was the offensive line. One or two players in the middle rounds who could challenge for a starting job.
In the first round, replacing middle linebacker Brian Urlacher should be a priority. Arthur Brown, Manti Te'o, Alec Ogletree, or even Kevin Minter would make sense.
Other than that, the Bears could use depth at corner and on the defensive line. Finding another play maker, whether it is a receiver or a tight end makes sense as well.
2013 NFL Draft Individual Grades:

20. Kyle Long, OT/OG
Experience:
Senior |
School:
Oregon
Height:
6-6 |
Weight:
313 lbs.
Analysis:
This was not a terrible pick, but Kyle long is a 2nd-3rd round prospect. He's versatile, and has upside, but he is a definite reach with the 20th pick. It's a shame, because the Bears could have drafted one of the first round linebackers and still had Long in the second round.
Grade:
D+

50. Jonathan Bostic, MLB
Experience:
Senior |
School:
Florida
Height:
6-1 |
Weight:
245 lbs.
Analysis:
The Bears reached again in the second round, but it wasn't a huge reach. Bostic should be a solid middle linebacker at the next level, but they really should have gone with Arthur Brown. However, they fill a major need.
Grade:
B-

117. Khaseem Green, OLB
Experience:
Senior |
School:
Rutgers
Height:
6-1 |
Weight:
240 lbs.
Analysis:
Khaseem Green is a steal in the fourth round. I'm a little higher on him than most, but the converted safety knows how to find the football and force turnovers. He's a future starter at outside linebacker.
Grade:
A

163. Jordan Mills, OT
Experience:
Senior |
School:
Louisiana Tech
Height:
6-5 |
Weight:
316 lbs.
Analysis:
Another really good pick by the Bears. Jordan Mills could have gone in the 3rd or 4th round, and he could be a long term upgrade over J'Marcus Webb at right tackle.
Grade:
A-

188. Cornelius Washington, DE
Experience:
Senior |
School:
Georgia
Height:
6-4 |
Weight:
265 lbs.
Analysis:
I have no clue how Cornelius Washington was still on the board. He could have gone as early as the second round, so in the sixth round, he's an absolute steal.
Grade:
A+

236. Marquess Wilson*, WR
Experience:
Junior |
School:
Washington State
Height:
6-3 |
Weight:
194 lbs.
Analysis:
A projected first round pick before the season, Wilson ended the season off of the Washington State football team. He has the talent, and could pay off big time for the Bears.
Grade:
A+
2013 NFL Draft Overall Review:
Analysis:
The Bears had just six picks in the draft. They started off by reaching for Kyle Long in the first round. The good thing about Long is that he is versatile, and he has the upside to be a Pro Bowl guard or tackle. They could have gotten him in the second round, so that hurts their overall grade.
Other than that, they filled their needs at outside and middle linebacker with Khaseem Green and Jonathan Bostic. They also got a potential starting right tackle in the 5th round in Jordan Mills. Also, Marquess Wilson could be a solid contributor in year one.
Secondary depth is still needed, but it's not a huge issue, and I also would have liked to see them draft a developmental quarterback. Overall, very good draft for GM Phil Emery.
Overall Grade:
B+
Undrafted Free Agent Signings:

Michael Ford*, RB
Experience:
Junior |
School:
Louisiana State
Height:
5-10 |
Weight:
210 lbs.
Analysis:
Ford probably shouldn't have declared for the draft, but he is a pretty talented back who I can see making the roster. The Bears need a third back behind Matt Forte and Michael Bush.

Mark Harrison, WR
Experience:
Senior |
School:
Rutgers
Height:
6-3 |
Weight:
231 lbs.
Analysis:
Mark Harrison was a 6th or 7th round prospect, so I am a little surprised no one drafted him. He could also make the roster for depth purposes.
Other Free Agent Signings
Josh Lenz, WR, Iowa State
PJ Lonergan, C, LSU
Zach Minter, DT, Montana State
Brent Russell, DT, Georgia Southern
Tress Way, P, Oklahoma
C.J. Wilson, CB, North Carolina State
Analysis:
Jay Cutler was sacked 38 times last season, which is still too many times. Jermon Bushrod is overrated, but he is their best option at left tackle, so it was a quality signing (not taking money into consideration). Matt Slauson was also a nice free agent pick up, and could start at left guard until Kyle Long is ready. The offensive line is in much better shape, but there is still cause for concern.
Cutler finally has a tight end to throw to in Martellus Bennett. The Bears probably should have drafted another tight end at some point, but they made up for it by getting a potential steal in round 7 with Marquess Wilson. Cutler should have a pretty big year with Brandon Marshall, Alshon Jeffery and company as his receivers.
The Bears will be just as good getting after the quarterback this season with Julius Peppers and Corey Wootton and the end spots and Henry Melton as their interior rusher. Not to mention adding Cornellius Washington to go along with last year's first round pick Shea McClellin.
D.J. Williams and James Anderson are solid stop gaps at middle linebacker and weakside linebacker respectively. Their presences will allow the rookies to learn from two veterans.
And of course, the secondary is still looking strong. The Bears have one of the top corner tandems in football with Charles Tillman and Tim Jennings on the outside. They also have two up and coming safeties. They don't have a ton of depth at corner, however.
Analysis:
Chicago is currently picking 22nd overall in my
2014 NFL Mock Draft
. They chose 20th in this year's draft. The Bears almost made the post-season in 2012, but expect them to at least be a wild card playoff team in 2013. They have made some nice improvements, and have really helped out Jay Cutler this season. Combine that with a strong veteran defense, and they could challenge Green Bay for the NFC North title.
Projected Record:
10-6 (Worst Case) | 12-4 (Best Case)
Projected Finish:
2nd in the NFC North; Result: Lose in the Wild Card Round