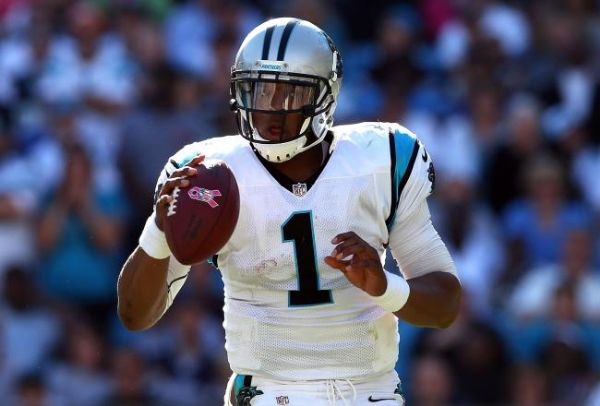 #1, Cam Newton, QB, Panthers
































*Click on a team's logo to go to their draft recap and season outlook page. A few will be posted each day in alphabetical order.

Carolina Panthers
Division: NFC South | Last Season Record: 7-9
What Needed to be addressed in the Draft:
The Panthers are a young, up and coming team in the NFL, and they have a lot of talent on both sides of the ball.
Their biggest need has to be at defensive tackle. They struggle against the run, and should try to take advantage of a very good defensive tackle class.
The secondary is cause for concern, as they desperately need to come away with a starting safety as well as another corner, at least for depth purposes.
Steve Smith is 34, and won't be around much longer. Giving Cam Newton another weapon makes sense. This is a deep receiver class, so they should take advantage of that as well.
Besides left tackle Jordan Gross and Center Ryan Kalil (Suffered season-ending injury), the Panthers offensive line struggled. Byron Bell was better at right tackle, but that isn't saying much. Second round rookie Amini Silatolu struggled as well, but should improve. Spending one or two picks on offensive linemen would make some sense.
2013 NFL Draft Individual Grades:

14. Star Lotulelei, DT
Experience:
Senior |
School:
Utah
Height:
6-3 |
Weight:
314 lbs.
Analysis:
I loved this pick. Arguably the best player in this draft fell all the way to the 14th pick, and the Panthers did a great job of picking him up. He fills a huge need for them at defensive tackle, and the value is excellent in the middle of the first round.
Grade:
A+

44. Kawann Short, DT
Experience:
Senior |
School:
Purdue
Height:
6-3 |
Weight:
308 lbs.
Analysis:
I didn't expect them to double-dip on defensive tackles, but this is such a big need for them that I can't argue with it. Kawann Short is one of the better interior pass rushers in this draft, and should form a formidable interior with Star Lotulelei. Also, another great value pick.
Grade:
B+
108. Edmund Kugbila, OG
Experience:
Senior |
School:
Valdosta State
Height:
6-4 |
Weight:
317 lbs.
Analysis:
The Panthers pass on safeties again and reach for a late-round guard prospect. There were several other offensive lineman on the board that would have made sense here. Not a fan of this pick.
Grade:
D

148. A.J. Klein, ILB
Experience:
Senior |
School:
Iowa State
Height:
6-1 |
Weight:
250 lbs.
Analysis:
Klein is a 6th-7th round prospect IMO, so this is another reach. The good news? Klein provides immediate depth and a potential starter down the line. The bad news? They still did not address the secondary up to this point.
Grade:
C-

182. Kenjon Barner, RB
Experience:
Senior |
School:
Oregon
Height:
5-9 |
Weight:
193 lbs.
Analysis:
I thought Barner could come off the board in the 4th round, so this is a steal. But they already have two good running backs, and they drafted not one defensive back or receiver. That's not good.
Grade:
B-
2013 NFL Draft Overall Review:
Analysis:
Carolina only had 5 picks in the 2013 NFL Draft, but did not attempt to draft a receiver or a defensive back. The good news about this draft is that the Panthers got two potential Pro Bowl defensive tackles.
First round pick Star Lotulelei was arguably the best player in the draft and fell to the Panthers. He was easily the steal of the first round. Kawann Short in the second round was also good.
The last three picks didn't make much sense IMO. Edmund Kugbila was a reach at guard in the fourth round, A.J. Klein was also a reach, and will only give them depth in the near future, while Kenjon Barner did not fill a need at all.
Overall Grade:
C+
Undrafted Free Agent Signings:

Robert Lester, SS
Experience:
Senior |
School:
Alabama
Height:
6-1 |
Weight:
211 lbs.
Analysis:
Robert Lester was one of the top Undrafted Free Agents out there, so kudos to Carolina for signing him. He should have been drafted, and can actually be a starter down the line.

Wes Horton, DE
Experience:
Senior |
School:
Southern California
Height:
6-5 |
Weight:
255 lbs.
Analysis:
Wes Horton is talented enough to make the roster, and would provide some needed depth at defensive end. He never really put it together at USC, but he has a chance in the league.
Other Free Agent Signings
Colby Cameron, QB, Louisiana Tech
Taylor Cook, TE, Rice
Trey Diller, WR, Sam Houston State
Bryan Jean-Pierre, DL, William & Mary
Damario Jeffery, LB, South Carolina
Pete Kontodiakos, P, Colorado State
Morgan Lineberry, K, Abilene Christian
Tori Mobley, G, Jacksonville State
Tyler Morgan, LS, Georgia Tech
Jesse Peterson, OT, Wheaton
Craig Roh, DE, Michigan
Melvin White, CB, Louisiana Lafayette
Analysis:
Cam Newton started off the season a little slow, but turned it around quickly, and was even better in his sophomore season. Expect Newton to take another step forward this season.
The protection is shaky, but the good news is that Jordan Gross will be protecting Newton's blindside once again, not to mention center Ryan Kalil will be back from injury. They did not get the opportunity to address the offensive line with just five picks.
In terms of weapons, does Cam Newton have enough? Steve Smith can flat out play, still going strong at the age of 34. But the Panthers really needed to add a receiver at some point during the draft. Good news is that the Panthers should be one of the best rushing teams again with Newton, Jonathan Stewart, DeAngelo Williams, and Kenjon Barner carrying the rock.
The biggest strength of their defense is their pass rush. They have two stud defensive ends in Charles Johnson and Greg Hardy. Each had double digit sacks. Frank Alexander and potentially Wes Horton would be right behind them on the depth chart.
Luke Kuechly will only get better, and will slide inside and start at middle linebacker. Jon Beason will be their strongside linebacker. If Beason and Thomas Davis can somehow stay healthy, the linebacker unit could be strong.
The Panthers don't have a number one corner. That is a problem in a division with receivers like Julio Jones, Roddy White, Vincent Jackson, and Marques Colston. Look for them to struggle once again against the pass.
Analysis:
Carolina is currently picking 11th overall in my
2014 NFL Mock Draft
. They chose 14th in this year's draft. The Panthers got much better at defensive tackle, but that's about it. They haven't made the moves necessary for this team to make the playoffs. Cam Newton will throw to the same receivers this year with not one addition.
Projected Record:
6-10 (Worst Case) | 8-8 (Best Case)
Projected Finish:
4th in the NFC South; Result: Miss the Playoffs