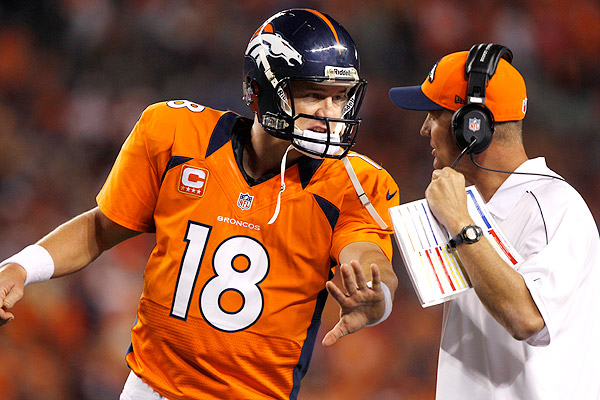 #18 Peyton Manning, QB, Broncos
































*Click on a team's logo to go to their draft recap and season outlook page. A few will be posted each day in alphabetical order.

Denver Broncos
Division: AFC West | Last Season Record: 13-3
What Needed to be addressed in the Draft:
Led by Peyton Manning, the Broncos ripped off 11 straight wins to end the regular season. Unfortunately, they lost to Baltimore in the Divisional round. A few more additions could help them get to the Super Bowl.
Their needs are on the defensive side of the ball. Elvis Dumervil is a big loss, and his production will be missed. Someone like Tank Carradine or Bjoern Werner in round one make sense.
The middle of the Bronco's defense is weak. The defensive tackle position needs to be upgraded, they need a middle linebacker, and they also need a strong safety.
Adding another running back makes sense as well. Preferably, some one who knows how to pass protect and contribute as a receiver on third down.
2013 NFL Draft Individual Grades:

28. Sylvester Williams, DT
Experience:
Senior |
School:
North Carolina
Height:
6-2 |
Weight:
311 lbs.
Analysis:
I'm a little surprised that they passed on Carradine, but Sylvester Williams is a pretty good a pick. He's a good fit in this defense, and has the talent to be a force on the interior. I did view him as more of a second round pick, but not a big reach.
Grade:
B+

58. Montee Ball, RB
Experience:
Senior |
School:
Wisconsin
Height:
5-11 |
Weight:
210 lbs.
Analysis:
The Broncos reached for Montee Ball. They passed on Eddie Lacy, Andre Ellington, and other more talented backs. Ball is a good fit, however, and is actually a well-rounded back.
Grade:
C+

90. Kayvon Webster, CB
Experience:
Senior |
School:
South Florida
Height:
5-10 |
Weight:
197 lbs.
Analysis:
You do not draft for depth in the third round when you have obvious need. You also don't reach for a projected undrafted prospect in the third round. Kayvon Webster is fast, and has some talent, but this was a very bad pick IMO.
Grade:
D-

146. Quanterus Smith, DE
Experience:
Senior |
School:
Western Kentucky
Height:
6-5 |
Weight:
250 lbs.
Analysis:
Smith tore his ACL during the season, but was on his way to being a potential Day 2 pick. They still waited a long time to add a pass rusher, but Smith is a steal. He gets to face D.J. Fluke twice a year, whom he dominated this season.
Grade:
A-

161. Tavarres King, WR
Experience:
Senior |
School:
Georgia
Height:
6-0 |
Weight:
189 lbs.
Analysis:
Denver could use another receiver for depth purposes, and this is pretty nice value. Tavarres King could be an early contributor for the Broncos
Grade:
B+

173. Vinston Painter, OT
Experience:
Senior |
School:
Virginia Tech
Height:
6-1 |
Weight:
243 lbs.
Analysis:
Painter is a good pick for depth purposes, but he is also a slight reach. They could have had Reid Fragel or David Quessenberry.
Grade:
B-

234. Zac Dysert, QB
Experience:
Senior |
School:
Miami (OH)
Height:
6-3 |
Weight:
231 lbs.
Analysis:
If Brock Osweiler is not the heir-apparent to Peyton Manning, Zac Dysert might be. Even if he isn't, Dysert could continue to develop and be traded for a mid-round pick down the line. 7th round steal.
Grade:
A+
2013 NFL Draft Overall Review:
Analysis:
The Broncos had a disappointing draft. They got a nice pass rusher in the 5th round in Quanterus Smith, but they still should have addressed this earlier.
Also, the middle of their defense is still a weakness. They didn't come away with a starting middle linebacker or a starting safety to pair with Rahim Moore.
The Broncos had a strange draft last year, but some of their picks have proved to be pretty good ones so far, but unless the same thing happens again, we'll just have to see.
Overall Grade:
C+
Undrafted Free Agent Signings:

Lerentee McCray, OLB
Experience:
Senior |
School:
Florida
Height:
6-2 |
Weight:
250 lbs.
Analysis:
McCray should have come off the board in the 4th or 5th round, but instead went undrafted. He's an excellent UDFA pickup by Denver. McCray got the best of 2nd overall pick Luke Joeckel in their SEC matchup this season. He could be a valuable rotational pass rusher.
Other Free Agent Signings
C.J. Anderson, RB, California
Kemonte Bateman, WR, New Mexico State
Ryan Doerr, P, Kansas State
Manase Foketi, OT, West Texas A&M
Aaron Hester, CB, UCLA
Ryan Katz, QB, San Diego State
Uona Kaveinga, LB, BYU
Gary Mason, DE, Baylor
Quincy McDuffie, WR, Central Florida
Ross Rasner, S, Arkansas
Lucas Reed, TE, New Mexico State
Doug Rippy, LB, Colorado
Lamaar Thomas, WR, New Mexico
John Youboty, DE, Temple
Analysis:
The Broncos didn't improve much this off-season, but they were a legitimate Super Bowl contender before, so there is no reason to think differently now.
Peyton Manning is still one of the best in the business. He really helped Demaryius Thomas take that next step last season, and Thomas should be even better this year. Eric Decker and now Wes Welker are going to be very productive. One could say that it's not fair for Manning to have these weapons at his disposal.
Manning was sacked just 21 times last season. His offensive line is really good, and they get even better after signing former Chargers guard Louis Vasquez.
Hopefully, Willis McGahee can get back on track. If not, rookie second round pick Montee Ball may be relied on more, because I'm not sure Knowshon Moreno will be the answer.
As stated above, the defense as a whole could hold this team back from making the Super Bowl. They haven't truly replaced Elvis Dumervil in the long term, but Shaun Phillips is a nice addition, and he'll be paired with All-Pro outside linebacker Von Miller.
The interior of the defensive line will be much better with the additions of first round pick Sylvester Williams and free agent acquisition Terrance Knighton. They'll need Robert Ayers to step up as a pass rushing defensive end.
The Broncos have an excellent group of corners. Champ Bailey is back, and he's still one of the best in the game. Chris Harris and Tony Carter are two young up and coming corners, and they also added former first round pick Dominique Rodgers-Cromartie.
Rahim Moore didn't end the season well, but he is a classic center fielder at free safety. They failed to upgrade the other safety spot, and they don't have a reliable middle linebacker, so that's an issue.
Analysis:
Denver is currently picking 31st overall in my
2014 NFL Mock Draft
. They chose 28th in this year's draft. The Broncos are viewed my many as the favorites to represent the AFC in the Super Bowl. Peyton Manning and Von Miller are the two biggest reasons why. Manning has the talent around him to make it happen, and I believe the Broncos have enough defensively, even though the middle of their defense is suspect.
Projected Record:
12-4 (Worst Case) | 14-2 (Best Case)
Projected Finish:
1st in the AFC West; Result: Lose in the Super Bowl