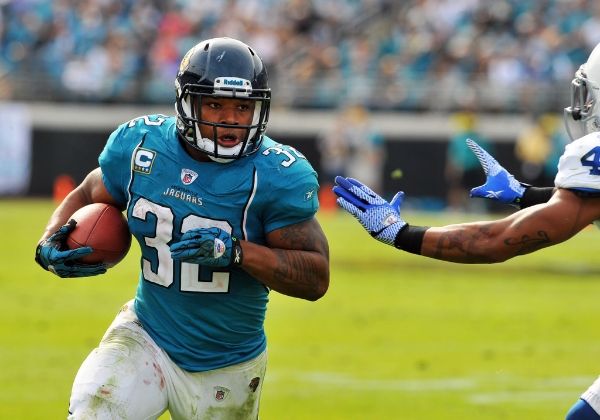 #32 Maurice Jones-Drew, RB, Jaguars
































*Click on a team's logo to go to their draft recap and season outlook page. A few will be posted each day in alphabetical order.

Jacksonville Jaguars
Division: AFC South | Last Season Record: 2-14
What Needed to be addressed in the Draft:
The Jaguars have a new regime in place. David Caldwell takes over as GM, while former Seahawks Defensive Coordinator Gus Bradley is now head coach.
The Jaguars have a ton of needs, as they have one of the worst overall rosters in football. Since all of them cannot be filled, certain positions stand out more than others.
Blaine Gabbert has been inept as a starter, but this quarterback class doesn't offer many prospects, if any, who are guaranteed to be better than Gabbert. Improving the offensive line and giving him some weapons makes a lot of sense.
Having just 20 sacks and being one of the worst teams versus the run means Jacksonville has to address the defensive line early and often. They also need to upgrade at both outside linebacker spots and come away with a few starting defensive backs.
2013 NFL Draft Individual Grades:

2. Luke Joeckel*, OT
Experience:
Junior |
School:
Texas A&M
Height:
6-6 |
Weight:
306 lbs.
Analysis:
Based on positional value, this pick doesn't make much sense. However, Joeckel was arguably the best player available, and will be an immediate starter at right tackle. David Caldwell stayed true to his board and to be honest, there weren't many players worth this pick.
Grade:
A-

33. Johnathan Cyprien, SS
Experience:
Senior |
School:
Florida International
Height:
6-1 |
Weight:
208 lbs.
Analysis:
I wasn't going to question them for not taking a quarterback here, as they landed the second best safety in the draft at the top of the second round. They need play makers on defense, and Cyprien is just that. He could be a Kam Chancellor type of player for Gus Bradley.
Grade:
A+

64. Dwayne Gratz, CB
Experience:
Senior |
School:
Connecticut
Height:
5-11 |
Weight:
201 lbs.
Analysis:
Dwayne Gratz isn't more talented than teammate Blidi Wreh-Wilson, but is more physical, and is a really good fit in Gus Bradley's defense. He's a slight reach here however, as there were better corners available.
Grade:
B-

101. Ace Sanders*, WR
Experience:
Junior |
School:
South Carolina
Height:
5-7 |
Weight:
173 lbs.
Analysis:
This was pretty nice value for Ace Sanders. I'm not going to call him a "Poor man's Tavon Austin," but Sanders is a less dynamic version of Austin. He projects as a slot receiver.
Grade:
B-

135. Denard Robinson, RB
Experience:
Senior |
School:
Michigan
Height:
5-11 |
Weight:
199 lbs.
Analysis:
Once again, this is pretty good value for Denard Robinson. He could be a receiver, but his best position will be as a change of pace running back to complement Maurice Jones-Drew. He could also help out in the return game.
Grade:
B+

169. Josh Evans, FS
Experience:
Senior |
School:
Florida
Height:
6-1 |
Weight:
207 lbs.
Analysis:
Many people believe Josh Evans is a better prospect than his teammate Matt Elam who went in the second round. He should have come of the board at least in the 4th or 5th round, so he is a steal in the 6th. He fits Gus Bradley's scheme and can play either safety spot.
Grade:
A-

208. Jeremy Harris, CB
Experience:
Senior |
School:
New Mexico State
Height:
6-2 |
Weight:
184 lbs.
Analysis:
The Jaguars need secondary depth. While there were a few corners graded a higher, this is the right range for Harris, a big corner that should fill out the depth chart.
Grade:
B-

210. Demetrius McCray, CB
Experience:
Senior |
School:
Appalachian State
Height:
6-1 |
Weight:
187 lbs.
Analysis:
McCray is arguably a better prospect than Jeremy Harris, so this is a pretty good pick. Gus Bradley loves big corners, and he could turn one of these two into starters.
Grade:
B
2013 NFL Draft Overall Review:
Analysis:
Gus Bradley had a plan, and I really like what the Jaguars did in the draft. Luke Joeckel was arguably the best player on the board at #2, and even though he will play right tackle, they understand that right tackles are just as important as left tackles in today's NFL.
Johnathan Cyprien should have been a first round pick, and should be an immediate starter next to free safety Dwight Lowery, with Josh Evans getting a lot of playing time. Two late round sleepers at corner could impress enough to earn substantial playing time as well, along with 3rd round pick Dwayne Gratz.
Also, I really liked the Ace Sanders and Denard Robinson picks. Both will contribute in some way, shape, or form this season, and could prove to be nice weapons for quarterback Blaine Gabbert.
With just 7 picks and a ton of needs, it's understandable that the Jaguars could not address all of them. However, they could not rush the passer or stop the run last year, so the defensive line as a whole needed some attention, as well as linebacker.
But David Caldwell and company get the benefit of the doubt. This is a two year project, and they made some really good picks that will pay off down the road.
Overall Grade:
B
Undrafted Free Agent Signings:

Matt Scott, QB
Experience:
Senior |
School:
Arizona
Height:
6-3 |
Weight:
212 lbs.
Analysis:
Matt Scott looked like a potential 3rd round target for Jacksonville. It's no surprise they ended up signing him. He's a developmental quarterback who's worth a shot as a UDFA.

Ryan Otten, TE
Experience:
Senior |
School:
San Jose State
Height:
6-6 |
Weight:
241 lbs.
Analysis:
With no depth at tight end, this signing makes a lot of sense, especially since Ryan Otten should have been a mid-round pick.

Lonnie Pryor, FB
Experience:
Senior |
School:
Florida State
Height:
5-11 |
Weight:
227 lbs.
Analysis:
The Jaguars lost starting Fullback Greg Jones, so they could try to replace him with Lonnie Pryor, bu top rated fullback.
Other Free Agent Signings
TJ Barnes, DT, Georgia Tech
Uriah Grant, DT, Mississippi
Jeremiah Green, LB, Nevada
Paul Hazel, DE, Western Michigan
Abry Jones, DT, Georgia
Stephane Milhim, OG, Massachusetts
Kyler Reed, TE, Nebraska
LaRoy Reynolds, OLB, Virginia
Jordan Rodgers, QB, Vanderbilt
Carson Tinker, LS, Alabama
Trey Wilson, CB, Vanderbilt
Mike Zimmer, LB, Illinois State
Analysis:
The Jaguars finished 2-14 and drafted second overall. The team has improved, but as expected, not by a whole lot. GM Gus Bradley has a plan, and it is starting to come to fruition.
Blaine Gabbert was inept as a starter last season, but is actually pretty decent when he has time to throw. That is why it made sense to draft Luke Joeckel, ans now they have their bookend tackles with Eugene Monroe on the left side. The interior of the offensive line still isn't very good, but hopefully Will Rackley and Uche Nwaneri can improve.
Justin Blackmon is facing a four-game suspension. When he returns, he should be the top receiver. Cecil Shorts was arguably their best receiver throughout the season last year, and they did a good job giving their quarterback more weapons with Mohamed Massaquoi, Ace Sanders, and potentially Ryan Otten.
Maurice Jones-Drew missed 10 games last year, but will be the focal point of the offense if he can stay healthy, with Justin Forsett and former Michigan quarterback Denard Robinson being change-of-pace backs.
The Jaguars lost several defensive backs this off-season, but they took 5 total in the draft. They are set at safety with Dwight Lowery, Johnathan Cyprien, and even Josh Evans. They are pretty deep at corner, but they currently don't have a reliable starter on the outside.
The front seven has to be the weakest unit on defense. Jeremy Mincey had just three sacks after a contract year, Jason Babin is inconsistent, and Andre Branch was not a factor last season. Their situation at defensive tackle isn't much better. Tyson Alualu is a borderline bust, while they're hoping Roy Miller can replace Terrance Knighton.
And unfortunately, once you get to the second level, it doesn't get any better in terms of their projected starting linebackers. As I stated above, this is a two year project at the least, so this team is built for the future.
Analysis:
Jacksonville is currently picking 2nd overall in my
2014 NFL Mock Draft
. They chose 2nd in this year's draft. Expectations for the Jaguars will be low, and they won't sell a lot of tickets. Don't expect them to get blown out constantly. They'll stay in games and compete, and hopefully Blaine Gabbert can show that he's the quarterback for this team going forward. If not, they'll be targeting Teddy Bridgewater in next year's draft.
Projected Record:
3-13 (Worst Case) | 5-11 (Best Case)
Projected Finish:
4th in the AFC South; Result: Miss the Playoffs