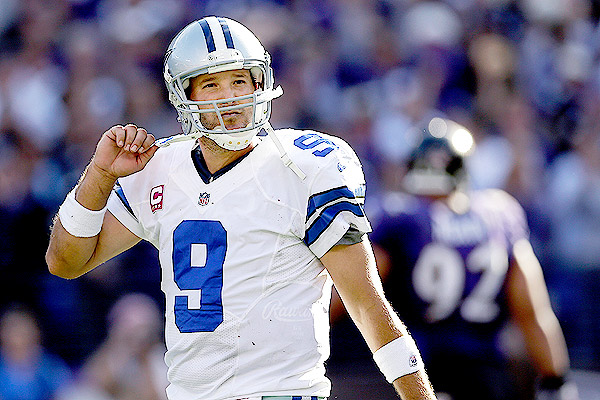 #9 Tony Romo, QB, Cowboys
































*Click on a team's logo to go to their draft recap and season outlook page. A few will be posted each day in alphabetical order.

Dallas Cowboys
Division: NFC East | Last Season Record: 8-8
What Needed to be addressed in the Draft:
America's team always has a ton of pressure on them every year. Most of the pressure will be on Tony Romo once again, after receiving a 6 year, $108 million extension.
Their top priority has to be keeping him upright. Upgrading over Doug Free at right tackle is a start, and they desperately need to upgrade the interior of their offensive line as well.
Moving to a 4-3 defense under Monte Kiffin, the Cowboys need the right personnel do make it happen. Safety is a huge issue for them. In fact, they should probably draft two safeties.
Also, they should take advantage of a deep defensive line class by adding a defensive tackle and another pass rushing end at some point during the draft. They could also use another linebacker.
2013 NFL Draft Individual Grades:

31. Travis Frederick*, OG/C
Experience:
Junior |
School:
Wisconsin
Height:
6-4 |
Weight:
312 lbs.
Analysis:
This pick was ridiculous. First of all, Jerry Jones traded back to the 31st pick and only got a third rounder back. Then they pass on Sharrif Floyd and Johnathan Cyprien. They end up reaching for an interior lineman. Don't get me wrong, Frederick is a solid interior lineman who will be an immediate starter, and is a great fit, but they could have possibly gotten him in round 2.
*I thought about this pick more, and Frederick was actually a second rounder to me, so it's not as big of a reach as others think it is IMO. Plus, as I stated above, Frederick is a great fit, and will be an immediate starter at either guard or center. I still have to penalize them for not getting great value in the trade back.
Grade:
C+

47. Gavin Escobar*, TE
Experience:
Junior |
School:
San Diego State
Height:
6-6 |
Weight:
248 lbs.
Analysis:
Don't get me wrong, the value was nice here, but the Cowboys started off the draft making some strange picks. Reaching for a need in round one, then getting good value on a position that they don't desperately need in round two? They could have had Tyler Eifert in the first round in that case, but Escobar is a stud, and I'm all for giving Tony Romo more weapons.
Grade:
B-

74. Terrance Williams, WR
Experience:
Senior |
School:
Baylor
Height:
6-2 |
Weight:
207 lbs.
Analysis:
Luckily for them, the safety class is deep, so taking a receiver here was a pretty nice move. Terrance Williams was once projected as a first round pick. The Cowboys don't have a true #3 receiver, and Williams can be that as well as a deep threat. He'll eventually start opposite Dez Bryant.
Grade:
B+

80. JJ Wilcox, SS
Experience:
Senior |
School:
Georgia Southern
Height:
6-1 |
Weight:
216 lbs.
Analysis:
Waiting until the third round to address the safety position is acceptable, but Wilcox was a reach here. Guys like Phillip Thomas, Shamarko Thomas, and Bacarri Rambo were all available, so passing on them for Wilcox is questionable. The good news is that the former running back has the potential to be a starting strong safety..
Grade:
C

114. B.W. Webb, CB
Experience:
Senior |
School:
William & Mary
Height:
5-10 |
Weight:
183 lbs.
Analysis:
Very solid pick by Dallas in the fourth round. Webb is a late 3rd round prospect, so this is pretty good value. Not only that, but he gives them much needed depth at corner.
Grade:
B+

151. Joseph Randle*, RB
Experience:
Junior |
School:
Oklahoma State
Height:
6-0 |
Weight:
202 lbs.
Analysis:
Joseph Randle was a very productive back at Oklahoma State. He will be a great third down back, and even though he is very similar to DeMarco Murray, he should be a nice back to complement him. Good value in the 5th round.
Grade:
A-

185. DeVonte Holloman, OLB
Experience:
Senior |
School:
South Carolina
Height:
6-1 |
Weight:
243 lbs.
Analysis:
Their best pick of the draft may be this one. DeVonte Holloman will start out on special teams, but he will be a future starter at outside linebacker. Love the value here, as he could have been a third round pick.
Grade:
A
2013 NFL Draft Overall Review:
Analysis:
The Cowboys reached for Travis Frederick in the first round, then turned around and drafted Gavin Escobar in the second round. Jerry Jones will either look smart, or dumb a few years from now.
They only drafted one safety in JJ Wilcox, and he was a reach in the third round, and may not be an immediate starter. However, Terrance Williams, B.W. Webb, Joseph Randle, and DeVonte Holloman were are really good picks. They were all good value picks, and each of these players should contribute early this season.
The big concern is if they did enough to help Tony Romo. They only drafted one offensive lineman. Also, they didn't really try to address the defensive line, which is disappointing since this was a great defensive line class. Overall, it was actually a decent draft.
Overall Grade:
C+
Undrafted Free Agent Signings:

Cameron Lawrence, OLB
Experience:
Junior |
School:
Mississippi State
Height:
6-3 |
Weight:
230 lbs.
Analysis:
Cameron Lawrence was a very productive player at Mississippi State. It will be interesting to see how his game translates to the NFL, but he could make the roster as a special teamer.

Brandon Magee, OLB
Experience:
Senior |
School:
Arizona State
Height:
6-0 |
Weight:
227 lbs.
Analysis:
Magee is small, but he is a late round talent worth taking a chance on as a UDFA. He has 6.5 sacks in his final season at Arizona state, and gives the Cowboys much needed linebacker depth.
Other Free Agent Signings
Spencer Benton, K, Clemson
Xavier Brewer, CB, Clemson
Paul Freedman, H-Back, Virginia
Jakar Hamilton, FS, South Carolina State
Jeff Heath, DB, Saginaw Valley State
Greg Herd, WR, Eastern Washington
Deon Lacey, LB, West Alabama
Kendall Lawrence, RB, Missouri
Taylor Reed, LB, Southern Methodist
Eric Rogers, WR, Cal Lutheran
B.J. Stewart, TE, Cumberland
Dalton Williams, QB, Akron
Analysis:
The Cowboys have to be the most hated team in the NFL. They constantly put pressure on themselves and have missed the playoffs the last two years.
When it comes to the Cowboys' offense, Tony Romo is one of the better quarterbacks in the NFL, and when it comes to regular season productivity, there aren't too many that can do what he does.
Dez Bryant was huge for them last season, and hopefully both he and Miles Austin can stay healthy this year. With Terrance Williams in the mix, look for Dwayne Harris to step up as the #4 receiver. And of course, he still has his security blanket in Jason Witten, and he lobbied for Jerry Jones and company to take Gavin Escobar in the second round.
Other than left tackle Tyron Smith and possibly center Travis Frederick, the rest of the offensive line needs to be improved. Doug Free cannot be the starting right tackle at the beginning of the season. Hopefully the Cowboys can sign a Tyson Clabo or Eric Winston to play right tackle.
The Cowboys only have two reliable pass rushers. Believe it or not, Anthony Spencer was arguably better than DeMarcus Ware last year, but that just means the Cowboys have two elite defensive ends (I have to get used to saying that). Passing on Sharrif Floyd at 18 could cost them, as they don't really have a strong interior.
Sean Lee and Bruce Carter are studs at Middle Linebacker and Strongside Linebacker respectively. If they can stay healthy, then the second level of the defense will be in good shape. Justin Durant is a decent stop gap starter at weakside linebacker.
The Cowboys are strong at corner. In their second years in Dallas, look for Brandon Carr and Morris Claiborne to be much better this season (both were above average last season). They don't have much depth at corner, but Orlando Scandrick and B.W. Webb are solid #3 and #4 corners respectively.
The safety position is still a major issue. Barry Church is expected to start at free safety, but is he the answer? Next to him, the situation doesn't look much better. Veteran Will Allen is expected to claim that starting spot.
Analysis:
Dallas is currently picking 15th overall in my
2014 NFL Mock Draft
. They chose 18th in this year's draft. The Cowboys expectations will be very high as they always are. My expectations are not. The safety position is still a major concern, as is the interior of the defensive line. Speaking of interior, Tony Romo will probably still face a ton of pressure up the middle, and there is still no solution at right tackle. Another mediocre season is in the cards, but they can still make it very interesting in the NFC East.
Projected Record:
8-8 (Worst Case) | 10-6 (Best Case)
Projected Finish:
3rd in the NFC East; Result: Miss the Playoffs