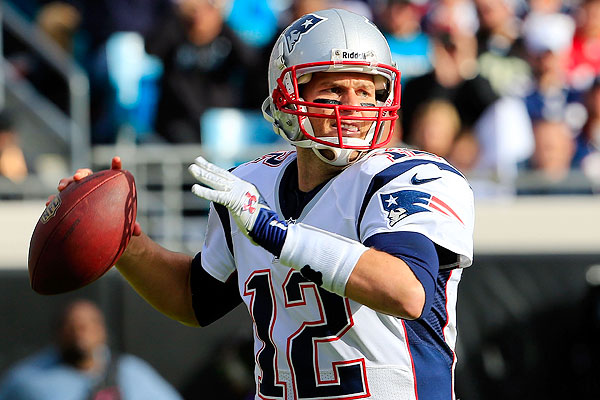 #12 Tom Brady, QB, Patriots
































*Click on a team's logo to go to their draft recap and season outlook page. A few will be posted each day in alphabetical order.

New England Patriots
Division: AFC East | Last Season Record: 12-4
What Needed to be addressed in the Draft:
The Patriots desperately need to give Tom Brady some more receivers. They actually need to come away with at least 2, maybe even three. One of them has to be a #1 guy.
Besides offensive line depth, the Patriots should look to target another pass rusher at some point, and should look to find a starting defensive back.
2013 NFL Draft Individual Grades:

52. Jamie Collins, OLB
Experience:
Senior |
School:
Southern Mississippi
Height:
6-4 |
Weight:
250 lbs.
Analysis:
The Patriots are a base 4-3 team, but they still give 3-4 looks, so Jamie Collins is an interesting pick. They don't have great depth at linebacker, and needed another pass rusher, so Collins makes sense.
Grade:
B

59. Aaron Dobson, WR
Experience:
Senior |
School:
Marshall
Height:
6-3 |
Weight:
211 lbs.
Analysis:
Is Aaron Dobson the answer at receiver for New England? He has nice size, speed, and great hands. I believe he can be a great fit, but there isn't a ton of upside with Dobson. Plus, they could have had Markus Wheaton, Keenan Allen, or Terrance Williams.
Grade:
C+

83. Logan Ryan*, CB
Experience:
Junior |
School:
Rutgers
Height:
5-11 |
Weight:
191 lbs.
Analysis:
Bill Belichick loves Rutgers players, but he may have found a really good one in the third round. Logan Ryan is a talented corner who gives them depth and a future starter down the line.
Grade:
B+

91. Duron Harmon, SS
Experience:
Senior |
School:
Rutgers
Height:
6-1 |
Weight:
200 lbs.
Analysis:
What's with the love for Rutgers defenders? In a very talented and deep safety class, the Patriots chose to reach for a late rounder with better safeties on the board.
Grade:
D-

102. Josh Boyce*, WR
Experience:
Junior |
School:
Texas Christian
Height:
5-11 |
Weight:
206 lbs.
Analysis:
Josh Boyce is a bit of a reach here, but he's pretty talented, and the Patriots need another receiver. He gives them some more speed at the position.
Grade:
B-

226. Michael Buchanan, DE
Experience:
Senior |
School:
Illinois
Height:
6-5 |
Weight:
255 lbs.
Analysis:
Michael Buchanan flashed at times during his career at Illinois. Though he never put it together, he has high upside as a pass rusher as either a 4-3 defensive end or a 3-4 outside linebacker. Great value in the 7th round.
Grade:
A

235. Steve Beauharnais, MLB
Experience:
Senior |
School:
Rutgers
Height:
6-1 |
Weight:
234 lbs.
Analysis:
Actually a good value pick. They don't have a reliable backup to Brandon Spikes so this pick makes sense.
Grade:
B
2013 NFL Draft Overall Review:
Analysis:
An average draft class for the Patriots. Aside from some really good value picks: Michael Buchanan and Steve Beauharnais, it wasn't that impressive.
Coming away with two receivers was the goal, but coming away with Aaron Dobson and Josh Boyce won't turn a lot of heads. Both can and should contribute early, but neither may be the weapon that Tom Brady needs.
Also, the Patriots failed to draft an offensive lineman. They should have drafted a guard to challenge Dan Connolly, and needed offensive line depth in general.
Overall Grade:
C
Undrafted Free Agent Signings:

Matt Stankiewitch, C
Experience:
Senior |
School:
Penn State
Height:
6-3 |
Weight:
302 lbs.
Analysis:
Stankiewitch was a draftable prospect at center. He could give the Patriots some needed depth on the interior of the offensive line.
Other Free Agent Signings
Ryan Allen, P, Louisiana Tech
Ben Bartholomew, FB, Tennessee
Elvis Fisher, OT, Missouri
Brandon Ford, TE, Clemson
Cory Grissom, DT, South Florida
Quenton Hines, RB, Akron
Brandon Jones, CB, Rutgers
Josh Kline, OL, Kent State
T.J. Moe, WR, Missouri
Stephen Morris, CB, Penn State
Jason Stegman, LS, Southern Illinois
Zach Sudfeld, TE, Nevada
Ken Thompkins, WR, Cincinnati
Analysis:
The Patriots may not be the most "talented" team in the NFL, but they are arguably the best "team" in the NFL. They are well coached, and they have arguably the greatest quarterback of all time in Tom Brady.
Speaking of Brady, he had a career high quarterback rating of 77.1 and didn't have a ton of receiving help. Wes Welker is gone, but a healthy Danny Amendola should fills that slot role nicely. Even after adding Aaron Dobson in the second round, the Patriots don;t have a ton of talented outside receiver. Rob Gronkowski's health is a concern, but when healthy, he and Aaron Hernandez are the best tight end duo in football.
Re-signing Sebastian Vollmer was their best move this off-season. He is just as important as left tackle Nate Solder, as he is one of the best right tackles in the league. Logan Mankins is still holding his own at guard, while Ryan Wendell is a quality starting center. Dan Connolly needs to improve, as there is currently no one on the depth chart behind him, but this is one of the better offensive lines in the league.
The Patriots now have an established running game. Stevan Ridley was phenomenal last season, rushing for nearly 1,300 yards, and averaged 4.4 yards per carry. Shane Vereen is also talented, and it will be interesting to see if LeGarrette Blount steals a few carries form Brandon Bolden.
Last year's first round pick Chandler Jones recorded 6 sacks in 14 games during his rookie season. Look for him to "breakout" this season and potentially record double-digit sacks. Paired with Rob Ninkovich, and underrated pass rusher, as well as Jamie Collins this team should be better at getting to the quarterback this season. The addition of Tommy Kelly is a solid one, as he solidifies the interior of that defensive line along with Vince Wilfork.
The Patriots may have the best group of young linebackers in the league. Jerod Mayo played at an All-Pro level, Brandon Spikes was a top 10 inside linebacker, and rookie Dont'a Hightower performed well.
The pass defense has always been a liability for this team. They have some talent, but inconsistent play and injuries have hurt them. Aqib Talib and Alfonzo Dennard are expected to start the season as the top two corners, and both should be even better in their second seasons with the Pats. Ras-I Dowling and rookie Logan Ryan provide nice depth, and potentially spot starters.
Since moving to safety, Devin McCourty has played really well. Instead of pairing with Patrick Chung, Adrian Wilson will start at the strong safety spot. He'll play limited snaps while their younger safeties Tavon Wilson and possibly Steve Gregory will be worked in.
Analysis:
New England is currently picking 29th overall in my
2014 NFL Mock Draft
. They chose 29th in this year's draft. They should be much better against the pass, and should be even better getting to the quarterback. This is good, because as long as Tom Brady is at quarterback, he's good enough to scare the hell out of defenses, regardless of the quality of receivers.
Projected Record:
12-4 (Worst Case) | 14-2 (Best Case)
Projected Finish:
1st in the AFC East; Result: Lose in Conference Championship