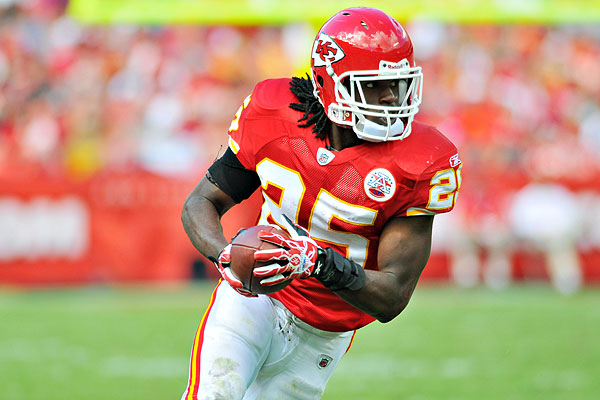 #25 Jamaal Charles, RB, Chiefs
































*Click on a team's logo to go to their draft recap and season outlook page. A few will be posted each day in alphabetical order.

Kansas City Chiefs
Division: AFC West | Last Season Record: 2-14
What Needed to be addressed in the Draft:
The Chiefs are a very talented team despite having finished 2-14. New quarterback Alex Smith has to stay upright for him to have success, so addressing the offensive line early is a priority.
They also need another inside linebacker, a defensive end that can rush the passer, another pass rushing outside linebacker. and another running to complement Jamaal Charles.
2013 NFL Draft Individual Grades:

1. Eric Fisher, OT
Experience:
Senior |
School:
Central Michigan
Height:
6-7 |
Weight:
304 lbs.
Analysis:
Whether it was Luke Joeckel or Eric Fisher, the Chiefs almost had to draft a left tackle. Eric Fisher has the athletic upside to be a better player than Joeckel, and should be the Chiefs' starting left tackle for the next decade. Even if Branden Albert is not traded, Fisher was too good to pass on.
Grade:
A-

63. Travis Kelce, TE
Experience:
Senior |
School:
Cincinnati
Height:
6-5 |
Weight:
255 lbs.
Analysis:
The Chiefs had other needs they could have addressed here. They already have Tony Moeaki and Anthony Fasano, so tight end wasn't really a need. Travis Kelce is probably a second round talent, but this pick didn't make much sense to me.
Grade:
C+

96. Knile Davis*, RB
Experience:
Junior |
School:
Arkansas
Height:
5-11 |
Weight:
227 lbs.
Analysis:
Based on talent, Knile Davis is a good pick here. Based on where he should have gone, this is a reach. Davis is not the perfect complementary back to Jamaal Charles. Plus, he looked more like a late rounder on tape and fumbled a lot. I once though that Davis could be the first running back drafted, but I have mixed feelings about this pick.
Grade:
C-

99. Nico Johnson, ILB
Experience:
Senior |
School:
Alabama
Height:
6-2 |
Weight:
250 lbs.
Analysis:
Nico Johnson could emerge as a starter next to Derrick Johnson. This is about the right range for him so this is a pretty decent pick.
Grade:
B-

134. Sanders Commings, CB
Experience:
Senior |
School:
Georgia
Height:
6-0 |
Weight:
216 lbs.
Analysis:
This pick makes much more sense after trading Javier Arenas. Sander Commings may also be able to play safety, so this is a good pick.
Grade:
B+
170. Eric Kush, C
Experience:
Senior |
School:
California (PA)
Height:
6-4 |
Weight:
313 lbs.
Analysis:
Eric Kush wasn't a draftable prospect IMO, so the Chiefs reached for him when they could have addressed other positions.
Grade:
C-

204. Braden Wilson, FB
Experience:
Senior |
School:
Kansas State
Height:
6-4 |
Weight:
251 lbs.
Analysis:
They acquired fullback Anthony Sherman after this pick, but I won't factor that into this grade. Wilson could compete for the starting job, but this is a reach for a team with other areas they could address.
Grade:
C-

207. Mike Catapano, DE/OLB
Experience:
Senior |
School:
Princeton
Height:
6-3 |
Weight:
270 lbs.
Analysis:
Catapano could be one of the steals of the draft. He can definitely outplay his draft position. I believe he'll stand up in their 3-4 scheme.
Grade:
A-
2013 NFL Draft Overall Review:
Analysis:
Not a fan of the Chiefs draft. I liked the Eric Fisher and Mike Catapano picks. Everything in between, however, not so much.
I haven't given a D grade to this point, because it's not necessary. C- is most likely the lowest I will go, and only if I feel like their draft was slightly less than average.
The Chiefs didn't come away with many sure-fire starters, and did not get good value on most of their picks. Even the Eric Fisher pick could prove to be questionable.
Overall Grade:
C-
Undrafted Free Agent Signings:

Tyler Bray*, QB
Experience:
Junior |
School:
Tennessee
Height:
6-6 |
Weight:
229 lbs.
Analysis:
The Chiefs may have signed their future franchise quarterback. Tyler Bray went from being the potential number one overall pick before the season, to an undrafted free agent. He is the most talented QB in this class, and may have the best arm. However, his mechanics, accuracy, and decision making all need work, and he needs to be mentally tougher.

Bradley McDougald, FS
Experience:
Senior |
School:
Kansas
Height:
5-10 |
Weight:
215 lbs.
Analysis:
McDougald was a 5th or 6th round prospect who slid out of the draft. He could make the roster and give the Chiefs needed depth at safety.
Other Free Agent Signings
Dayne Crist, QB, Kansas
Darin Drakeford, LB, Maryland
E.J. Epperson, DE, Mississippi
Frankie Hammond, WR, Florida
Demetrius Harris, UW-Milwaukee
A.J. Hawkins, OL, Mississippi
CJ Jones, DB, Texas A&M
Kaderius Lacey, RB, Alabama A&M
TJ Knowles, TE, Sacramento State
Rob Lohr, DL, Vanderbilt
Brad Madison, DE, Missouri
Josh Martin, DE/OLB, Columbia
Josh Martin, OLB, Columbia
Toben Opurum, DE/LB, Kansas
Rico Richardson, WR, Jacksonville State
Jordan Roberts, RB, Charleston
Raheem Stanley, DT, New Haven
Darryl Stonum, WR, Michigan
Analysis:
The Chiefs finished 2-14 and drafted first overall. There is a lot of talent on this team, and they have the right GM, Head Coach, and quarterback in place to potentially make a playoff push.
If Branden Albert isn't traded, the Chiefs will be set (at least this season) at both tackle spots, which is good news for Alex Smith. Jon Asamoah is solid at right guard. Left guard Jeff Allen has to improve, and center Rodney Hudson needs to stay healthy.
Alex Smith has some weapons to work with. Dwayne Bowe should be more consistent now that he has a quarterback that can get him the ball. They'll need third year receiver Jon Baldwin to step up this year as the number two receiver, and I like Donnie Avery as a deep threat.
This team will be built on running the football, however. This makes sense, as the Chiefs have one of the best running backs in the league in Jamaal Charles. Knile Davis will be counted on to take some of the carries as a rookie. He could be a star, or he could be a bust.
We know where the pass rush will come from. Tamba Hali and Justin Houston combined for 19 sacks, and are likely to duplicate that success this season. It would be much easier if the guys up front could generate some pressure, but that won't happen.
The strength of the defense might be the secondary. Former Dolphins corner Sean Smith will pair with Brandon Flowers, while Dunta Robinson will be the #3 corner. 5th round pick Sanders Commings also looks like he'll be able to make an impact early. Kendrick Lewis will have to step it up, as will Eric Berry.
Analysis:
Kansas City is currently picking 10th overall in my
2014 NFL Mock Draft
. They chose 1st in this year's draft. The Chiefs were a better team than their record indicated last year, and now that they have a quarterback, they'll be much better. Good enough to make the playoffs? Possibly, but don't bet on that.
Projected Record:
7-9 (Worst Case) | 9-7 (Best Case)
Projected Finish:
2nd in the AFC West; Result: Miss the Playoffs