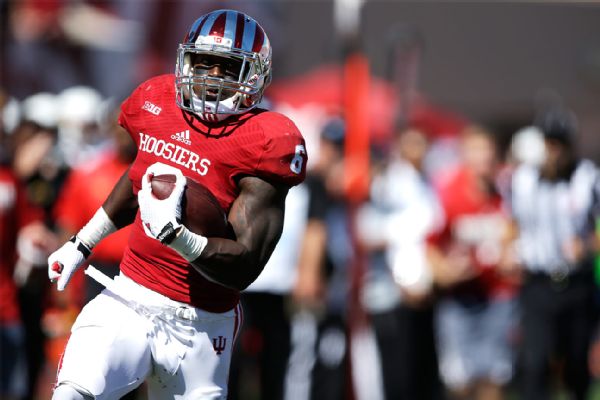 #6, Tevin Coleman, RB, Indiana
2014 NFL Mock Draft:
Round 1
(Thursday, November 27, 2014)
Happy Thanksgiving everyone! It's been way too long since I've been able to post about my passion, which is the NFL Draft. This is my first 2015 NFL Mock Draft of the season, but I can promise that it won't be my last. These projections are just for fun, and based on what I think teams will do and consider once the draft actually rolls around this spring.
You can view my
2014 NFL Prospect Rankings
here and my
2014 NFL Draft Big Board
here.


1. Jacksonville Jaguars
Shane Ray*, EDGE, Missouri
Ht: 6-3 Wt: 245 lbs. | Class: Junior (RS)
Analysis:
If the NFL season ended today, the Jaguars would hold the first overall pick. While Blake Bortles has struggled mightily in his rookie season, the Jaguars invested the third overall pick in him last year, meaning that they will pass on both Marcus Mariota and Jameis Winston.
Even though Jacksonville has amassed 33 sacks through 11 games (good for 3rd in the league), they still don't have that franchise pass rusher. A guy that can be a legitimate threat to record double-digit sacks each year, a guy defenses have to gameplan for.
Nebraska edge rusher Randy Gregory is the early favorite to be the first pass rusher off the board, but the athletic speed freak coming off the edge has made his case to be the number one overall pick. Yes, I'm referring to Mizzou edge rusher Shane Ray, who would be the perfect LEO rusher in Gus Bradley's defense.


2. Oakland Raiders
Leonard Williams*, DT, Southern California
Ht: 6-5 Wt: 300 lbs. | Class: Junior
Analysis:
Is Derek Carr the quarterback of the future? Or is he the next Jimmy Claussen? While it may be a mistake to pass on two potential franchise quarterbacks here, I believe second round pick Derek Carr has shown enough to be considered the future. They just have to build around him on offense. However, expect the Raiders to target a pass rusher here, as that is where the value lies with this pick.
USC defensive end Leonard Williams projects as a defensive tackle, likely a 3 technique in Oakland's 4-3 base defense, but he really has the versatility to line up all over the defensive line and wreak havoc. He is a special talent, and could be the missing piece in the front seven.


3. Tampa Bay Buccaneers
Marcus Mariota*, QB, Oregon
Ht: 6-4 Wt: 219 lbs. | Class: Junior (RS)
Analysis:
I would be shocked if the Bucs did not choose a signal caller here. With that being said, Tampa has some good options at quarterback on the board. The debate continues: Marcus Mariota or Jameis Winston?
I'll give the edge to Mariota right now. He's playing better, is more athletic, has more upside, and most importantly, has no off the field issues. With some of the weapons offered on offense and plenty of talent on defense, you could expect the Bucs to be even more competitive next season.


4. Tennessee Titans
Amari Cooper*, WR, Alabama
Ht: 6-1 Wt: 210 lbs. | Class: Junior
Analysis:
Zach Mettenberger has the next 5 games to prove that he deserves to be the starting quarterback going forward. It's hard to say whether he will succeed or fail. The truth is, the Titans continue to miss on drafting quarterbacks in the first round. While Jameis Winston is a much better prospect than both Vince Young and Jake Locker, I think Tennessee is somewhat concerned about his off the field issues.
IF Mettenberger is their guy going forward, they need to provide more talent around him. This is a good spot for 'Bama's Amari Cooper to come off the board. He is the consensus top receiver prospect for the 2015 NFL Draft, and compares to guys like Sammy Watkins and AJ Green. While Justin Hunter has yet to reach his potential, a trio of him, Kendall Hunter, and Amari Cooper looks very appealing going forward.


5. New York Jets
Jameis Winston**, QB, Florida State
Ht: 6-4 Wt: 230 lbs. | Class: Sophomore (RS)
Analysis:
The New York Jets are a mess. Many changes are coming. GM John Idzik and Head Coach Rex Ryan are as good as gone. When you start over, the most important thing to do is to draft a quarterback early.
Geno Smith, unfortunately, is a bust. Period. Jameis Winston comes with off the field baggage, but he is definitely worth a top 5 pick based on talent. Jets fans may have something to look forward to in the future.


6. Washington Redskins
Shawn Oakman*, DE, Baylor
Ht: 6-9 Wt: 280 lbs. | Class: Junior (RS)
Analysis:
If Mariota and Winston are off the board as predicted in this mock draft, don't expect the Redskins to reach for a quarterback. Many project a safety (Landon Collins) to Washington, but they could spend this pick on a front seven player.
Shawn Oakman is a monster. He is an athletic freak at 6 foot 9, 280 pounds. He looks line an NBA power forward, and flashes the ability to be a dominant NFL player. He projects as a prototypical 3-4 defensive end.


7. New York Giants
Randy Gregory*, EDGE, Nebraska
Ht: 6-6 Wt: 240 lbs. | Class: Junior (RS)
(via Buffalo)
Analysis:
Another year, another season in which the Giants will miss the playoffs. Their defense, specifically their front seven, needs a lot of work. We know GM Jerry Reese loves to draft the best player available, which in this case, is Randy Gregory.
The Giants have a rotation off pass rushers that hasn't produced in 2014. Randy Gregory is a top 10 talent who could be the first overall pick. Pair him with Jason Pierre-Paul, and you'll have a fearsome duo off edge rushers.


8. Carolina Panthers
Ronnie Stanley**, OT, Notre Dame
Ht: 6-6 Wt: 315 lbs. | Class: Sophomore (RS)
Analysis:
Cam Newton may be struggling a lot this season, but all of the blame can't be put on him. He was sabotaged. A brand new offensive line and losing your top four receivers is a recipe for a disastrous season.
There may or may not be a tackle worth top 10 consideration right now, but I'm willing to bed that one will at least emerge over the next couple of months. My current favorite to be the first tackle drafted is Ronnie Stanley.
Just a redshirt somphomore, Stanley has looked like a future top 10 pick this season. He's not quite the finished product, but he has the ideal frame, length, and athleticism you look for in a franchise left tackle.


9. Minnesota Vikings
La'el Collins, OT, Louisiana State
Ht: 6-5 Wt: 321 lbs. | Class: Senior
Analysis:
Is Matt Kalil a bust? That has to be a legitimate question going forward, as he has struggled in his first few seasons as an NFL left tackle. On the other side, right tackle Phil Loadholt has fared no better. It would be wise to spend a high pick on a tackle going forward.
La'el Collins has impressed this season. His best position in the NFL could still be guard, but he deserves a shot to man either tackle spot, and should be an upgrade at either spot.


10. New Orleans Saints
Shilique Calhoun*, EDGE, Michigan State
Ht: 6-5 Wt: 256 lbs. | Class: Junior (RS)
Analysis:
The Saints have plenty of problems. When it comes to the draft, they would be wise to take advantage of this loaded class of pass rushers. Shilique Calhoun would have been a top 15 pick had he declared for the 2014 NFL Draft. He is criminally being underrated at this point, and looks the part of a top 10 pick this year.


11. Saint Louis Rams
Connor Cook*, QB, Michigan State
Ht: 6-4 Wt: 218 lbs. | Class: Junior (RS)
Analysis:
The Rams could be a playoff team if they had a quarterback. Injury prone Sam Bradford will be gone next season, but the Rams aren't in a position to take one of the top two quarterbacks in this draft. A third quarterback could emerge.
When it's all said and done, if Connor Cook declares, he could potentially push Winston and Mariota, but could be a top 15 pick either way. He has all the tools to be a very good NFL quarterback.


12. Houston Texans
Brandon Scherff, OT, Iowa
Ht: 6-5 Wt: 320 lbs. | Class: Senior (RS)
Analysis:
Another team picking in the top 15 that needs a quarterback. At this point, there are no other quarterbacks worth first round consideration, unless UCLA signal caller Brett Hundley can turn it on down the stretch.
Look for the Texans to address the right tackle position instead. Brandon Scherff will grade out higher for me at guard, but should be a very good starter at either tackle spot. He would be an immediate upgrade over Derek Newton.


13. Chicago Bears
Landon Collins*, SS, Alabama
Ht: 6-0 Wt: 222 lbs. | Class: Junior
Analysis:
This pick has to be spent on defense. A pass rusher would make sense, but I think the Bears have invested a lot in their defensive line already, so they should target the secondary instead.
There may not be a corner worth taking here, at least not yet, but safety Landon Collins deserves consideration here. The versatile safety would be another immediate upgrade.


14. Cleveland Browns
Danny Shelton, DT, Washington
Ht: 6-2 Wt: 339 lbs. | Class: Senior
(via Buffalo)
Analysis:
With the first of its two first round picks, I have the Browns taking Washington defensive tackle Danny Shelton. Both Phil Taylor and Ahtyba Rubin could be gone next season, and Cleveland's run defense needs to be improved.
Shelton is the best nose tackle prospect in this class. He doesn't just occupy space and draw double teams. He's a legitimate run stopper, and can penetrate and put pressure on the quarterback. It's hard to ignore his production as well.


15. Miami Dolphins
Marcus Peters*, CB, Washington
Ht: 6-0 Wt: 198 lbs. | Class: Junior (RS)
Analysis:
Cortland Finnegan just isn't very good. If Miami can find at least an above average corner to start opposite Brent Grimes, then their secondary would be much better in the long run.
Marcus Peters's dismissal from Washington won't affect his draft stock once more details come out. He's got good size, speed, and athleticism for the position, not to mention ball skills. He has the traits you want in a number one corner.


16. Cleveland Browns
Kevin White, WR, West Virginia
Ht: 6-3 Wt: 210 lbs. | Class: Senior
Analysis:
The Browns offense looks SO much better with Josh Gordon, so imagine what it would look like with another talented receiver playing on the opposite side of him?
Kevin White is actually the top receiver on some boards, and I can see why. He's got great hands, can high point the ball with the best of them, and is very dangerous after the catch.


17. Pittsburgh Steelers
Dante Fowler*, EDGE, Florida
Ht: 6-3 Wt: 261 lbs. | Class: Junior
Analysis:
An aging defense that needs an infusion of talent, the Pittsburgh Steelers would love to get their hands on another pass rusher to replace upcoming free agent Jason Worilds.
Dante Fowler is arguably the most versatile pass rusher in the draft. He would be a perfect fit for Pittsburgh, and Pittsburgh would be a perfect fit for him.


18. Baltimore Ravens
Tevin Coleman*, RB, Indiana
Ht: 6-1 Wt: 210 lbs. | Class: Junior
Analysis:
Calling Justin Forsett a pleasant surprise would be an understatement. He has had a fantastic season. But, he's a free agent. You'd think that the Ravens would re-sign him at season's end, right?
If not, don't be surprised if the Ravens spend its first round pick on one of a few worthy running backs. Todd Gurley's injury may take him out of consideration, but Tevin Coleman's breakout season puts him in the mix. He's one of the most talented runners in the draft, and projects as an every down back at the next level.


19. Detroit Lions
Melvin Gordon*, RB, Wisconsin
Ht: 6-1 Wt: 207 lbs. | Class: Junior (RS)
Analysis:
Joique Bell and Reggie Bush are signed for the next three years, but both backs are limited. Bell has a limited skill set, and Bush is constantly hampered by injuries.
Imagine Melvin Gordon in the Lions backfield. I'm not saying he's the next Barry Sanders, but with a solid offensive line, and an impressive passing attack, not to mention Gordon is arguably the most talented runner in the draft, this pick makes a ton of sense.


20. San Francisco 49ers
P.J. Williams*, CB, Florida State
Ht: 6-1 Wt: 196 lbs. | Class: Junior
Analysis:
The 49ers have some impending free agent corners, but could use some more talent in the secondary overall. They'll likely have their choice of corners in the back half of round one, and Florida State's P.J. Williams could stand out.
Williams has good length and above average speed for the cornerback position. Teams will love his aggressiveness, and his upside is what could make him the first cornerback drafted.


21. Atlanta Falcons
Vic Beasley, EDGE, Clemson
Ht: 6-2 Wt: 235 lbs. | Class: Senior (RS)
Analysis:
It's pretty pathetic that the Falcons, who currently sit at 4-7, could end up making the playoffs. This team has so many needs, but their most glaring need is a pass rusher.
Vic Beasley would have been a first round pick in the 2014 draft, and the same could be the case in 2015. He looks like an impact pass rusher from day one. The way he is able to convert his speed into power is what sets him apart from some of the other pass rushers.


22. San Diego Chargers
T.J. Clemmings, OT, Pittsburgh
Ht: 6-6 Wt: 315 lbs. | Class: Senior (RS)
Analysis:
In the long run, the left tackle position needs to be addressed for Phillip Rivers's sake. King Dunlap has been pretty decent manning Rivers's blindside, but he'll be a free agent after this season.
Plenty of tackles will be drafted in round one, and T.J. Clemmings will be one of them. Although he starts at right tackle for Pitt, he projects as a left tackle at the NFL level. He already has the skills to be an elite pass protector. He just needs to continue to round out his game.


23. Indianapolis Colts
Gerod Holliman*, FS, Louisville
Ht: 6-1 Wt: 206 lbs. | Class: Junior (RS)
Analysis:
A play maker in the secondary could be just what the Colts need on defense. Gerod Holliman is being compared to a young Ed Reed. I won't go quite that far yet, but the comparison is far from far-fetched.
Holliman has picked off 13 passes this season for the Cardinals. That is an insane amount of interceptions. He needs to work on taking better angles and being more of a factor in the running game, but his ability to potentially change games with his elite ball skills could earn him a first round selection.


24. Seattle Seahawks
Dorial Green-Beckham*, WR, Oklahoma
Ht: 6-6 Wt: 225 lbs. | Class: Junior (RS)
Analysis:
Could it be any more obvious that Seattle desperately needs some help at the receiver position? They need to find a true number one wideout in the upcoming draft, and target one in the first round.
Dorial Green-Beckham is still a first round talent despite an off the field incident that led to him being dismissed from the Mizzou football team. Seattle is one team that can afford to take the risk, and DGB may leave Oklahoma without even playing a down for them.


25. Kansas City Chiefs
DeVante Parker, WR, Louisville
Ht: 6-3 Wt: 208 lbs. | Class: Senior
Analysis:
0 Touchdown catches for a receiver this year? Enough said. The Chiefs HAVE to find a receiver in the 2015 draft. There's no way around it. Dwayne Bowe is solid, but they have virtually nothing on the opposite side of the field.
DeVante Parker is now healthy, and is picking up where he left off last season, and that is as a potential first round pick. He's a bigger receiver who has improved his route-running, but it is his impressive catch radius that has NFL teams salivating over his potential.


26. Cincinnati Bengals
Eric Kendricks, ILB, UCLA
Ht: 6-1 Wt: 230 lbs. | Class: Senior
Analysis:
The Bengals need to find some more talent on defense. They could add another pass rusher or defensive back, but with some free agent linebackers who may not be brought back, look for them to finally target one early on.
Eric Kendricks is being talked about as a top 40 or top 50 pick, but we need to be talking about him as a legit first round prospect. Kendricks is the real deal. He excels in coverage. He has sideline to sideline speed, and above average athleticism for an inside linebacker. Not to mention he has great instincts and is very good against the run.


27. Dallas Cowboys
Cedric Ogbuehi, OT, Texas A&M
Ht: 6-5 Wt: 300 lbs. | Class: Senior (RS)
Analysis:
Could the Cowboys really spend a third straight first round pick on an offensive lineman? Well, considering the fact that Doug Free and his backup Jeremy Parnell are both free agents, it's very possible, especially if Dallas prefers Zack Martn at guard.
Plus, the value of taking a guy like Cedric Ogbuehi here is too good to pass on. Ogbuehi has been inconsistent with his technique this year, but he still has everything you're looking for in a left tackle despite having a down season. Considering he could still be a top 10 pick, this would be a steal.


28. Philadelphia Eagles
Trae Waynes*, CB, Michigan State
Ht: 6-1 Wt: 182 lbs. | Class: Junior (RS)
Analysis:
The Eagles have an explosive, high powered offense. However, their defense is pretty... bad. The secondary needs several additions and play makers. Trae Waynes could be the second Michigan State corner in a row drafted in the first round.
Waynes should look to get stronger, but he has the necessary cover skills to be drafted in the first round like his former teammate Darqueze Dennard.


29. Green Bay Packers
Ty Sambrailo, OT, Colorado State
Ht: 6-5 Wt: 315 lbs. | Class: Senior (RS)
Analysis:
Starting right tackle Bryan Bulaga should be re-signed, but he'll need to be replace if he isn't brought back. Ty Sambrailo currently projects as a late first round pick, but could move up as the draft process picks up.


30. Denver Broncos
Malcolm Brown*, DT, Texas
Ht: 6-4 Wt: 320 lbs. | Class: Junior
Analysis:
Denver could use more talent on the defensive line. Terrance Knighton may not be re-signed. Even if he is, they could add another interior pass rusher for the hell of it.
Ohio State's Michael Bennett should be in play here, but I believe Texas defensive tackle Malcolm Brown has the edge right now. He has better size, and is better against the run at this point.


31. New England Patriots
Todd Gurley II*, RB, Georgia
Ht: 6-1 Wt: 226 lbs. | Class: Junior
Analysis:
Stevan Ridley is a free agent after the season. Breakout star Jonas Gray is in the doghouse, and Shane Vereen is not an every down back. A year after drafting Dominque Easley, who was coming off of a torn ACL, in the first round, New England could make another bold selection late in round one.
Todd Gurley without question is the best running back prospect in he 2015 draft. He would've been a top 10--maybe even a top 5 pick before tearing his ACL a few weeks ago. A team like the Patriots can afford to draft Gurley here, wait for him to get 100% healthy, and watch him make many Pro Bowls.


32. Arizona Cardinals
Leonard Floyd**, EDGE, Georgia
Ht: 6-4 Wt: 230 lbs. | Class: Sophomore (RS)
Analysis:
Arizona has a top ranked defense, and is enjoying a very successful season. What they're missing is a feared pass rusher coming off the edge. They'll have plenty of options at the end of round one.
Georgia redshirt sophomore Leonard Floyd is considering declaring for the 2015 NFL Draft. If he does, he could wind up being a top 10 pick. I want to see him get stronger and improve against the run, but this kid is a raw talent.