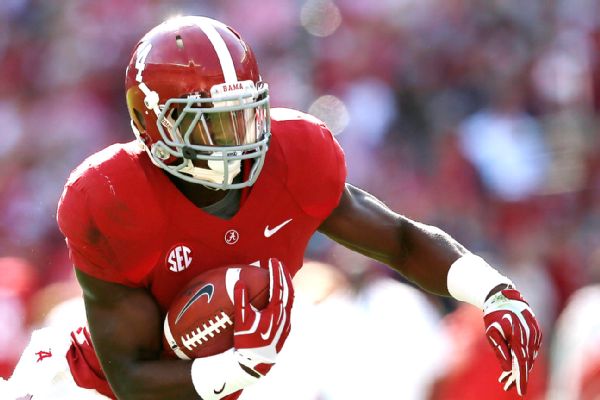 #4, T.J. Yeldon, RB, Alabama
2014 NFL Mock Draft:
Round 1
(Wednesday, December 24, 2014)
Merry Christmas everyone! It's been almost a month since my first mock draft of the year, and this will be my last by default. As expected, there are a lot of changes. With just one week left in the regular season, and bowl season heating up, the order is becoming much clearer.
You can view my
2015 NFL Prospect Rankings
here. My first 2015 NFL Draft Big Board is coming soon.


1. Tampa Bay Buccaneers
Marcus Mariota*, QB, Oregon
Ht: 6-4 Wt: 219 lbs. | Class: Junior (RS)
Analysis:
If the Buccaneers fall at home to the New Orleans Saints, they will lock up the first overall pick. Despite being 2-13, this team has plenty of talent on both sides of the ball. Whether they will take a quarterback or not isn't up for debate. The debate will be, Marcus Mariota or Jameis Winston? I'm not sure who the number one quarterback on Tampa's board is right now, but the consensus is that Marcus Mariota is the favorite to be the first quarterback drafted. I won't stray away from the "groupthink" here.


2. Tennessee Titans
Jameis Winston**, QB, Florida State
Ht: 6-4 Wt: 230 lbs. | Class: Sophomore (RS)
Analysis:
In 2006, the Titans drafted Vince Young. Five years later in 2011, they drafted Jake Locker. Four years later in 2015, the pressure is on for them to get it right this time. Fortunately for them, the top two quarterbacks in this draft are much better prospects than the two they've missed on in the last 10 years.
I do get the feeling, however, that Tennessee may be hesitant to draft Jameis Winston because of the baggage he likely comes with. I'm a fan of Zach Mettenberger, but, how do you sell a fourth round pick with limited upside to your fans, when you could have a true franchise quarterback sitting in your laps?


3. Jacksonville Jaguars
Ronnie Stanley**, OT, Notre Dame
Ht: 6-6 Wt: 315 lbs. | Class: Sophomore (RS)
Analysis:
The young, but talented Jacksonville Jaguars are improving. Don't expect them to be a contender next year, but they have some of the pieces in place to make a decent jump in the AFC. This pick may be surprising, but, the current Jaguars regime has proven that they will go against conventional wisdom when it comes to drafting in the first round. Would the Jaguars really pass on an edge rusher? I believe they could if Notre Dame redshirt sophomore Ronnie Stanley declares.
While he isn't as highly regarded a prospect as Greg Robinson was, Stanley is a top 10 pick if he declares. He's the top left tackle prospect in this draft, and would allow Luke Joeckel to move back to the right side. As a team, the Jags have allowed 66 sacks this season. That is atrocious. Not all of the sacks are on the offensive line, but I'm willing to bet that adding at least one new starter to help keep Bortles upright will be high on the priority list come draft day.


4. New York Jets
Amari Cooper*, WR, Alabama
Ht: 6-1 Wt: 210 lbs. | Class: Junior
Analysis:
Unfortunately for the Jets, they most likely won't have a shot at Mariota or Winston unless they trade up. It will be interesting to see what the new regime does with their first round pick, because GM John Idzik and Head Coach Rex Ryan are very unlikely to return. New Head Coaches/GMs usually draft the best player on the board. Most people believe the Jets will target a pass rusher, but their biggest issue (besides the quarterback position) is their lack of play makers on offense.
With the success of first round rookie receivers in the NFL this season, teams are probably going to try to find their own Odell Beckham Jr., Sammy Watkins, Mike Evans, etc. Amari Cooper is a similar prospect to OBJ and Watkins, and like both, he can beat you with speed, and win at the catch point.


5. Oakland Raiders
Leonard Williams*, DL, Southern California
Ht: 6-5 Wt: 300 lbs. | Class: Junior
Analysis:
A lot of mock drafts have the Raiders selecting Alabama wideout Amari cooper, and it makes sense. Young quarterback, no real play maker at the position. However, Cooper is off the board, and their currently isn't another receiver who grades out as a top five pick. If the draft falls this way, look for the Raiders to select the best pass rusher on their board.
Leonard Williams is currently my top ranked defensive player. His power, athleticism, and motor are constantly on display, and he can win in a variety of ways. He plays defensive end in USC's 3-4 defense, and has the versatility to fit any scheme. 4-3 defense end like Lamarr Houston, who was a pretty good football player for Oakland? It's definitely a possibility, but, he projects best as a Gerald McCoy type--A 3-technique defensive tackle who can get up field and pressure the quarterback.


6. Washington Redskins
Landon Collins*, SS, Alabama
Ht: 6-0 Wt: 222 lbs. | Class: Junior
Analysis:
An offensive tackle is usually penciled in for the Redskins. However, there isn't a consensus player that stands out as an obvious top 10 pick at the position. Plus, the Redskins did spend a third round pick on Morgan Moses, a promising young right tackle. Also, drafting edge rusher Trent Murphy could prevent them from drafting another pass rusher here.
Their most glaring need on the defensive side of the ball is the safety position. Ryan Clark will retire after the season, and Brandon Meriweather will be a free agent. Neither one has been that good for the Redskins. I really liked their fourth round pick Phillip Thomas coming out of Fresno State, and thought he was a first round talent. If he can stay on the field, the free safety spot could be solidified. Pairing him with a prototypical strong safety like Landon Collins would make a ton of sense.


7. Chicago Bears
Shane Ray*, EDGE, Missouri
Ht: 6-3 Wt: 245 lbs. | Class: Junior (RS)
Analysis:
Chicago has many, many problems. Most of them are on defense. The Bears have plenty of talent and money invested in their defensive line. The back seven, however, is another issue. There isn't an obvious pick for the Bears to make, but drafting the best player available is almost always a good idea.
He isn't an off-the-line-of-scrimmage linebacker, but Shane Ray shouldn't have any problems transitioning to outside linebacker in Chicago's 4-3 defense. Though he's best at pinning his ears back and exploding off the edge as a pass rusher, and often winning from the 3-technique defensive tackle spot despite being undersized, Ray appears to have the versatility to be a Von Miller or Khalil Mack type of player.


8. Atlanta Falcons
Randy Gregory*, EDGE, Nebraska
Ht: 6-6 Wt: 240 lbs. | Class: Junior (RS)
Analysis:
Atlanta's pass rush--or lack thereof--is non-existent. If they can get their hands on someone like Randy Gregory, it's a no-brainer. Yes, Gregory has the athleticism to stand up in a 3-4 and drop into coverage. Though he still has to develop, he's got the size, length, burst, and talent you can't teach. He's most likely going to be a top 10 pick.


9. Minnesota Vikings
Todd Gurley II*, RB, Georgia
Ht: 6-1 Wt: 226 lbs. | Class: Junior
Analysis:
Unfortunately, Cordarelle Patterson is starting to look like a bust. This is just his second season in the league, however, and he is still supremely talented. Meanwhile, Charles Johnson has emerged as a solid number one receiver. I'm still tempted to slot Louisville wide receiver DeVante Parker here for obvious reasons, but they have more pressing needs.
The offensive line is definitely an issue, but, unless they decide to make some cuts, they'll probably target another position, possibly running back. Adrian Peterson and the Vikings will most likely part ways after the season, and Minnesota doesn't have any standout talent at the running back position, although Jerick McKinnon should be a multipurpose change-of-back/third down back.
Yes, Todd Gurley is coming off of a torn ACL, but we've seen many players of his talent (Adrian Peterson) come back strong, and we've seen a couple of highly touted prospects coming off of knee injuries drafted in the first round. Gurley is a top 10 talent and true franchise running back.


10. New Orleans Saints
Alvin Dupree, EDGE, Kentucky
Ht: 6-4 Wt: 264 lbs. | Class: Senior (RS)
Analysis:
The Saints have plenty of problems. When it comes to the draft, they would be wise to take advantage of this loaded class of pass rushers. Alvin Dupree did many different things for Kentucky this year, but is at his best when he's getting after the quarterback. He's emerged as a potential top 10 pick.


11. New York Giants
Dante Fowler*, EDGE, Florida
Ht: 6-3 Wt: 261 lbs. | Class: Junior
Analysis:
The Giants offensive line may have shown enough improvement to not prompt the Giants to draft a new starter. Defensively, the Giants underachieved. Jason Pierre-Paul is a free agent, while Mathias Kiwanuka could be released. Pass rushers are premium players in the NFL, and you certainly need more than one that can make an impact.
Knowing how GM Jerry Reese loves to draft the best player available, it wouldn't surprise me if Florida defensive end Dante Fowler fits the bill. Fowler isn't Leonard Williams as a prospect, but he's a first round talent in his own right. Like Williams, Fowler's versatility is arguably his biggest asset. He reminds me of a Kony Ealy (2nd round pick of Carolina last May), in that he's a 4-3 defensive end who's best fit may be sliding inside as a 3-technique defensive tackle.


12. Saint Louis Rams
La'el Collins, OG, Louisiana State
Ht: 6-5 Wt: 321 lbs. | Class: Senior
Analysis:
The Rams offense is holding back what could be a playoff contender in the near future. Their need for a quarterback won't be filled through the draft unless they find a way to trade up, or if they find a gem in the middle rounds. The offensive line is still an issue. Rams fans may not be happy about their team spending a second consecutive first round pick on an offensive lineman, but it makes plenty of sense. Starting right tackle Joe Barksdale and current starting right guard Davin Joseph are both free agents. And with Jake Long's future in question, a couple of new starters are needed on the offensive line. Greg Robinson is supposed to be the left tackle of the future, but that shouldn't stop the Rams from drafting La'el Collins.
Collins is the real deal. He has proven this season that he is a legitimate left tackle prospect, which could allow Robinson and Saffold to hold down the guard spots. However, Collins projects best as a guard at the next level, and could be an All-Pro if he kicks inside. Whether the Rams view Robinson as a guard in the long term or not, they can't afford to pass on a player like La'el Collins.


13. Cleveland Browns
Danny Shelton, DT, Washington
Ht: 6-2 Wt: 339 lbs. | Class: Senior
Analysis:
Cleveland's defense is solid as a whole, and their pass defense really stands out with plenty of young talent in the secondary. Their run defense stands out as well... because it's the worst run defense in the NFL. That needs to be addressed through the draft.
Enter Danny Shelton, a player who has emerged as a potential top 20 pick. He is the prototypical 3-4 nose tackle. He can set the tone versus the run, occupy double teams, penetrate the backfield, and make plays behind the line of scrimmage.


14. San Francisco 49ers
DeVante Parker, WR, Louisville
Ht: 6-3 Wt: 208 lbs. | Class: Senior
Analysis:
San Francisco's offense held them back this season. They need more play makers on that side of the ball to help their struggling quarterback next season. It doesn't help that Michael Crabtree and Brandon Lloyd are free agents, while Stevie Johnson has been ineffective since they traded for him earlier this year.
DeVante Parker is the athletic, play making wideout the 49ers could be missing on offense. He has the height-weight-speed combination that is coveted in a number one wide receiver, but his best traits are his impressive catch radius and being able to high point the ball and win on a consistent basis.


15. Houston Texans
Brandon Scherff, OT, Iowa
Ht: 6-5 Wt: 320 lbs. | Class: Senior (RS)
Analysis:
Houston really doesn't have a ton of obvious needs. They may target a cornerback if they don't re-sign Kareem Jackson, and there isn't a quarterback worth drafting here. It would make sense for the Texans to take advantage of a talented offensive line class by drafting a new starting right tackle, as Derek Newton is an upcoming free agent.
Brandon Scherff projects best as a guard due to his lack of ideal length for a tackle, but also because of his ability to control his opponents in the running game. He's a similar prospect to Zach Martin, but he does have the athleticism to stick at tackle.


16. Miami Dolphins
Vic Beasley, EDGE, Clemson
Ht: 6-2 Wt: 235 lbs. | Class: Senior (RS)
Analysis:
Both of Ex-Dolphins GM Jeff Ireland's free agent signings Dannell Ellerbe and Philip Wheeler, have struggled, and as a result, both could be released this off season. With Koa Misi in the middle, and the talented Jelani Jenkins on the strong side, a new starting weakside linebacker may be needed.
Vic Beasley isn't the "traditional" 4-3 weakside linebacker, as he plays defensive end in Clemson's 4-3 defense. However, due to his size, he'll likely me moved to linebacker in the pros, and could become a Bruce Irvin type who primarily rushes the passer, but has the athleticism to excel in coverage.


17. Cleveland Browns
Kevin White, WR, West Virginia
Ht: 6-3 Wt: 210 lbs. | Class: Senior
(via Buffalo)
Analysis:
Before Josh Gordon returned to action, the Browns didn't get a ton out of their other receivers. They failed to add another receiver in the 2014 draft, so hopefully they draft a true number two receiver (who could be relied on as a number one receiver if Josh Gordon gets in more trouble off the field).
Kevin White reminds me of a DeAndre Hopkins. Neither has elite speed, but they run excellent routes, win consistently at the catch point, and can still be dangerous after the catch. A tandem of Gordon and White would be an impressive one.


18. Kansas City Chiefs
T.J. Clemmings, OT, Pittsburgh
Ht: 6-6 Wt: 315 lbs. | Class: Senior (RS)
Analysis:
Kansas City's offense is not very fun to watch. Although they have one of the top running backs in the league, they lack talent at the receiver position, have a quarterback who refuses to throw the ball down the field, and an offensive line that struggles as a whole to protect him. After the top three receivers, there isn't really a consensus receiver who is a top 20 pick, unless one emerges over the next couple of months.
However, there are a couple of tackles the Chiefs could look at with the 18th pick, like T.J. Clemmings. The Pittsburgh prospect projects as a very good NFL left tackle, but should have no trouble stepping in at right tackle, as that is the position he plays in college. He isn't quite the finished product, but his upside as a first round pick is obvious.


19. Baltimore Ravens
Tevin Coleman*, RB, Indiana
Ht: 6-1 Wt: 210 lbs. | Class: Junior
Analysis:
Justin Forsett really broke out this year, rushing for over 1,100 yards. But, he's a 29 year old upcoming free agent, meaning his market value might not be as high as people think, but it could also mean that a team could overpay for him, leaving Baltimore without a reliable lead back.
The 2015 NFL Draft features 3-4 running backs who are first round talents, and the one who could make a big jump is Tevin Coleman. He's currently my second ranked running back behind Todd Gurley II. He's a very talented runner between the tackles, but also has the speed to hit the home run. The fact that he can stay on the field for three downs adds to his value.


20. Philadelphia Eagles
Brett Hundley Jr.*, QB, UCLA
Ht: 6-3 Wt: 227 lbs. | Class: Junior (RS)
Analysis:
To be clear, I currently view Brett Hundley as a day 2 prospect at best. However, a team like the Eagles without a long term answer at quarterback could pull the trigger in round one. Though one could argue that Hundley regressed this season, the tools are all there. The big-time arm, the athleticism, the ability to make all the throws, not to mention a very high ceiling.
If E.J. Manuel, (an early day three prospect) can be drafted in the first round, then Hundley, who's a much better prospect in my opinion, can as well. Hundley could be a great fit with Chip Kelly, who deserves credit for what both Nick Foles and Mark Sanchez were able to do in Philly.


21. Carolina Panthers
Cedric Ogbuehi, OT, Texas A&M
Ht: 6-5 Wt: 300 lbs. | Class: Senior (RS)
Analysis:
Up until the draft, I will most likely continue to project an offensive tackle to Carolina. Cam Newton needs help, and it's starts by protecting him. Cedric Ogbuehi has had an inconsistent senior season, but still projects as a first round pick. Even if he doesn't project as a left tackle, he'll make a fine right tackle, which is just as important these days.


22. San Diego Chargers
Melvin Gordon III*, RB, Wisconsin
Ht: 6-1 Wt: 207 lbs. | Class: Junior (RS)
Analysis:
Ryan Mathews has had trouble staying healthy early in his career. With him set to become a free agent, the Chargers may look to replace him. Melvin Gordon III could be the first running back drafted, but looks like a near lock to be a first round pick at this point. He's an improving blocker, and has shown his ability to catch the ball out of the backfield.


23. Pittsburgh Steelers
Marcus Peters*, CB, Washington
Ht: 6-0 Wt: 198 lbs. | Class: Junior (RS)
Analysis:
In a draft where there isn't a consensus number one corner, Marcus Peters has the skill set and the talent to be the first corner off the board. He'll have to answer some questions about a few incidents that led to him being kicked off of Washington's football team, but he should immediately help an aging Pittsburgh secondary.


24. Dallas Cowboys
Shawn Oakman*, DE, Baylor
Ht: 6-9 Wt: 280 lbs. | Class: Junior (RS)
Analysis:
Although Dallas's defense played better than expected this season, one thing that stood out was their lack of a consistent pass rush. Tyrone Crawford and Henry Melton have graded out positively as interior pass rushers, but they need to add another outside pass rusher who can be consistent.
Now, "consistent" isn't a word you'll see attached to Baylor defensive end Shawn Oakman, but his talent would be too hard to pass on here. He is a monster. A great athlete for a 6 foot 9, 280 pound man, he can convert his impressive speed into power, and dominate at the point of attack.


25. Indianapolis Colts
T.J. Yeldon*, RB, Alabama
Ht: 6-2 Wt: 221 lbs. | Class: Junior
Analysis:
The Colts haven't had much success running the football this season. Their number one back Ahmad Bradshaw went down earlier in the year due to injury, and will be a free agent. As will "Boom" Herron, and Trent Richardson is a bust.
T.J. Yeldon entered the year as my number one running back. He currently ranks as my number four running back, but that is no indictment on his talent or skill set. He's a smooth runner, a threat out of the backfield as a receiver, and very good in pass protection.


26. Cincinnati Bengals
Eric Kendricks, ILB, UCLA
Ht: 6-1 Wt: 230 lbs. | Class: Senior
Analysis:
The Bengals need to find some more talent on defense. They could add another pass rusher or defensive back, but with some free agent linebackers who could leave this offseason, look for them to address the position as early as round one.
Eric Kendricks is starting to get the buzz he deserves. He excels in coverage, has good sideline to sideline speed, and above average athleticism for an inside linebacker. Not to mention he has great instincts and is very good against the run.


27. Detroit Lions
Malcolm Brown*, DT, Texas
Ht: 6-4 Wt: 320 lbs. | Class: Junior
Analysis:
Both of Detroit's highly regarded defensive tackles (Ndamukong Suh and Nick Fairley) will be free agents at season's end. If only one or neither re-signs, defensive tackle would become a major need.
Malcolm Brown has shot up the boards from the beginning of the season, and is in the first round conversation as a big, strong interior defensive lineman who can get the job done as a pass rusher and a run stopper.


28. Arizona Cardinals
Trae Waynes*, CB, Michigan State
Ht: 6-1 Wt: 182 lbs. | Class: Junior (RS)
Analysis:
If Antonio Cromartie isn't re-signed, Arizona could look for a new corner to pair with Patrick Peterson. Trae Waynes has the necessary cover skills and play making ability to be a first round pick. He could be the first corner off the board.


29. Green Bay Packers
Maxx Williams**, TE, Minnesota
Ht: 6-4 Wt: 250 lbs. | Class: Sophomore (RS)
Analysis:
The Packers don't have many glaring needs, so don't be surprised if they look to give Aaron Rodgers another weapon in the passing game. Maxx Williams has two years of eligibility remaining, but would be the first tight end drafted should he declare. He's a complete tight end. Good inline blocker, smooth route runner, and reliable receiver with an impressive catch radius.


30. Denver Broncos
Devin Funchess*, TE, Michigan
Ht: 6-5 Wt: 230 lbs. | Class: Junior
Analysis:
Demaryius Thomas, Julius Thomas, and Wes Welker are all free agents. At least one of them could be the odd man out. Either way, I believe Denver could target a pass catcher late in round one.
Whether you view him as a wideout or an inline tight end, Devin Funchess is a first round talent. If he can become more consistent, he could be a really special player.


31. Seattle Seahawks
D'haquille Williams*, WR, Auburn
Ht: 6-2 Wt: 216 lbs. | Class: Junior
Analysis:
"Duke" Williams is the next former JUCO star who could emerge as a first round pick. Though he isn't a finished product, his skill set is impressive. He's big, fast, athletic, and is capable of making those "WOW" catches. Seattle could use another play maker on offense.


32. New England Patriots
Michael Bennett, DT, Ohio State
Ht: 6-2 Wt: 288 lbs. | Class: Senior
Analysis:
Michael Bennett does things similar to what Aaron Donald does as a pass rusher. He projects as a good rotational 3-technique pass rusher early on, but could develop into an every down starter if he bulks up and gets stronger. Just imagine an interior tandem of Bennett and first round pick Dominique Easley if New England decides to kick him inside next season.