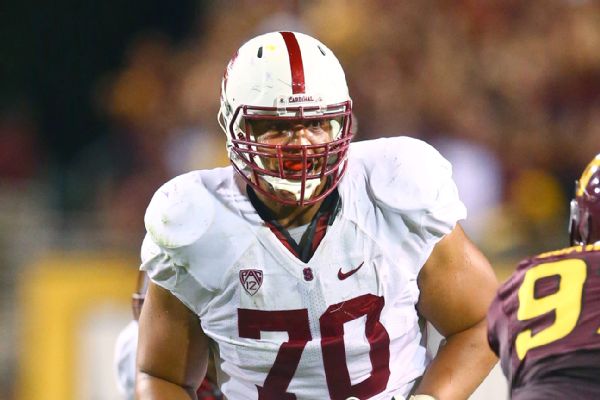 #70, Andrus Peat, OT, Stanford
2015 NFL Mock Draft:
Round 1
(Thursday, January 8, 2014)
It's been a few weeks since my last mock draft, but here we are again. Right before the impressive slate of Divisional Round games, here is my first NFL Mock Draft of 2015. As expected, plenty of changes have been made since the last edition.
You can view my
2015 NFL Prospect Rankings
here. My first 2015 NFL Draft Big Board is coming soon.


1. Tampa Bay Buccaneers
Marcus Mariota*, QB, Oregon
Ht: 6-4 Wt: 219 lbs. | Class: Junior (RS)
Analysis:
Marcus Mariota started the Rose Bowl off rough. He missed some open receivers high, forced a pass into coverage uncharacteristically, and threw a questionable interception. After he settled down, Mariota began to look as good as advertised, and I'm sure the Buccaneers were very impressed. He remains the favorite to be drafted first overall.


2. Tennessee Titans
Shane Ray*, EDGE, Missouri
Ht: 6-3 Wt: 245 lbs. | Class: Junior (RS)
Analysis:
Even with Jameis Winston officially declaring for the draft, early indications are that Ken Whisenhut will stick with Zach Mettenberger. Ideally, Tennessee would add a receiver like Amari Cooper to the mix, but they finally have a shot at an elite pass rusher prospect. Shane Ray could get the edge here, because he's a more natural fit in Whisenhut's 3-4 defense, and is more polished than Randy Gregory.


3. Jacksonville Jaguars
Leonard Williams*, DT, Southern California
Ht: 6-5 Wt: 300 lbs. | Class: Junior
Analysis:
The consensus is that the Jaguars will target a pass rusher with this pick. With several options available with the third overall pick, Jacksonville would likely choose between Nebraska defensive end Randy Gregory and USC defensive lineman Leonard Williams. The Jaguars can't go wrong either way, but Williams's versatility and ability to make an instant impact anywhere on the defensive line should be very appealing.


4. Oakland Raiders
Amari Cooper*, WR, Alabama
Ht: 6-1 Wt: 210 lbs. | Class: Junior
Analysis:
Oakland's pick likely would come down to the top pass rusher on the board Randy Gregory, or the top receiver prospect Amari Cooper. The best way to help a young quarterback progress is to give him more weapons. Amari Cooper projects well to the next level as a go to receiver who can stretch the field and be a consistent play maker from day one.


5. Washington Redskins
Jameis Winston**, QB, Florida State
Ht: 6-4 Wt: 230 lbs. | Class: Sophomore (RS)
Analysis:
Another pass rusher? An offensive tackle to help keep the quarterback upright? Where do the Redskins go with this pick? How about quarterback? Just three years after trading the farm to move up and draft Robert Griffin III, the Redskins could be looking for a new quarterback. Jay Gruden obviously has no interest in committing to RG3, and you need to have a quarterback in this league to succeed. It's very possible that the 'Skins move on from their 2012 first round pick and move forward, potentially with Jameis Winston.


6. New York Jets
Randy Gregory*, EDGE, Nebraska
Ht: 6-6 Wt: 240 lbs. | Class: Junior (RS)
Analysis:
With a brand new regime, expect the Jets too look for a new quarterback. Unfortunately, drafting one in the first round seems unlikely with the draft's top two prospects off the board. Look for the Jets to draft the best player on their board, which could/should be Nebraska defensive end Randy Gregory.


7. Chicago Bears
Landon Collins*, SS, Alabama
Ht: 6-0 Wt: 222 lbs. | Class: Junior
Analysis:
Landon Collins isn't the next Earl Thomas, but he's a complete safety who is expected to come off the board in the top 10 picks. Chicago's secondary is very poor, and they need at least one upgrade at safety.


8. Atlanta Falcons
Vic Beasley, EDGE, Clemson
Ht: 6-2 Wt: 235 lbs. | Class: Senior (RS)
Analysis:
From now up until the draft, I'll likely continue to project pass rushers to the Falcons. Their biggest need by far can be addressed as early as the first round, with a few players like Dante Fowler and Alvin Dupree in mind. However, Vic Beasley might be the best fit for Atlanta's 3-4 defense.


9. New York Giants
La'el Collins, OG, Louisiana State
Ht: 6-5 Wt: 321 lbs. | Class: Senior
Analysis:
There are so many ways the Giants can go with this pick. They can add another offensive lineman, draft a running back, add a pass rusher or two, upgrade at linebacker, etc. If the Giants take a running back, I think it would be Todd Gurley, but his ACL injury could scare them off. The Giants had terrible play at both guard positions, so LSU tackle La'el Collins--who projects best as a guard at the next level--would be an immediate upgrade at either guard spot.


10. Saint Louis Rams
DeVante Parker, WR, Louisville
Ht: 6-3 Wt: 208 lbs. | Class: Senior
Analysis:
As much as it makes sense for the Rams to target an offensive lineman, their current group of receivers have done nothing to prove that they'll be in the long term plans of the Rams going forward. DeVante Parker is a stud, and has the skill set to become a true number one receiver, something the Rams haven't had in a long time.


11. Minnesota Vikings
Todd Gurley II*, RB, Georgia
Ht: 6-1 Wt: 226 lbs. | Class: Junior
Analysis:
Goodbye Adrian Peterson, hello Todd Gurley? Peterson is unlikely to return to Minnesota, and Gurley would provide a huge upgrade over what the Vikings currently have at running back. Gurley should be ready to go for week one.


12. Cleveland Browns
Kevin White, WR, West Virginia
Ht: 6-3 Wt: 210 lbs. | Class: Senior
Analysis:
Cleveland has a solid defense, so their attention will likely shift to the offensive side of the ball, specifically the receiver position. Kevin White is going to be in contention to be the first receiver drafted. He should form an impressive receiver duo with the talented Josh Gordon.


13. New Orleans Saints
Dante Fowler Jr.*, EDGE, Florida
Ht: 6-3 Wt: 261 lbs. | Class: Junior
Analysis:
New Orleans has a few options in terms of where to look in the draft, but their most pressing need is a consistent pass rushing outside linebacker. Dante Fowler has made his case to be a potential top 10 pick, so the Saints would be ecstatic if they landed the versatile pass rusher from Florida.


14. Miami Dolphins
Danny Shelton, DT, Washington
Ht: 6-2 Wt: 339 lbs. | Class: Senior
Analysis:
Randy Starks could be a cap casualty, and Jared Odrick is a free agent. Defensive tackle should be at the top of the priority list for the Dolphins. I think Danny Shelton is a top 10 prospect, so he's a good value pick in the middle of round one. He isn't just a big, strong body. He has the ability to penetrate as a pass rushing nose tackle, and can be a force against the run.


15. San Francisco 49ers
Dorial Green-Beckham*, WR, Oklahoma
Ht: 6-6 Wt: 225 lbs. | Class: Junior (RS)
Analysis:
If you take away the off the field issues and the fact that he didn't play a single snap for the Sooners this season, Dorial Green-Beckham is a first round talent. One could argue that he is the most talented wide receiver in the entire draft. He'd be an excellent pick for a team like the 49ers, who need a lot of help at the position.


16. Houston Texans
Ronnie Stanley**, OT, Notre Dame
Ht: 6-6 Wt: 315 lbs. | Class: Sophomore (RS)
Analysis:
In the middle of the first round, do the Texans pull the trigger on Brett Hundley Jr., the consensus number three quarterback in this class? If the Texans feel like Hundley is a reach here (which he would be), they can trust their board and draft a top 10 talent like Ronnie Stanley. If you exclude La'el Collins, Ronnie Stanley is first tackle off the board. That's just how this mock draft happened to play out up to this point. The redshirt sophomore could be the first offensive lineman drafted should he declare, and would replace free agent Derek Newton as the starter at right tackle.


17. San Diego Chargers
T.J. Clemmings, OT, Pittsburgh
Ht: 6-6 Wt: 315 lbs. | Class: Senior (RS)
Analysis:
With starting right tackle D.J. Fluker moving to guard next season, and starting left tackle King Dunlap being a free agent, spending a first round pick on a tackle makes plenty of sense. T.J. Clemmings started at right tackle for Pitt, but has the natural length, athleticism, and smoothness as a pass protector to move over to the left side.


18. Kansas City Chiefs
Brandon Scherff, OL, Iowa
Ht: 6-5 Wt: 320 lbs. | Class: Senior (RS)
Analysis:
While the Chiefs desperately need another receiver, there aren't any besides the ones that have come off the board that stand out as obvious first round picks. The offensive line is still a big issue. Brandon Scherff would be an excellent value pick. He should be able to start at either tackle position, but like Zack Martin, should kick inside to guard.


19. Cleveland Browns
Alvin Dupree, EDGE, Kentucky
Ht: 6-4 Wt: 264 lbs. | Class: Senior (RS)
(via Buffalo)
Analysis:
While the Browns do need to improve their run defense, they also need to improve their overall pass rush. With Jabaal Sheard being a free agent, drafting a pass rushing linebacker makes even more sense. The versatile Alvin Dupree projects well as a stand up linebacker in Cleveland's 3-4 defense. He has an outside shot at the top 10, so he'd be a solid value pick here.


20. Philadelphia Eagles
Brett Hundley Jr.*, QB, UCLA
Ht: 6-3 Wt: 227 lbs. | Class: Junior (RS)
Analysis:
Though it would make more sense for the Eagles to trade back to draft him, if you believe a quarterback is your guy, you draft him when you have the opportunity. Brett Hundley Jr. has a lot of work to do going forward, but he has all the tools and upside to be the best quarterback from this class when it's all said and done. He should fit well in Chip Kelly's offense.


21. Cincinnati Bengals
Andrus Peat*, OT, Stanford
Ht: 6-7 Wt: 312 lbs. | Class: Junior
Analysis:
The Bengals have some positions to address on defense, but their offensive line deserves a look in the first round as well. Tackles Andrew Whitworth and Andre Smith will be free agents in 2016, while Eric Winston and Marshall Newhouse are set to be free agents after the season. Starting left guard Clint Boling is also set to be a free agent after the season. Andrus Peat is arguably the most talented offensive lineman in the draft. He wouldn't have to start immediately, but could make an instant impact as a run blocker.


22. Pittsburgh Steelers
Marcus Peters*, CB, Washington
Ht: 6-0 Wt: 198 lbs. | Class: Junior (RS)
Analysis:
The Steelers certainly have issues at cornerback. This isn't a strong cornerback class, but the most talented corner in the draft is Marcus Peters. If teams can overlook some issues with his character, Peters should be the first cornerback drafted. He's not going to be a lockdown corner, but does project as a very solid number one corner.


23. Detroit Lions
Malcolm Brown*, DT, Texas
Ht: 6-4 Wt: 320 lbs. | Class: Junior
Analysis:
Ndamukong Suh may have played his last down as a member of the Lions this past Sunday. He'll need to be replaced. Malcolm Brown is just one of a few defensive tackles who deserve late first round consideration. He's gone from a day 2 prospect to arguably the second best interior defensive lineman in the draft.


24. Arizona Cardinals
Tevin Coleman*, RB, Indiana
Ht: 6-1 Wt: 210 lbs. | Class: Junior
Analysis:
Arizona doesn't have much talent at running back. They averaged just over 80 yards rushing per game, so they should jump at the chance to add a franchise running back in a loaded class. Melvin Gordon III is the consensus number two back behind Todd Gurley II, but as the draft gets closer, many people will warm up to Tevin Coleman. He is a talented runner, and a complete three down back.


25. Carolina Panthers
Cedric Ogbuehi, OT, Texas A&M
Ht: 6-5 Wt: 300 lbs. | Class: Senior (RS)
Analysis:
Going forward, the left tackle position must be addressed. Cedric Ogbuehi entered the season as a potential top 10 pick, but he struggled a bit this year. Still, he has the ideal tools that should help him transition to the NFL and be a reliable starter at either tackle spot.


26. Baltimore Ravens
Melvin Gordon III*, RB, Wisconsin
Ht: 6-1 Wt: 207 lbs. | Class: Junior (RS)
Analysis:
I've mentioned it before, but, Justin Forsett is an upcoming free agent. Instead of re-signing him, the Ravens could potentially find a replacement in the draft. If Melvin Gordon III falls into their laps, it would be difficult for GM Ozzie Newsome to pass on the Wisconsin running back.


27. Indianapolis Colts
T.J. Yeldon*, RB, Alabama
Ht: 6-2 Wt: 221 lbs. | Class: Junior
Analysis:
Andrew Luck is an elite quarterback with plenty of weapons to throw to. What he doesn't have is a consistent, reliable running game. No running back projected to be on the roster has the upside that T.J. Yeldon does. Yeldon could be the best pass blocking back in this class, which adds to his overall value. He can be a feature back in the NFL.


28. Dallas Cowboys
Trae Waynes*, CB, Michigan State
Ht: 6-1 Wt: 182 lbs. | Class: Junior (RS)
Analysis:
Brandon Carr and Morris Claiborne could be cut this off-season for poor play. While this isn't the best cornerback class, a few players could be in the mix late in the first round. Trae Waynes is one of those players. He has good length and pretty good ball skills for the position. He should look to get stronger so he can have a bigger impact against the run, but he would give Dallas a capable starter opposite Orlando Scandrick.


29. Green Bay Packers
Maxx Williams**, TE, Minnesota
Ht: 6-4 Wt: 250 lbs. | Class: Sophomore (RS)
Analysis:
Maxx Williams is a stud. If you consider Devin Funchess a wide receiver, then Williams is easily the best tight end in a bad class. He's a better prospect than former Packers tight end Jermichael Finley. It's never a bad thing to supply the best quarterback in football with more weapons.


30. Denver Broncos
Eddie Goldman*, DT, Florida State
Ht: 6-4 Wt: 320 lbs. | Class: Junior (RS)
Analysis:
With starting defensive tackle Terrance Knighton set to hit free agency, the Broncos could target his replacement in the first round. He wasn't as highly as regarded as his teammate Mario Edwards Jr. coming into the season, but Eddie Goldman emerged as a legitimate draft prospect this season. He needs to improve his consistency, but Goldman has shown the ability to take over games as an interior defensive lineman.


31. New England Patriots
Devin Funchess*, TE, Michigan
Ht: 6-5 Wt: 230 lbs. | Class: Junior
Analysis:
The New England Patriots are always a candidate to move out of the first round, so they're a wild card in the draft. Based on talent, Devin Funchess is one of the best prospects in the entire draft. He should be a better pro than college player, and New England could be the best team to maximize his talents.


32. Seattle Seahawks
Jordan Phillips**, DT, Oklahoma
Ht: 6-6 Wt: 334 lbs. | Class: Sophomore (RS)
Analysis:
A big bodied interior defensive lineman, Jordan Phillips is a much better pass rusher that given credit for in addition to being stout against the run. When all is said and done, Phillips could go as high as the top half of the first round.