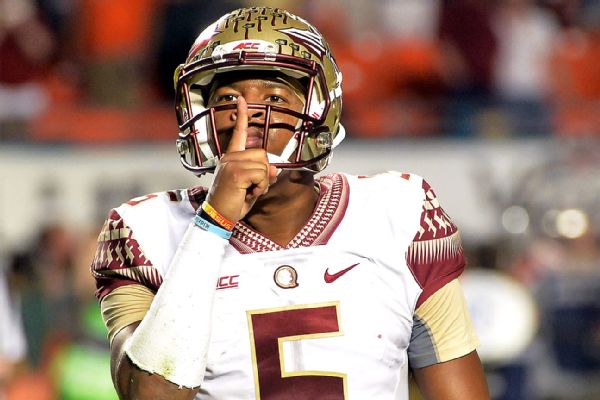 #5, Jameis Winston, QB, Florida State
2015 NFL Mock Draft:
Round 1
(Monday, January 19, 2014)
We're just a couple of weeks a way from the Super Bowl, which means draft season is right around the corner. The East-West Shrine game wrapped up this past week, so now, it's on to the Senior Bowl. As expected, plenty of changes to the mock draft this time around. Let's get into it.
You can view my
2015 NFL Prospect Rankings
here, and My
2015 NFL Draft Big Board
here. Want a preview of the 2016 NFL Draft? You can view my
2016 NFL Draft Positional Rankings
here.


1. Tampa Bay Buccaneers
Jameis Winston**, QB, Florida State
Ht: 6-4 Wt: 230 lbs. | Class: Sophomore (RS)
Analysis:
It would be a complete shock if the Bucs passed on a quarterback. Marcus Mariota has been the favorite for a while, but, the feeling you get out of Tampa right now is that at this point, they're leaning towards Jameis Winston. It makes sense, as he's the more pro ready, and more polished quarterback prospect, and can help a talented Bucs team win now. He's also a better fit for former Falcons OC and new Bucs OC Dirk Koetter's offense.


2. Tennessee Titans
Marcus Mariota*, QB, Oregon
Ht: 6-4 Wt: 219 lbs. | Class: Junior (RS)
Analysis:
To be honest, I believe a quarterback will be selected with this pick regardless of who's picking here. A cop out? Yes, but, the Titans have an opportunity to stockpile picks if they believe Mettenberger is their guy. They could also draft Marcus Mariota for themselves. Mettenberger can be their stop gap, and Mariota could be a trade chip. Or, vise versa.


3. Jacksonville Jaguars
Leonard Williams*, DT, Southern California
Ht: 6-5 Wt: 300 lbs. | Class: Junior
Analysis:
Safe to say, with no offensive tackle worth a top 5 pick at this point, this pick will most likely be spent on a pass rusher. Jacksonville has plenty of options. Do they go with the prototypical defensive end with high upside, Randy Gregory? The terror off the edge, Shane Ray? The versatile defensive lineman Leonard Williams? Or maybe even a darkhorse like Dante Fowler Jr.? With any of these players, the Jaguars would fill a major need and would be getting a great player. Williams is the best prospect available, and his versatility is a plus.


4. Oakland Raiders
Shane Ray*, DE/OLB, Missouri
Ht: 6-3 Wt: 245 lbs. | Class: Junior (RS)
Analysis:
A number one receiver? A pass rusher to pair with Khalil Mack? Where should the Raiders go? Amari Cooper could be a favorite, but pass rusher seems to present the better value. How about Shane Ray, because, why not? He's the best pass rusher in this class, and would form the league's best young pass rushing duo with Khalil Mack.


5. Washington Redskins
La'el Collins, OT, Louisiana State
Ht: 6-5 Wt: 321 lbs. | Class: Senior
Analysis:
At first glance, no tackle currently grades out as a top 5 pick. However, La'el Collins is my #8 ranked prospect as of the making of this mock draft. He projects best at guard, but could give the 'Skins a major upgrade at the right tackle position. The hiring of former Dallas OL coach Bill Callahan could help put an emphasis on improving the unit as a whole. Spending a second round pick a Trent Murphy in last year's draft is a major reason why I see them passing on a pass rusher.


6. New York Jets
DeVante Parker, WR, Louisville
Ht: 6-3 Wt: 208 lbs. | Class: Senior
Analysis:
Unless they swap picks with Tennessee, the Jets will be praying that Mariota or Winston falls into their laps. With that not being the case, look for them to add more talent on offense. While Amari Cooper is the consensus number one receiver in the draft, as the draft process continues to unfold, Louisville's DeVante Parker could leap him on many draft boards. He's the type of play maker their offense currently lacks.


7. Chicago Bears
Randy Gregory*, DE, Nebraska
Ht: 6-6 Wt: 240 lbs. | Class: Junior (RS)
Analysis:
Defense, defense, defense. Linebacker and safety may be their two biggest needs, but the value for those positions isn't there with this pick. Instead, it makes some sense for the Bears to add another pass rusher to the mix. Randy Gregory would be a great pick here. He's the best defensive end in the draft, and has all the tools to be a great pro.


8. Atlanta Falcons
Dante Fowler Jr.*, DE/OLB, Florida
Ht: 6-3 Wt: 261 lbs. | Class: Junior
Analysis:
When it comes to the Falcons, a different pass rusher could be mocked to them in each new edition. That's because the projections will continue to vary, and they desperately need an elite pass rusher. Dante Fowler Jr. could move into top 10 consideration. He's a complete player. Athletic, disruptive, productive, and versatile.


9. New York Giants
Owamagbe Odighizuwa, DE, UCLA
Ht: 6-3 Wt: 270 lbs. | Class: Senior (RS)
Analysis:
The Giants need to upgrade their pass rush. Pass rushers are flying off the board at this point, so why don't the G-Men get in on the action? He isn't widely being discussed as a first round pick, but Owamagbe Odighizuwa is trending upward in my opinion. He's raw, but he's so powerful and has am extremely high motor. Combine that with his impressive physical traits and his versatility, and you've got a potential top 10 prospect.


10. Saint Louis Rams
Dorial Green-Beckham*, WR, Oklahoma
Ht: 6-6 Wt: 225 lbs. | Class: Junior (RS)
Analysis:
They could use another piece or two on defense, but it's their offense that needs a ton of help. The offensive line is still an issue, but the Rams still don't have a number one receiver. Dorial Green-Beckham could fall in the draft like Dez Bryant. Like Bryant, DGB is a top 10 talent, but is much bigger and has a chance to be a special player.


11. Minnesota Vikings
Amari Cooper*, WR, Alabama
Ht: 6-1 Wt: 210 lbs. | Class: Junior
Analysis:
In my last mock, I slotted Georgia running back Todd Gurley II to Minnesota. Both GM Rick Spielman and Head Coach Mike Zimmer claim to want Adrian Peterson back. Whether he's back or not, there may be more value in the receiver position at this point in the first round. Amari Cooper could be a top 5 pick, so drafting maybe the best receiver in the draft just outside of the top 10 seems like a no brainer. It would give Teddy Bridgewater a true number one receiver, and give Minnesota the play maker that Cordarrelle Patterson was supposed to be.


12. Cleveland Browns
Kevin White, WR, West Virginia
Ht: 6-3 Wt: 210 lbs. | Class: Senior
Analysis:
The Browns organization is certainly a mess right now. By default, they may go into the season with Johnny Manziel at quarterback. In Josh Gordon and Andrew Hawkins, Cleveland has some talent at receiver. But, Hawkins is strictly a slot receiver, and Gordon's off the field concerns never seem to go away. Enter Kevin White, the fourth receiver off the board, but, a player who could be the best in this class from the receiver position. He would be a nice addition opposite Josh Gordon.


13. New Orleans Saints
Alvin Dupree, DE/OLB, Kentucky
Ht: 6-4 Wt: 264 lbs. | Class: Senior (RS)
Analysis:
Their pass rush needs to be upgraded. Junior Galette was the Saints' best pass rusher last season, but is facing domestic violence charges, making edge rusher an even bigger need. Alvin Dupree has the athleticism to stand up in New Orleans's 3-4 scheme as a pass rushing linebacker. He could be a top 10 pick.


14. Miami Dolphins
Danny Shelton, DT, Washington
Ht: 6-2 Wt: 339 lbs. | Class: Senior
Analysis:
Finding a safety to pair with Reshad Jones will be a priority, but their biggest need may be at defensive tackle. Randy Starks could be a cap casualty, and Jared Odrick is a free agent. Defensive tackle should be at the top of the priority list for the Dolphins. I think Danny Shelton is a top 10 prospect, so he's a good value pick in the middle of round one. He isn't just a big, strong body. He has the ability to penetrate as a pass rushing nose tackle, and can be a force against the run.


15. San Francisco 49ers
Arik Armstead*, DE, Oregon
Ht: 6-8 Wt: 290 lbs. | Class: Junior
Analysis:
With no receiver worth drafting here, the 49ers could look to add another piece to an already strong defense. The cornerback position stands out, but, as of now, there is no corner worth a top 15 pick. He would be a gamble, but Oregon defensive end Arik Armstead has the raw potential to be a nice future replacement for Justin Smith, who could retire this off-season.


16. Houston Texans
Landon Collins*, SS, Alabama
Ht: 6-0 Wt: 222 lbs. | Class: Junior
Analysis:
Kenrick Lewis and Danieal Manning are both upcoming free agents, so the safety position is a concern going forward. Many analysts believe Landon Collins will be a top 10 pick, so the Texans would be pleased if they landed the draft's best safety with the 16th overall pick. He could be a nice compliment to D.J. Swearinger.


17. San Diego Chargers
T.J. Clemmings, OT, Pittsburgh
Ht: 6-6 Wt: 315 lbs. | Class: Senior (RS)
Analysis:
D.J. Fluker will be moving to guard next season, and starting left tackle King Dunlap is an upcoming free agent, which makes tackle their biggest need. T.J. Clemmings started at right tackle for Pitt, but has the natural length, athleticism, and smoothness as a pass protector to move over to the left side, and he's already one of the draft's best run blockers.


18. Kansas City Chiefs
Brandon Scherff, OL, Iowa
Ht: 6-5 Wt: 320 lbs. | Class: Senior (RS)
Analysis:
With no receiver worth drafting with this pick, expect the Chiefs to bolster their weak offensive line. Brandon Scherff could give Kansas City a needed upgrade at right tackle, but projects best as a guard. His potential to play almost every position on the offensive line helps his value.


19. Cleveland Browns
Maxx Williams**, TE, Minnesota
Ht: 6-4 Wt: 250 lbs. | Class: Sophomore (RS)
(via Buffalo)
Analysis:
Coming off of a disappointing season, tight end Jordan Cameron is an upcoming free agent. He'll need to be replaced. Maxx Williams is the best tight end prospect the 2015 class has to offer. He's got a complete skill set, and can solidify himself as a round one prospect if he tests well at the combine.


20. Philadelphia Eagles
Marcus Peters*, CB, Washington
Ht: 6-0 Wt: 198 lbs. | Class: Junior (RS)
Analysis:
It's no secret that the Eagles had terrible play at the cornerback position. They could definitely use an infusion of talent. Marcus Peters currently grades out as the best overall cornerback on tape. If Philly can look past the potential baggage Peters comes with, they'll have themselves a true number one corner.


21. Cincinnati Bengals
Shaq Thompson*, OLB, Washington
Ht: 6-1 Wt: 228 lbs. | Class: Junior
Analysis:
The Bengals don't have much talent at linebacker outside of Vontaze Burfict. Shaq Thompson is the prototypical weakside linebacker in today's NFL. He'll have to shed the "undersized" label, but he has the athletic ability and cover skills they need at outside linebacker. This could allow Burfict to move inside to his more natural inside linebacker position.


22. Pittsburgh Steelers
Vic Beasley, EDGE, Clemson
Ht: 6-2 Wt: 235 lbs. | Class: Senior (RS)
Analysis:
Jason Worilds will be a free agent after the season, while James Harrison will be 37 years old next season. A pass rushing outside linebacker will be high on Pittsburgh's priority list. Vic Beasley could be the best all-around pass rusher in the draft. He'll need to get stronger and improve against the run, but should be able to put pressure on opposing quarterbacks from day one.


23. Detroit Lions
Malcolm Brown*, DT, Texas
Ht: 6-4 Wt: 320 lbs. | Class: Junior
Analysis:
Both Ndamukong Suh and Nick Fairley are going to be free agents in March, which makes defensive tackle their biggest need by far. Malcolm Brown is the pick for them once again. His blend of power and quickness make him an interior pass rushing threat as well as a stout run defender.


24. Arizona Cardinals
Todd Gurley II*, RB, Georgia
Ht: 6-1 Wt: 226 lbs. | Class: Junior
Analysis:
The best running back in the draft by far is Todd Gurley II. Should the Cardinals choose Gurley II--who's coming off of a torn ACL--over a Melvin Gordon? If they have no concerns about his health, then the answer is obvious. He'll help improve the league's second worst rushing attack.


25. Carolina Panthers
Andrus Peat*, OT, Stanford
Ht: 6-7 Wt: 312 lbs. | Class: Junior
Analysis:
Andrus Peat's upside could push him into the top 10 picks, so a tackle needy team like Carolina picking late in the first round would be thrilled if he feel to them. Peat has all the tools to be a franchise left tackle.


26. Baltimore Ravens
Melvin Gordon III*, RB, Wisconsin
Ht: 6-1 Wt: 207 lbs. | Class: Junior (RS)
Analysis:
I know I sound like a broken record, but, if Justin Forsett isn't re-signed, the Ravens will need to find a replacement in the draft. If Melvin Gordon III is on the board, GM Ozzie Newsome could run to the podium and select the talented Wisconsin running back.


27. Dallas Cowboys
Eddie Goldman*, DT, Florida State
Ht: 6-4 Wt: 320 lbs. | Class: Junior (RS)
Analysis:
When it comes to the running back position, I predict that Jerry Jones lets DeMarco Murray walk and makes a move for Adrian Peterson. Otherwise, a running back would be in play. Given the lack of talent on the defensive line, look for that to be fixed through the draft. Dallas had the 8th best run defense in the league, but could still use a 1-technique defensive tackle like Eddie Goldman. Though he needs to be more consistent, Goldman is an impact run defender, and has flashed the potential to be a very good interior rusher.


28. Denver Broncos
Devin Funchess*, TE, Michigan
Ht: 6-5 Wt: 230 lbs. | Class: Junior
Analysis:
The top three tight ends on Denver's roster aren't under contract for next season. Add receivers Demaryius Thomas and Wes Welker to the list of upcoming free agents, and it means Denver needs to target a pass catcher early. Devin Funchess could become a match up nightmare for the Broncos.


29. Indianapolis Colts
Tevin Coleman*, RB, Indiana
Ht: 6-1 Wt: 210 lbs. | Class: Junior
Analysis:
Andrew Luck carried his team to the playoffs. On offense, they have no running game, have a bad offensive line, and receivers who struggle with drops. The Colts will likely be reluctant to spend a first round pick on a running back after they traded a 2014 for the bust that is Trent Richardson. However, they need someone to compete with Boom Herron. Tevin Coleman has the skill set to be an every down back, and consistent 1,000 yard rusher. Something the Colts haven't had since Edgerrin James.


30. Green Bay Packers
Eric Kendricks, ILB, UCLA
Ht: 6-1 Wt: 230 lbs. | Class: Senior
Analysis:
Green Bay's focus should be on defense. I think they would benefit from upgrading at inside linebacker. Eric Kendricks is a stud. He's the most complete, well-rounded linebacker in this class, and could emerge as a leader on defense.


31. New England Patriots
T.J. Yeldon*, RB, Alabama
Ht: 6-2 Wt: 221 lbs. | Class: Junior
Analysis:
It might not seem very likely at first glance that New England could take a running back as early as the first round. However, with Shane Vereen and Stevan Ridley unlikely to be re-signed, they could use more talent in the backfield. T.J. Yeldon would be a solid value pick at the end of round one. He's arguably the most talented back in this class, and should be a better pro than college player.


32. Seattle Seahawks
Jaelen Strong*, WR, Arizona State
Ht: 6-3 Wt: 212 lbs. | Class: Junior (RS)
Analysis:
It's obvious that Seattle's biggest need is a number one receiver. A big, physical receiver who can win in contested situations like Jaelen Strong would make a lot of sense. He should be a reliable go-to guy in the NFL.