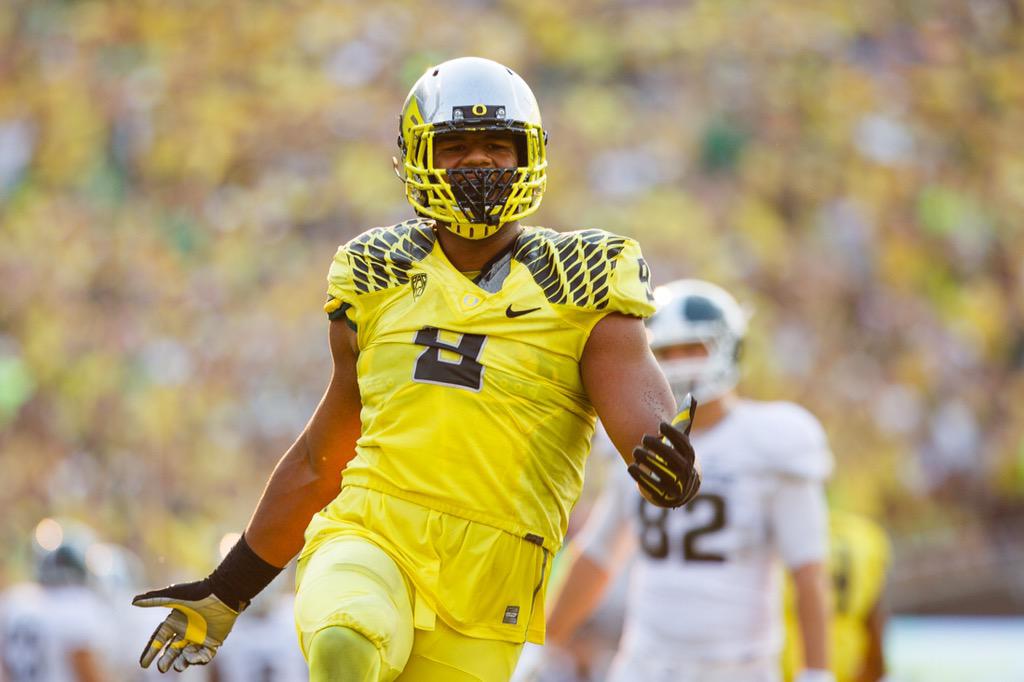 #8, Arik Armstead, DE, Oregon
2015 NFL Mock Draft:
Round 1
(Friday, March 13, 2015)
The Draft continues to inch closer and closer. Free Agency has officially begun, and while there are still plenty of quality players out there, most of the big names have already moved teams. With teams filling certain needs, the draft picture continues to become clearer, but it still won't be easy to predict.
You can view my
2015 NFL Prospect Rankings
here, and My
2015 NFL Draft Big Board
here. Want a preview of the 2016 NFL Draft? You can view my
2016 NFL Draft Positional Rankings
here.


1. Tampa Bay Buccaneers
Jameis Winston**, QB, Florida State
Ht: 6-4 Wt: 231 lbs. | Class: Sophomore (RS)
Analysis:
Nothing much has changed. Florida State quarterback Jameis Winston visited Tampa on March 3rd, which makes it even more obvious that Lovie Smith and the Buccaneers brass are comfortable with making him the number one overall pick and the face of the franchise.


2. Tennessee Titans
Leonard Williams*, DL, Southern California
Ht: 6-5 Wt: 302 lbs. | Class: Junior
Analysis:
The Titans were connected to quarterbacks like Jay Cutler and Nick Foles, but these were just rumors that never really picked up momentum. Ken Whisenhunt could make the call, which means he'd go with Leonard Williams in all likelihood. If GM Ruston Webster makes the call, he could pull the trigger on Marcus Mariota. At this point, I'll lean toward Williams.


3. Jacksonville Jaguars
Dante Fowler Jr.*, EDGE, Florida
Ht: 6-3 Wt: 261 lbs. | Class: Junior
Analysis:
With the way the Jaguars have handled free agency so far, look for them to draft an edge rusher with the 3rd overall pick. The question is, which one would they prefer? Dante Fowler Jr. seems to fit what they want in their LEO, with the prototypical size, length, and speed coming off the edge.


4. Oakland Raiders
Amari Cooper*, WR, Alabama
Ht: 6-1 Wt: 211 lbs. | Class: Junior
Analysis:
While it does make sense for the Raiders to add another pass rusher, after not signing Randall Cobb, I believe the Raiders turn their attention to the wide receiver position. Like edge rusher, the top receivers in this class are interchangeable, but Amari Cooper is the most likely choice here at this point.


5. Washington Redskins
Marcus Mariota*, QB, Oregon
Ht: 6-4 Wt: 222 lbs. | Class: Junior (RS)
Analysis:
ESPN Insider John Clayton stated that the Redskins would draft Marcus Mariota if he fell to them. Head Coach Jay Gruden gave current starting quarterback RG3 a vote of confidence this off season, but was clearly not a fan of his play on the field. With this being a different regime in Washington, Mariota could wind up being their guy.


6. New York Jets
Vic Beasley, EDGE, Clemson
Ht: 6-3 Wt: 246 lbs. | Class: Senior (RS)
Analysis:
After trading for Brandon Marshall, the Jets can go in a different direction here. The only obvious need on defense for the Jets is at outside linebacker. Randy Gregory and Shane Ray both make sense, but Vic Beasley has a better chance of making an immediate impact coming off the edge on a defense that is shaping up to be arguably the best in the NFL.


7. Chicago Bears
Danny Shelton, NT, Washington
Ht: 6-2 Wt: 339 lbs. | Class: Senior
Analysis:
It's very possible that the Bears look to add pieces to their 3-4 defense. If Danny Shelton falls to the Bears, it would be hard to pass on the dominant nose tackle prospect. Wide receiver is another potential need depending on how they view Marquess Wilson.


8. Atlanta Falcons
Shane Ray*, EDGE, Missouri
Ht: 6-3 Wt: 245 lbs. | Class: Junior (RS)
Analysis:
The continued expectation is that the Falcons will draft the best pass rusher on their board. They've been linked to Missouri defensive end Shane Ray, who could be a top 5 pick. They seem to be fans of his game, and Ray, due to his length, speed, and explosiveness off the edge, could be their "LEO" rusher in Dan Quinn's 4-3 scheme.


9. New York Giants
Randy Gregory*, EDGE, Nebraska
Ht: 6-5 Wt: 235 lbs. | Class: Junior (RS)
Analysis:
Many people expect the Giants to draft an offensive lineman with this pick, but there are a couple of players who could potentially be higher on their draft board. Kevin White could be that guy, but, do the Giants really have the luxury to draft a receiver when they have bigger needs? I don't think so. Randy Gregory makes much more sense. He still has a chance to be the top edge rusher off the board, and would pair with Jason Pierre-Paul, with Robert Ayers and Damontre Moore rotating.


10. Saint Louis Rams
Kevin White, WR, West Virginia
Ht: 6-3 Wt: 215 lbs. | Class: Senior
Analysis:
After releasing tackle Jake Long and center Scott Wells, offensive line must be addressed very early in the draft yet again. However, what if Kevin White is on the board? He presents excellent value here, and would immediately become the number one receiver the Rams have not had in a very long time.


11. Minnesota Vikings
DeVante Parker, WR, Louisville
Ht: 6-3 Wt: 209 lbs. | Class: Senior
Analysis:
If Adrian Peterson is traded, the Vikings could look to draft one of the top running backs here. Otherwise, I still believe that if one of the "big three" receivers in this class falls into their lap, they'll draft him here. In this case, it's DeVante Parker, Teddy Bridgewater's former teammate at Louisville.


12. Cleveland Browns
La'el Collins, OL, Louisiana State
Ht: 6-5 Wt: 305 lbs. | Class: Senior
Analysis:
Brandon Scherff is the consensus top offensive lineman prospect in this class, but the Browns may prefer LSU tackle La'el Collins. He projects best as a guard, but should easily be able to step in at right tackle while Mitchell Schwartz slides inside.


13. New Orleans Saints
Brandon Scherff, OL, Iowa
Ht: 6-5 Wt: 319 lbs. | Class: Senior (RS)
Analysis:
The Saints seem intent on blowing up the roster. Now with two first round picks, the Saints are expected to draft a pass rusher or a corner. However, after trading Ben Grubbs to the Chiefs, guard becomes a pretty big need for them. Brandon Scherff is going to be a candidate to kick inside to guard at the next level, where he could be an immediate All-Pro.


14. Miami Dolphins
Dorial Green-Beckham*, WR, Oklahoma
Ht: 6-5 Wt: 237 lbs. | Class: Junior (RS)
Analysis:
The Dolphins are making moves in free agency. One thing is for sure--wide receiver has become the team's biggest need. If the Dolphins aren't too concerned with previous off the field incidents, Dorial Green-Beckham would be an absolute steal for them.


15. San Francisco 49ers
Trae Waynes*, CB, Michigan State
Ht: 6-0 Wt: 186 lbs. | Class: Junior (RS)
Analysis:
This roster is already beginning to look completely different. One thing that hasn't changed is their need for a true number one corner. Trae Waynes has emerged as the top guy at the position, and has the skill set to become a Pro Bowl caliber corner.


16. Houston Texans
Melvin Gordon III*, RB, Wisconsin
Ht: 6-1 Wt: 215 lbs. | Class: Junior (RS)
Analysis:
The positions the Texans need to address the most don't present the best value here. Running back may not appear to be a huge need for them, but considering that the Texans want to lighten Arian Foster's workload, and the fact that he's missed 11 games the past two season, it makes some sense. Todd Gurley II is the best back in the draft, but Melvin Gordon is a first round talent himself. He'd form a deadly one-two punch at running back in his first couple of seasons in Houston.


17. San Diego Chargers
Todd Gurley II*, RB, Georgia
Ht: 6-1 Wt: 222 lbs. | Class: Junior
Analysis:
Losing Ryan Mathews will force the Chargers to target a running back early. Todd Gurley II would be a great pick for them, but they could be concerned with his durability, and they've been down that road with Mathews. Still, no other prospect seems to be an obvious pick, and Gurley is a stud.


18. Kansas City Chiefs
Landon Collins*, SS, Alabama
Ht: 6-0 Wt: 228 lbs. | Class: Junior
Analysis:
They released Dwayne Bowe, but signing Jeremy Maclin means the Chiefs may not have to reach for a receiver here. Investing in a couple of guards in free agency (traded for Ben Grubbs, signed Paul Fanaika), means they could target another position--though don't be too surprised if they look to draft a bookend tackle to Eric Fisher. Landon Collins has a shot at being drafted in the top 10, so he'd be a solid value pick here. He'd form a strong safety tandem with Tyvon Branch.


19. Cleveland Browns
Arik Armstead*, DE, Oregon
Ht: 6-7 Wt: 292 lbs. | Class: Junior
(via Buffalo)
Analysis:
Will they draft a receiver? They should, but they also shouldn't reach for one if the value isn't there. I believe they'll look to improve their poor run defense by bolstering the defensive line. Eddie Goldman will garner consideration, but Arik Armstead could intrigue them as a 5 technique defensive end.


20. Philadelphia Eagles
Marcus Peters*, CB, Washington
Ht: 6-0 Wt: 197 lbs. | Class: Junior (RS)
Analysis:
Chip Kelly has gone all out so far in free agency. Releasing Todd Herremans and trading Evan Mathis means that a guard will be in play, while receiver is also a position of need. The value isn't here for either of those positions. Marcus Peters could be the pick here. The Eagles don't have a player who projects as the boundary corner opposite Byron Maxwell, and Peters may be the most talented in this class.


21. Cincinnati Bengals
Alvin Dupree, EDGE, Kentucky
Ht: 6-4 Wt: 269 lbs. | Class: Senior (RS)
Analysis:
The Bengals could use another pass rusher, and luckily for them, "Bud" Dupree is still on the board. Dupree is in the top 10 mix, so he'd be considered a steal if he lasts this long. He has a chance to be a very good starter opposite Carlos Dunlap.


22. Pittsburgh Steelers
Owamagbe Odighizuwa, EDGE, UCLA
Ht: 6-4 Wt: 267 lbs. | Class: Senior (RS)
Analysis:
Pittsburgh is looking to retool on defense. With Jason Worilds retiring, the Steelers desperately need to target an edge rusher early in the draft. Owamagbe Odighizuwa continues to climb up the boards, and it wouldn't shock me if he's drafted in the top 15. He should be able to stand up in Pittsburgh's 3-4 defense.


23. Detroit Lions
Malcolm Brown*, DT, Texas
Ht: 6-2 Wt: 319 lbs. | Class: Junior
Analysis:
Malcolm Brown continues to make sense for the Lions. The Lions replaced Ndamukong Suh by trading for Haloti Ngata, but they're going to have to replace Nick Fairley, who looks destined to sign elsewhere. Brown is the best 3-technique defensive tackle not named Leonard Williams in the draft.


24. Arizona Cardinals
Eric Kendricks, ILB, UCLA
Ht: 6-0 Wt: 232 lbs. | Class: Senior
Analysis:
I don't see an obvious pick for the Cardinals if the draft plays out like this. Daryl Washington can't be counted on to get his act together, while injury prone Sean Weatherspoon was signed to only a one year deal. And who knows how they feel about Kevin Minter. Eric Kendricks should give them some stability at inside linebacker.


25. Carolina Panthers
D.J. Humphries*, OT, Florida
Ht: 6-5 Wt: 307 lbs. | Class: Junior
Analysis:
The Panthers are connected to Florida offensive tackle D.J. Humphries, and for good reason. They desperately need offensive line help, specifically, a reliable blindside protector for Cam Newton. Humphries projects well on the left side, and don't be surprised if he's drafted in the top half of round one.


26. Baltimore Ravens
Jaelen Strong*, WR, Arizona State
Ht: 6-2 Wt: 217 lbs. | Class: Junior (RS)
Analysis:
Though he'd be a bit of a reach IMO, Jaelen Strong is a big-bodied receiver who can make an immediate impact as a go to guy in the red zone. After losing Torrey Smith in free agency, receiver became an even bigger need.


27. Dallas Cowboys
Shaq Thompson*, OLB, Washington
Ht: 6-0 Wt: 228 lbs. | Class: Junior
Analysis:
With all the top pass rushers, defensive backs, and running backs off the board, the Cowboys may target a linebacker here. Justin Durant and Bruce Carter left via free agency, and Rolando McClain could bolt as well. Shaq Thompson is the best non-pass rushing outside linebacker in the draft, and his versatility should certainly appeal to Dallas.


28. Denver Broncos
Andrus Peat*, OT, Stanford
Ht: 6-7 Wt: 313 lbs. | Class: Junior
Analysis:
Denver has lost a lot of players in free agency, including offensive lineman Orlando Franklin. Safe to say, the Broncos should make protecting Peyton Manning a high priority. Andrus Peat could go in the top 10 based on talent alone, so he'd be a pretty big steal late in round one. He could give them an upgrade at right tackle over Chris Clark.


29. Indianapolis Colts
T.J. Clemmings, OT, Pittsburgh
Ht: 6-5 Wt: 309 lbs. | Class: Senior (RS)
Analysis:
After filling some needs in free agency, the Colts could invest in a tackle if one falls to them. T.J. Clemmings could be a long term solution for them at either tackle spot, potentially sooner than later with Gosder Cherilus's long term health in question.


30. Green Bay Packers
Maxx Williams**, TE, Minnesota
Ht: 6-4 Wt: 250 lbs. | Class: Sophomore (RS)
Analysis:
The Packers could decide to snatch up Maxx Williams and add him to an already stacked group of receivers before the Saints get a chance to pull the trigger. Williams is the only tight end in the draft who carries a first round grade, and it's never a bad idea to give your quarterback more weapons.


31. New Orleans Saints
Cameron Erving, OL, Florida State
Ht: 6-6 Wt: 313 lbs. | Class: Senior (RS)
(via Seattle)
Analysis:
Look for the Saints to turn to the offensive or defensive lines with no pass rushers or defensive backs worth drafting. Cameron Erving can potentially play every position on the offensive line. He could step right in and replace Ben Grubbs at guard, or start at center with newly acquired center Max Unger moving over to guard.


32. New England Patriots
Eddie Goldman*, NT, Florida State
Ht: 6-4 Wt: 336 lbs. | Class: Junior
Analysis:
I currently don't see more than two corners going in the first round, but things could change. After releasing Vince Wilfork, the Patriots could use a new nose tackle. Eddie Goldman is worth the gamble late in the first round.