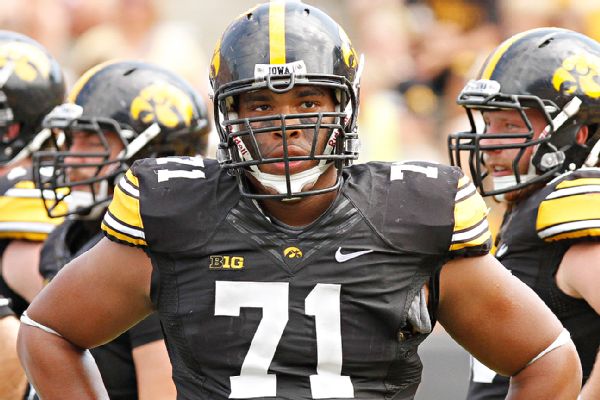 #71, Carl Davis, DT, Iowa
2015 NFL Mock Draft:
Round 1
(Saturday, March 21, 2015)


1. Tampa Bay Buccaneers
Jameis Winston**, QB, Florida State
Ht: 6-4 Wt: 231 lbs. | Class: Sophomore (RS)
Analysis:
Marcus Mariota should be in the discussion, but Jamies Winston continues to look like the player the Bucs want to spend the number one overall pick on.


2. Tennessee Titans
Marcus Mariota*, QB, Oregon
Ht: 6-4 Wt: 222 lbs. | Class: Junior (RS)
Analysis:
Jason La Canfora of CBS believes if the Titans don't trade out of the second overall pick, Head Coach Ken Whisenhut will succumb to the pressure of selecting Marcus Mariota. Yes, the Titans have plenty of holes on their roster, but that doesn't mean they should pass on a potential franchise quarterback.


3. Jacksonville Jaguars
Leonard Williams*, DL, Southern California
Ht: 6-5 Wt: 302 lbs. | Class: Junior
Analysis:
If Leonard Williams falls to the Jaguars, I think they'll trust their board and take him. It'd be hard to pass on the consensus top overall prospect in the draft. While Jacksonville does need an edge rusher, Williams would be difficult to pass on as an excellent interior pass rusher who could also be a power end in Jacksonville's defense.


4. Oakland Raiders
Amari Cooper*, WR, Alabama
Ht: 6-1 Wt: 211 lbs. | Class: Junior
Analysis:
Amari Cooper to Oakland makes a lot of sense. He seems to fit what the Raiders want at receiver, and has the skill set to make an immediate impact in his rookie season, and emerge as a go to receiver for Derek Carr.


5. Washington Redskins
Kevin White, WR, West Virginia
Ht: 6-3 Wt: 215 lbs. | Class: Senior
Analysis:
GM Scot McCloughan will likely draft the best player available, which is why I don't see them reaching for an offensive lineman or defensive back. Even though they drafted Trent Murphy in the second round, I think the Redskins will strongly consider an edge rusher. However, with rumors linking them to Amari Cooper, they could be looking for a number one receiver. Kevin White makes a lot of sense here.


6. New York Jets
Dante Fowler Jr.*, EDGE, Florida
Ht: 6-3 Wt: 261 lbs. | Class: Junior
Analysis:
With Marcus Mariota, Amari Cooper, and Kevin White all off the board, it makes more sense for the Jets to upgrade their pass rush. They have plenty of options here, so it all comes down to preference. Todd Bowles uses different alignments on defense, whether his teams give 3-4 or 4-3 looks. Because of this, they may love Dante Fowler Jr., due to his versatility.


7. Chicago Bears
Danny Shelton, NT, Washington
Ht: 6-2 Wt: 339 lbs. | Class: Senior
Analysis:
Adding a edge rusher who can stand up in Chicago's new 3-4 defense is tempting, but I still don't believe they'll pass on Danny Shelton, the best nose tackle in this draft. Every successful 3-4 defense could use a dominant nose tackle, which is what Shelton has the potential to be.


8. Atlanta Falcons
Shane Ray*, EDGE, Missouri
Ht: 6-3 Wt: 245 lbs. | Class: Junior (RS)
Analysis:
Vic Beasley would be my choice for the Falcons, but they seem to really love Shane Ray. Either way, the Falcons desperately need to add a pass rusher in the first round, and Ray could be their guy.


9. New York Giants
Vic Beasley, EDGE, Clemson
Ht: 6-3 Wt: 246 lbs. | Class: Senior (RS)
Analysis:
I still have a hard time seeing the Giants pull the trigger on an offensive lineman. If they trust their board, they'll see there is better value in drafting one of the coveted pass rushers in the top 10. Vic Beasley is the best in this draft when it comes to getting to the quarterback. His role in New York could be as a WILL linebacker who puts his hand in the dirt on third downs.


10. Saint Louis Rams
Brandon Scherff, OL, Iowa
Ht: 6-5 Wt: 319 lbs. | Class: Senior (RS)
Analysis:
If Amari Cooper and/or Kevin White don't fall to them, the Rams will probably draft an offensive lineman here. With Greg Robinson penciled in at left tackle, this pick could come down to Brandon Scherff and La'el Collins. Though I have Collins ranked a little higher, Scherff may be viewed as a "safer" and more versatile prospect, so I'll give him the nod here.


11. Minnesota Vikings
Trae Waynes*, CB, Michigan State
Ht: 6-0 Wt: 186 lbs. | Class: Junior (RS)
Analysis:
I've previously mocked DeVante Parker here, but the acquisition of Mike Wallace makes that less likely. And until Adrian Peterson is actually traded or released, I won't project the Vikings a running back. Trae Waynes to the Vikings seems like a legitimate possibility. They already have one of the NFL's top young corners in Xavier Rhodes, so pairing him with the best corner in the draft makes a lot of sense.


12. Cleveland Browns
Randy Gregory*, EDGE, Nebraska
Ht: 6-5 Wt: 235 lbs. | Class: Junior (RS)
Analysis:
If the Browns can't trade up for Marcus Mariota, they could draft the best player on their board. I'd lobby for them to draft DeVante Parker, but their moves in free agency indicate they'll pass on a receiver. Randy Gregory has the look of a top 10 pick, so he'd be a good value pick for a team that could use another pass rusher.


13. New Orleans Saints
Alvin Dupree, EDGE, Kentucky
Ht: 6-4 Wt: 269 lbs. | Class: Senior (RS)
Analysis:
The Saints seem to be trying to rebuild. They could go numerous directions with the 13th pick. Drafting a receiver would be tempting, but the Saints, desperately needing to add another pass rusher, could find it hard to pass on "Bud" Dupree, who would easily be able to make the transition to outside linebacker in New Orleans's 3-4 defense.


14. Miami Dolphins
DeVante Parker, WR, Louisville
Ht: 6-3 Wt: 209 lbs. | Class: Senior
Analysis:
The Dolphins basically exchanged Mike Wallace for Kenny Stills. Still is an upgrade, but they still need another outside receiver. DeVante Parker could be the first receiver off the board, so if he slides, Miami would be wise to stop him from falling.


15. San Francisco 49ers
Dorial Green-Beckham*, WR, Oklahoma
Ht: 6-5 Wt: 237 lbs. | Class: Junior (RS)
Analysis:
There is some buzz that Dorial Green-Beckham could be the pick for the '9ers. It makes plenty of sense. From a talent standpoint, there aren't any receivers on DGB's level. Off the field concerns are the only reason he could slide, but he'd be landing in a pretty good spot playing behind or alongside a couple of high caliber receivers in Torrey Smith and Anquan Boldin.


16. Houston Texans
Eric Kendricks, ILB, UCLA
Ht: 6-0 Wt: 232 lbs. | Class: Senior
Analysis:
The Texans are in a tough spot. All the top players that fill immediate needs are off the board. In my last mock, I had the Texans going with Melvin Gordon III. I can still see that happening, but I get the feeling they could look to upgrade the inside linebacker spot here. Eric Kendricks is the best off ball line backer this class has to offer, and should receive plenty of consideration in the middle of the first round.


17. San Diego Chargers
Todd Gurley II*, RB, Georgia
Ht: 6-1 Wt: 222 lbs. | Class: Junior
Analysis:
The Chargers are another team that could trade up for Marcus Mariota. Assuming they stay put, I see them drafting one of these stud running backs. While Melvin Gordon III seems like a perfect match, Todd Gurley II is the better prospect, and is a better power runner than Gordon III. According to Bleacher Report's Matt Miller, Mike McCoy wants to be a power running team.


18. Kansas City Chiefs
Andrus Peat*, OT, Stanford
Ht: 6-7 Wt: 313 lbs. | Class: Junior
Analysis:
I wouldn't be surprised to see the Chiefs draft a defensive back, but they could look to upgrade the right tackle spot. Andrus Peat has left tackle tools, but could be even better on the right side.


19. Cleveland Browns
La'el Collins, OL, Louisiana State
Ht: 6-5 Wt: 305 lbs. | Class: Senior
(via Buffalo)
Analysis:
At least one of the Browns' first round choices will be spent on a right tackle. I think they'll consider La'el Collins with the 12th overall pick, so they'd be pretty stoked if they could land him with their second first round pick.


20. Philadelphia Eagles
Jake Fisher, OL, Oregon
Ht: 6-6 Wt: 306 lbs. | Class: Senior
Analysis:
While the Eagles will certainly consider drafting a corner here, the moves they've made have opened up some holes on the offensive line. Jake Fisher is from Oregon, but he can really play. His athleticism and versatility are just a few reasons why he makes sense in the first round. He'll likely kick inside with Jason Peters and Lane Johnson as the bookend tackles.


21. Cincinnati Bengals
D.J. Humphries*, OT, Florida
Ht: 6-5 Wt: 307 lbs. | Class: Junior
Analysis:
Both Andre Smith and Andrew Whitworth will be free agents in 2016. With the Bengals slated to go with the best available player approach, that could give them the opportunity to draft a potential successor to Whitworth at left tackle. D.J. Humphries is the best left tackle prospect available, and should be a first round lock.


22. Pittsburgh Steelers
Kevin Johnson, CB, Wake Forest
Ht: 6-0 Wt: 188 lbs. | Class: Senior (RS)
Analysis:
Landon Collins could be an option if they don't see Shamarko Thomas as a true successor to Troy Polomalu. The cornerback position, however, definitely needs to be upgraded. A fast rising corner, Kevin Johnson is the smoothest cover man in the draft, and looks like he could be the second off the board.


23. Detroit Lions
Melvin Gordon III*, RB, Wisconsin
Ht: 6-1 Wt: 215 lbs. | Class: Junior (RS)
Analysis:
I've mocked Malcolm Brown to the Lions for a long time, but if Melvin Gordon III is on the board, I'd find it hard for the Lions to pass. Looking at their roster, Detroit needs a big upgrade at the running back position, and MG3 is a prospect they seem to be keying in on.


24. Arizona Cardinals
Marcus Peters*, CB, Washington
Ht: 6-0 Wt: 197 lbs. | Class: Junior (RS)
Analysis:
Losing Antonio Cromartie to the Jets could force the Cardinals to spend an early round pick on a corner. Marcus Peters is the most talented corner in this class, and would probably be a top 15 pick if not for character concerns. He'd form an impressive tandem with Patrick Peterson.


25. Carolina Panthers
T.J. Clemmings, OT, Pittsburgh
Ht: 6-5 Wt: 309 lbs. | Class: Senior (RS)
Analysis:
From now until the draft, I'll probably continue to slot the best left tackle prospect on the board to the Panthers. This time around, it's T.J. Clemmings, who has all the tools to be a big time left tackle in the NFL.


26. Baltimore Ravens
Maxx Williams**, TE, Minnesota
Ht: 6-4 Wt: 250 lbs. | Class: Sophomore (RS)
Analysis:
Receiver may be a bigger need, but Dennis Pitta's uncertain status for the upcoming season leaves room for a tight end to be in the mix. The only tight end in the first round mix is Maxx Williams, and he's a stud.


27. Dallas Cowboys
Landon Collins*, SS, Alabama
Ht: 6-0 Wt: 228 lbs. | Class: Junior
Analysis:
The Cowboys seem to like J.J. Wilcox, and he had his moments, but he's too inconsistent, and Barry Church hasn't been much better. If the board falls this way, it may be hard for the 'Boys to pass on a safety prospect the caliber of Collins.


28. Denver Broncos
Cameron Erving, OL, Florida State
Ht: 6-6 Wt: 313 lbs. | Class: Senior (RS)
Analysis:
Addressing the offensive line will probably be the top priority for Denver come draft day, and it makes sense. Because of his ability to potentially play all 5 offensive line positions, Cameron Evring could prove to be a solid pick for the Broncos.


29. Indianapolis Colts
Shaq Thompson*, ILB, Washington
Ht: 6-0 Wt: 228 lbs. | Class: Junior
Analysis:
Shaq Thompson may not have a true position, but the Colts can find a spot for him. He can start next to Nate Irving at inside linebacker, potentially move to safety, and/or even play running back. Though his skillset would be best utilized on defense.


30. Green Bay Packers
Carl Davis, NT, Iowa
Ht: 6-5 Wt: 320 lbs. | Class: Senior (RS)
Analysis:
The Packers currently have a hole at nose tackle. Eddie Goldman could be in play, but outside of Danny Shelton, I believe Carl Davis is the best nose tackle prospect in this class. If any team can maximize the skillset and talent Davis has, it's the Packers.


31. New Orleans Saints
Devin Funchess*, TE, Michigan
Ht: 6-4 Wt: 232 lbs. | Class: Junior
(via Seattle)
Analysis:
Trading Jimmy Graham opens the door for the Saints to use this pick on a tight end. Devin Funchess is a first round talent, and he helped his stock at his pro day. He could be drafted as a tight end or a receiver. Either way, he could emerge as a top target for Drew Brees.


32. New England Patriots
Malcolm Brown*, DT, Texas
Ht: 6-2 Wt: 319 lbs. | Class: Junior
Analysis:
Instead of reaching for a corner, the Patriots could target Malcolm Brown as a potential replacement for Vince Wilfork. Brown could be a top 20 pick, so he'd be a steal at the end of round one in some people's eyes.