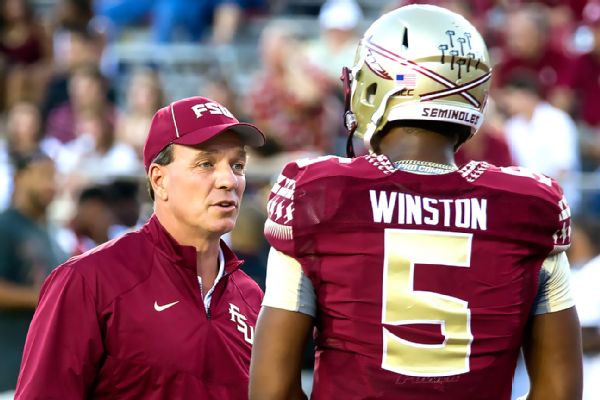 #5, Jameis Winston, QB, Florida State
2015 NFL Mock Draft:
Round 1
(Thursday, April 30, 2015)
It's time. The 2015 NFL Draft is finally here, and I've done by best to piece together the most accurate Mock Draft. I've even embedded some tweets from plugged in insiders to support some of these projections. Reminder: this mock draft isn't about what I would do, but about what I think these teams will do. No trades have been projected, and you can expect each pick to be graded sometime after the draft. Ladies and Gentlemen, it's time to get crazy!
You can view my
2015 NFL Prospect Rankings
here, and My
Updated 2015 NFL Draft Big Board
here. Want a preview of the 2016 NFL Draft? You can view my
2016 NFL Draft Positional Rankings
here.


1. Tampa Bay Buccaneers
Jameis Winston**, QB, Florida State
Ht: 6-4 Wt: 231 lbs. | Class: Sophomore (RS)
Analysis:
According to Gil Arcia of "The Bucs Cove", players were informed that Jameis Winston will be their pick. This is definitely not shocking news, as they desperately need a franchise quarterback, so if Winston is indeed the pick, the Bucs would get an "A" grade from me.


2. Tennessee Titans
Marcus Mariota*, QB, Oregon
Ht: 6-4 Wt: 222 lbs. | Class: Junior (RS)
Analysis:
Ken Whisenhunt has talked up Marcus Mariota, but it doesn't seem like the Titans are in love with him as a prospect. I do feel like they'll draft him with the second overall pick, whether they plan on trading him at some point during the draft or keeping him and building around him.


3. Jacksonville Jaguars
Amari Cooper*, WR, Alabama
Ht: 6-1 Wt: 211 lbs. | Class: Junior
Analysis:
The Jaguars "shocked the world" when they drafted Blake Bortles 3rd overall last year. They've been expected to take a pass rusher for months, and Dante Fowler Jr. is the name that comes up the most. Mike Florio of Pro Football Talk wrote this morning that it is believed that this pick could come down to Fowler (who Head Coach Gus Bradley wants) and Amari Cooper (who GM David Caldwell wants).
According to Jaguars reporter Mark Long who also covers the Florida Gators, the Jaguars won't take Fowler. He seems to be the only pass rusher they would consider here, and while I think Leonard Williams could and should be the pick, Amari Cooper is where I'll lean in my final mock.
The best way to help a young quarterback develop is to provide him with more weapons. Signing Julius Thomas in March was a start, but with Justin Blackmon unlikely to return, Cooper could be the number one receiver Bortles needs to take the next step, and would form an impressive young trio of wideouts with second round picks Marqise Lee and Allen Robinson.


4. Oakland Raiders
Leonard Williams*, DL, Southern California
Ht: 6-5 Wt: 302 lbs. | Class: Junior
Analysis:
Receiver is a big need for the Raiders, and Kevin White is the only guy other than Amari Cooper that I think will garner consideration here. However, the Raiders aren't going to pass on Leonard Williams. It's a perfect match.


5. Washington Redskins
Dante Fowler Jr.*, EDGE, Florida
Ht: 6-3 Wt: 261 lbs. | Class: Junior
Analysis:
Some people believe that Dante Fowler Jr. could be the first defensive player drafted, but he's probably not getting out of the top 5. The Redskins did draft Trent Murphy in the second round last May, but what's his ceiling as a pass rusher?
I'm told the Redskins are planning and hoping to take Dante Fowler Jr. at 5 tonight. If not, look for them to go OL. #Redskins #NFLDraft

— Dianna Marie Russini (@NBCdianna) April 30, 2015
Personally, I think it would be a reach to draft an offensive lineman here, so Fowler Jr. falling to Washington at 5 is probably the best case scenario, as he is currently viewed as the consensus top edge rusher in this year's draft.


6. New York Jets
Kevin White, WR, West Virginia
Ht: 6-3 Wt: 215 lbs. | Class: Senior
Analysis:
The Jets seem to really want Dante Fowler Jr. So much so, that they may trade up for him. If they stay put, could they take an offensive lineman like Brandon Scherff or Andrus Peat? It's possible, but the better value could be Vic Beasley, or possibly Kevin White.
I believe they'd go offensive line in a trade back scenario. While edge rusher is a bigger need than receiver, I believe the Jets will look to add another weapon to help Geno Smith in Kevin White.


7. Chicago Bears
Vic Beasley, EDGE, Clemson
Ht: 6-3 Wt: 246 lbs. | Class: Senior (RS)
Analysis:
I had Danny Shelton going to the Bears in my last Mock Draft over a month ago, and he'd make sense as a player who would fill a major need. There is also some buzz on an offensive lineman being drafted here as well. However, Vic Beasley is who I'll give the edge to for the Bears.


8. Atlanta Falcons
Alvin Dupree, EDGE, Kentucky
Ht: 6-4 Wt: 269 lbs. | Class: Senior (RS)
Analysis:
There has been some buzz about Todd Gurley being a Falcon, but this tweet by Peter King could make mockers project another player to Atlanta.
RT @B_ELLIS24: hearing more and more rumblings about Gurley to the Falcons at #8. your thoughts? … That will not happen. Book it.

— Peter King (@SI_PeterKing) April 27, 2015
I could see Brandon Scherff getting consideration here, but the most likely pick is probably "Bud" Dupree if both Fowler Jr. and Vic Beasley are off the board.


9. New York Giants
Andrus Peat*, OT, Stanford
Ht: 6-7 Wt: 313 lbs. | Class: Junior
Analysis:
We know the Giants love to draft the best player available. The question is, who do the Giants feel like that player is? Todd Gurley could be in the mix, as could Melvin Gordon III. But, the feeling I've had is that they'll strongly consider an offensive lineman here.
Brandon Scherff is the guy I thought the Giants would lean towards, but according to draft insider Tony Pauline, Andrus Peat looks like he will be the selection. Peat has higher upside, but would be a bit of a reach in the top 10.


10. Saint Louis Rams
Brandon Scherff, OL, Iowa
Ht: 6-5 Wt: 319 lbs. | Class: Senior (RS)
Analysis:
The Rams are the one team in the top 10 that seems destined to draft an offensive lineman in the first round for the second straight year. There's even speculation that the Rams could swap picks with Miami and take Eric Flowers. However, if they have the chance to draft arguably the top offensive lineman in the draft in Brandon Scherff, they'll likely take him.


11. Minnesota Vikings
Trae Waynes*, CB, Michigan State
Ht: 6-0 Wt: 186 lbs. | Class: Junior (RS)
Analysis:
Obviously drafting someone like Todd Gurley or Melvin Gordon III would only happen if there's a deal in place to trade Adrian Peterson. Personally, I believe this pick will come down to DeVante Parker and Trae Waynes. I feel like Waynes would fill the bigger need, and is a player they really want to pair with Xavier Rhodes.


12. Cleveland Browns
Danny Shelton, NT, Washington
Ht: 6-2 Wt: 339 lbs. | Class: Senior
Analysis:
If the Browns don't trade up for Marcus Mariota, you'd think DeVante Parker would make the most sense. However, Danny Shelton and Todd Gurley have emerged as the top two options at #12. Shelton seems to be the guy they've coveted, and they'll likely target Melvin Gordon III with the 19th pick.


13. New Orleans Saints
DeVante Parker, WR, Louisville
Ht: 6-3 Wt: 209 lbs. | Class: Senior
Analysis:
I have no idea who the Saints are targeting specifically with the 13th pick. Could they pick up one of the falling edge rushers Randy Gregory or Shane Ray? It's very possible. However, from what I've been able to gather, adding a receiver is high on their priority list, and DeVante Parker would make a ton of sense.


14. Miami Dolphins
Todd Gurley*, RB, Georgia
Ht: 6-1 Wt: 222 lbs. | Class: Junior
Analysis:
The Dolphins really seem to want DeVante Parker, but with him off the board, Todd Gurley is expected to be the pick. With the talented Lamar Miller already in the backfield, there wouldn't be a ton of pressure on Gurley to produce early in his rookie year, making this an ideal landing spot for him.


15. San Francisco 49ers
Arik Armstead*, DE, Oregon
Ht: 6-7 Wt: 292 lbs. | Class: Junior
Analysis:
Dorial Green-Beckham would be tempting for the 49ers, and I still believe he will be in play. But, smart money seems to be on them taking a gamble on the high upside of Arik Armstead, who could be Justin Smith's replacement.


16. Houston Texans
Dorial Green-Beckham*, WR, Oklahoma
Ht: 6-5 Wt: 237 lbs. | Class: Junior (RS)
Analysis:
Cam Erving? Kevin Johnson? Buzz is starting to form in favor of these two prospects being the favorites to be selected by the Texans. But, if Dorial Green-Beckham is on the board, I don't think they're going to pass.
According to Bleacher Report's Matt Miller, several teams in the first round want to draft Dorial Green-Beckham, and a team in the top 15 was told by ownership not to draft him. Good thing the Texans pick 16th. In my opinion, DGB is an elite talent, and the best receiver in the draft.


17. San Diego Chargers
Melvin Gordon III*, RB, Wisconsin
Ht: 6-1 Wt: 215 lbs. | Class: Junior (RS)
Analysis:
I feel like the Chargers are going to take either Todd Gurley or Melvin Gordon III with their first round pick. The question is, which one will fall to them? In this mock draft, it's Melvin Gordon III, who'd be an excellent consolation prize.


18. Kansas City Chiefs
Cameron Erving, OL, Florida State
Ht: 6-6 Wt: 313 lbs. | Class: Senior (RS)
Analysis:
The Chiefs are one team that I can't figure out. Will they reach for a receiver? Target an offensive lineman? Draft a corner? Who knows? Signing Jeremy Maclin shouldn't stop them from drafting a receiver, but it probably will. Cam Erving makes sense as a replacement at center for Rodney Hudson, but is a guy who could also kick back outside to tackle.


19. Cleveland Browns
Breshad Perriman*, WR, Central Florida
Ht: 6-2 Wt: 212 lbs. | Class: Junior
(via Buffalo)
Analysis:
Personally, I would not be a fan of this pick. Breshad Perriman is a second round prospect at best in my opinion, so this would be a pretty big reach. The upside is there, however, for Perriman to be a solid pro and a reliable deep threat.


20. Philadelphia Eagles
Nelson Agholor*, WR, Southern California
Ht: 6-0 Wt: 194 lbs. | Class: Junior
Analysis:
The Eagles are truly an unpredictable team. They've been linked to Nelson Agholor, Byron Jones, Phillip Dorsett, and of course, Marcus Mariota. If Chip Kelly wants to draft an Oregon prospect, the best Oregon Duck in the draft that makes sense here is Jake Fisher. I'm just going to take a guess and say Agholor is who they'll draft if they don't trade up.


21. Cincinnati Bengals
Cedric Ogbuehi, OT, Texas A&M
Ht: 6-6 Wt: 306 lbs. | Class: Senior (RS)
Analysis:
I wouldn't put it past the Bengals to swipe up a falling pass rusher (Randy Gregory or Shane Ray), but smart money is on them investing in an offensive tackle. I'm not a fan of Cedric Ogbuehi, especially in round one. But, Ogbuehi was viewed as a first rounder before he went down with an injury, and with Andrew Whitworth and Andre Smith both being free agents after this upcoming season, it would make sense.


22. Pittsburgh Steelers
Shane Ray*, EDGE, Missouri
Ht: 6-3 Wt: 245 lbs. | Class: Junior (RS)
Analysis:
I'm willing to bet that the Steelers will either draft a corner or an edge rusher here, and there are plenty of good options to choose from. Both Shane Ray and Randy Gregory have had off the field issues (marijuana use) that have hurt their draft stocks, but are top 10 talents on the field. Ray may get the nod here, and it could be a great match for both parties.


23. Detroit Lions
Randy Gregory*, EDGE, Nebraska
Ht: 6-5 Wt: 235 lbs. | Class: Junior (RS)
Analysis:
The Lions don't believe in drafting corners in the first round. I believe they should, but, I'm not running the team, so I have no say. I'd lobby for them to take Randy Gregory, which they will if they stick with their best player available approach. You're talking about the edge rusher with the highest ceiling in this class, and pairing him with Ziggy Ansah would be scary.


24. Arizona Cardinals
Eric Kendricks, ILB, UCLA
Ht: 6-0 Wt: 232 lbs. | Class: Senior
Analysis:
Steve Keim reportedly mentioned Byron Jones and Damarious Randall, but it wasn't clear if he meant as first round targets. Both players would be major reaches in round one in my opinion.
Separate sources have confirmed Eric Kendricks/LB/UCLA in the mix as the Arizona Cardinals pick in round one.

— Tony Pauline (@TonyPauline) April 30, 2015
This tweet from one of the most plugged in insiders suggests that Kendricks could be the pick depending on how the draft plays out. In my opinion, it would be an excellent pick.


25. Carolina Panthers
Ereck Flowers*, OT, Miami
Ht: 6-6 Wt: 329 lbs. | Class: Junior
Analysis:
Jonathan Jones of the Charlotte Observer believes that Eric Flowers and D.J. Humphries are more likely options than T.J. Clemmings. I'm convinced that Carolina will draft one of the two tackles. Humphries is the better prospect, but Flowers seems to be more coveted by the Panthers.


26. Baltimore Ravens
Marcus Peters*, CB, Washington
Ht: 6-0 Wt: 197 lbs. | Class: Junior (RS)
Analysis:
Earlier in the draft process, word circulated that the Ravens would avoid drafting players with character concerns. Now, many people are convinced that Marcus Peters, who has some character questions, is the player they covet here. But, did they think Kevin Johnson would slide to them? I'll play it safe and say they really love Peters.


27. Dallas Cowboys
Kevin Johnson, CB, Wake Forest
Ht: 6-0 Wt: 188 lbs. | Class: Senior (RS)
Analysis:
There are a couple of intriguing defensive tackles in available, but cornerback could be a higher priority for them. Kevin Johnson is expected to go much earlier than this, so he'd be a steal for the Cowboys, and could form an impressive tandem with Orlando Scandrick.


28. Denver Broncos
T.J. Clemmings, OT, Pittsburgh
Ht: 6-5 Wt: 309 lbs. | Class: Senior (RS)
Analysis:
I'm willing to bet they'll draft the best offensive lineman on their board. Jake Fisher, D.J. Humphries, and T.J. Clemmings are all still on the board, and you really couldn't go wrong with any of them. Fisher and Humphries project well on the left side, but Clemmings projects better to the right side than they do. That could play a factor.


29. Indianapolis Colts
Damarious Randall, FS, Arizona State
Ht: 5-11 Wt: 198 lbs. | Class: Senior (RS)
Analysis:
Draft Insider Tony Pauline had another interesting hot take yesterday. He believes the Colts will select Damarious Randall if he's "still on the board". Gross. Randall's hype train got way out of hand, and it could push him into the first round. Maybe they don't believe Landon Collins makes it to their pick. But, with Randall trending upward and Collins trending downward, this could prove to be the case.


30. Green Bay Packers
Byron Jones, CB, Connecticut
Ht: 6-1 Wt: 199 lbs. | Class: Senior (RS)
Analysis:
Green Bay is reportedly looking to trade back. I'd be willing to bet they're targeting a corner if they stay put, but most of the top guys are off the board. The Packers usually don't reach, but they could take a liking to Byron Jones, who happens to be the hottest prospect right now.


31. New Orleans Saints
Bryce Petty, QB, Baylor
Ht: 6-3 Wt: 228 lbs. | Class: Senior (RS)
(via Seattle)
Analysis:
There's been plenty of buzz the past few hours that the Saints could pull the trigger on Bryce Petty late in round one. I don't know what would possess them to do something dumb like that, but, for some reason, I do feel like Petty will be drafted late in round one. The NFL Draft is nuts.


32. New England Patriots
Duke Johnson*, RB, Miami
Ht: 5-9 Wt: 207 lbs. | Class: Junior
Analysis:
I expect the Patriots to move out of round one once again, but since I'm not projecting trades, I think New England goes out on a limb if they stay put. The name "Duke Johnson" popped into my head, and he'd certainly give New England some explosiveness out of the backfield that we haven't seen in some time.