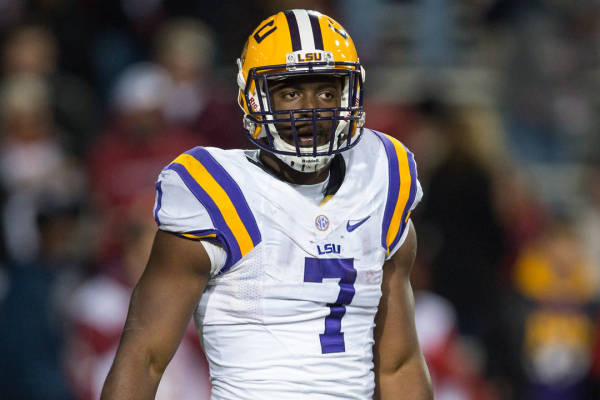 #7 Leonard Fournette, RB, Louisiana State
2017 NFL Mock Draft:
Round 1
(Wednesday, April 26, 2017)
Ah, Mock Draft Season. Well, I remember when I would write Mock Drafts just for fun well before I created "Real Sports Hype"
on sheets of notebook paper. Mock Drafts are an inexact science. My goal is to come up with the most accurate mock draft possible and try to predict what each team will do. This is not about what I would actually do if I were the GM of these teams. After reading tons of articles and looking for as much information as possible, here is my first and last 2017 NFL Mock Draft.

My Top 150 Prospects Big Board can be seen here, and my 2017 NFL Draft Positional Rankings can be viewed here, which features players grouped in "tiers"
and quick analysis on what I like/dislike about them and in some cases where they fit.


1. Cleveland Browns
Myles Garrett*, EDGE, Texas A&M
Ht: 6-5 Wt: 268 lbs. | Class: Junior
Analysis:
Here is the deal. Cleveland knows they must come out of this draft with their quarterback of the future. North Carolina Quarterback Mitchell Tribusky has long been viewed as the top signal caller on their board. There is speculation that they could pull the trigger on him with the first overall pick.
If they think Trubisky is their guy, they have to take him right? Well, not exactly. Myles Garrett is clearly the best prospect in the 2017 NFL Draft. He fills a big need at a premium position, and the Browns will look to trade up from No. 12 overall to grab Trubisky. They can't screw this up... can they?


2. San Francisco 49ers
Leonard Fournette*, RB, Louisiana State
Ht: 6-1 Wt: 228 lbs. | Class: Junior
Analysis:
This is where things could get interesting. San Francisco can go a number of directions here. The most logical and likely options is to trade down and acquire more picks. There will be a number of teams trying to move up for a quarterback. If they stay put, I don't see the 49ers "reaching" for a quarterback.
For some reason, the 49ers have not been regularly linked to a cornerback in this spot. Even though outside of quarterback that is their biggest need. Marshon Lattimore would be that guy. But, all reports are pointing to LSU running back Leonard Fournette being the pick. Even with Carlos Hyde on the roster, the front office seems to believe Fournette can be a transcendent talent as do I. They have bigger needs, but this could be a case of drafting the "best player available.


3. Chicago Bears
Solomon Thomas**, EDGE, Stanford
Ht: 6-3 Wt: 271 lbs. | Class: Sophomore (RS)
Analysis:
Great position for the bears to be in. They have long been rumored to select a quarterback even after signing Mike Glennon in the off-season. While Deshaun Watson has been viewed as the team's top choice,
PFW
's Greg Gabriel has debunked their interest in taking a quarterback at #3 overall.
There will be plenty of defensive talent to choose from. They may have more needs in the secondary and two of their targets Marshon Lattimore and Jamal Adams will be in play. But,
MMQB
's Peter King believes that the Bears "love" Solomon Thomas.
Their defensive line is solid, but Thomas is the second best prospect in this draft. Great value pick, not to mention he can be used all over the defensive line in John Fox's defense.


4. Jacksonville Jaguars
Jonathan Allen, DL, Alabama
Ht: 6-3 Wt: 285 lbs. | Class: Senior
Analysis:
For the longest time it seems like we have been able to pencil in running back Leonard Fournette in this spot. With him surprisingly off the board, things should get interesting. Blake Bortles is still in the roster, but has proven to be one of the worst quarterbacks in the league. Will Jacksonville pull the trigger on a QB at 4?
This is a tough call. I'm not convinced they take a running back not named Fournette, and there is still some good defensive talent on the board. I see Tom Coughlin and company targeting someone like Jonathan Allen if he slips to them at #4, but I will admit, I have absolutely no clue what they will do.


5. Tennessee Titans (via Rams)
Marshon Lattimore**, CB, Ohio State
Ht: 6-0 Wt: 194 lbs. | Class: Sophomore (RS)
Analysis:
With two first round picks, the options for Tennessee are plentiful. At some point, they will need to add a pass catcher. The strong feeling around the league and draft community is that a defensive back will be targeted here. Two elite safety prospects are sitting on the board in Malik Hooker and Jamal Adams.
One of them could be the pick, even with free agent signing Jonathan Cyprien and Da'Norris Searcy penciled in at the starting safeties, since Defensive Coordinator Dick Lebeau likes to use three. However, they still have the promising draft pick from last year in Kevin Byard. Marshon Lattimore will and should be the pick in my opinion. He is the consensus top cornerback prospect and could form a nice tandem with free agent signing Logan Ryan.


6. New York Jets
Jamal Adams*, S, Louisiana State
Ht: 6-0 Wt: 212 lbs. | Class: Junior
Analysis:
Could the Jets make the first move for a quarterback? If they are on the clock and LSU safety Jamal Adams is on the board, they are going to run to the podium. That is, unless they Like Ohio State safety Malik Hooker more.


7. Los Angeles Chargers
Malik Hooker**, S, Ohio State
Ht: 6-1 Wt: 210 lbs. | Class: Sophomore (RS)
Analysis:
Even though the Chargers will consider a quarterback of the future with an aging Philip Rivers on the roster, they would be foolish to pass on a game changing talent like Malik Hooker, who would fill a big need at free safety. If his medicals check out, Hooker should be a top 10 lock.


8. Carolina Panthers
Christian McCaffrey*, RB, Stanford
Ht: 5-11 Wt: 204 lbs. | Class: Junior
Analysis:
Christian McCaffrey is going to be a Carolina Panther if he falls to them at pick #8. You can basically book it. He is absolute game changer and offensive weapon. His versatility is a big reason as to why he has skyrocketed up draft boards, and the talent is undeniable.

9. Cincinnati Bengals
Derek Barnett*, EDGE, Tennessee
Ht: 6-3 Wt: 264 lbs. | Class: Junior
Analysis:
Every year it seems like the Bengals are projected to take a linebaker in the first round. I believe they are honed in on a pass rusher, and Derek Barnett is in all likelihood their target if Solomon Thomas and Jonathan Allen are off the board.


10. Buffalo Bills
Mitchell Trubisky*, QB, North Carolina
Ht: 6-2 Wt: 217 lbs. | Class: Junior (RS)
Analysis:
Deshaun Watson could be considered, but if Buffalo is set on drafting a quarterback, their sights seem to be set on Mitchell Trubisky. Tyrod Taylor is not in their long term plans. Trubisky will need a year or two to develop, but he has franchise quarterback upside.


11. New Orleans Saints
Haason Reddick, LB, Temple
Ht: 6-2 Wt: 230 lbs. | Class: Senior (RS)
Analysis:
Highly unlikely the Saints target a quarterback here. This pick is likely to be spent on a defensive talent. Cornerback is a pressing need, but with Reuben Foster still on the board, he should be in play as well. How about a curve ball? It is very possible that Temple linebacker Haason Reddick could be the pick.
The off the field stuff with Reuben Foster could cause him to slide, and the primary beneficiary of that could be Reddick. He is an EDGE who could make the transition to off ball linebacker, making him a versatile weapon on the defensive side of the ball.


12. Cleveland Browns (via Eagles)
Deshaun Watson*, QB, Clemson
Ht: 6-3 Wt: 215 lbs. | Class: Junior
Analysis:
As I mentioned above, it is no secret that the Browns rank Mitchell Trubisky as their top signal caller. If they are unable to trade up, I would expect them to "settle" for Deshaun Watson. I don't see the Browns heading into Day 2 without selecting a quarterback.


13. Arizona Cardinals
Patrick Mahomes*, QB, Texas Tech
Ht: 6-2 Wt: 224 lbs. | Class: Junior
Analysis:
Without many glaring needs, the Cardinals could be poised to shock a lot of people and take a quarterback. A name that continues to come up is Patrick Mahomes. He is raw, but has the most arm talent and arguably the most upside of any quarterback prospect in the draft. Taking him in round one makes little sense to me, but they will have no choice if they want to secure him, as the Chiefs and Texas are certain to snatch him up.


14. Philadelphia Eagles (via Vikings)
Charles Harris*, EDGE, Missouri
Ht: 6-3 Wt: 253 lbs. | Class: Junior (RS)
Analysis:
While the Eagles seriously need to consider a cornerback here, their main target, Gareon Conley just might be too risky to take here. They seem to love EDGE Charles Harris from Missouri. They may have bigger needs, but Harris is a top 15-20 talent and would be worth the selection in my opinion.


15. Indianapolis Colts
Reuben Foster, LB, Alabama
Ht: 6-0 Wt: 233 lbs. | Class: Senior
Analysis:
Foster's draft slide ends here. He fills a major need at inside linebacker, and is arguably a top 5 talent. They should definitely consider a pass rusher here, but I don't seem them passing on a talent like Foster.


16. Baltimore Ravens
Cam Robinson*, OT, Alabama
Ht: 6-6 Wt: 321 lbs. | Class: Junior
Analysis:
You should probably pencil in a receiver here for the Ravens, but I don't think that will happen if GM Ozzie Newsome loves Cam Robinson as much as it is being reported. They want to mirror the Cowboys approach and strengthen the offensive line, and what better way to do so than to selected the top offensive line prospect in the draft.


17. Washington Redskins
Jarrad Davis, LB, Florida
Ht: 6-1 Wt: 234 lbs. | Class: Senior
Analysis:
Dalvin Cook is still sitting on the board, but I expect him to slide come draft day. Florida linebacker Jarrad Davis is a fast riser right now, and appears to be high on Washington's draft board. The 17th overall pick is a little rich for Davis, but he is a first round talent with three down potential.


18. Tennessee Titans
O.J. Howard, TE, Alabama
Ht: 6-6 Wt: 251 lbs. | Class: Senior
Analysis:
The Titans would be in heaven if the draft fell this way. They have their pick of receivers Corey Davis, Mike Williams, and John Ross. However, even with Delanie Walker on the roster, they seem to love O.J. Howard, and he could be too talented to pass on in their minds.


19. Tampa Bay Buccaneers
Dalvin Cook*, RB, Florida State
Ht: 5-10 Wt: 211 lbs. | Class: Junior
Analysis:
Even though I mentioned that Dalvin Cook would fall on draft day, the Buccaneers could be the team to prevent that. He could be viewed as just too talented to pass on. Plus, I don't see any other obvious players to slot here that make a lot of sense.


20. Denver Broncos
Garett Bolles*, OT, Utah
Ht: 6-5 Wt: 300 lbs. | Class: Junior
Analysis:
If they are switching to more of a power based blocking scheme, Garrett Bolles may not make as much sense, though I'm not sure if they are making the switch or not. Bolles is a borderline first round talent, and would fill a major need for the Broncos. An offensive tackle selection has been telegraphed for a long time.


21. Detroit Lions
Mike Williams, WR, Clemson
Ht: 6-4 Wt: 215 lbs. | Class: Senior
Analysis:
David Njoku has long been considered a target for the Lions with the 21st pick. However, the fall of the top receivers ends here. The question is, which one will the choose? Mike Williams's skill set is more similar to Calvin Johnson's. No, Williams is no Calvin Johnson as a prospect, but he is the big target that can win the jump balls consistently, and that is what the Lions need in a boundary receiver right now.

22. Miami Dolphins
Forrest Lamp, OL, Western Kentucky
Ht: 6-4 Wt: 305 lbs. | Class: Senior
Analysis:
Draft insider Tony Pauline believes the Dolphins are "locked in" on Forrest Lamp. If none of the top pass rushers fall, that is a very likely scenario. It makes sense given the offensive line woes Miami has. Plus, Lamp is a legitimate first round talent than can play multiple positions among the offensive line,


23. New York Giants
David Njoku**, TE, Miami
Ht: 6-4 Wt: 244 lbs. | Class: Sophomore (RS)
Analysis:
A screaming hole at tight end with David Njoku on the board? The Giants are expected to target a tight end early, and they could do so with the 23rd overall pick. Njoku is not as complete as O.J. Howard... yet, but he has just as much talent and upside. Add him to the mix with OBJ, Brandon Marshall, and Sterling Shepard, and Eli Manning has a talented quartet of weapons at his disposal. Ryan Ramczyk could be considered as well, considering how the Giants view him on their draft board.


24. Oakland Raiders
Kevin King, CB, Washington
Ht: 6-3 Wt: 196 lbs. | Class: Senior
Analysis:
The acquisition of Marshawn Lynch should not stop the Raiders from investing in a running back, but they won't do so with this pick. Expect the Raiders to go defense, and a name to watch is Washington cornerback Kevin King. Al Davis lives on, as the Raiders really love speed, and King's performance at the combine confirmed that he is a fast, athletic freak, and he pushed himself into the round one conversation.
Before a few days ago, I felt strongly about the possibility of them selecting Jabrill Peppers here, but that appears unlikely now after the revelation of his "diluted sample" at the combine.


25. Houston Texans
Marlon Humphrey*, S, Alabama
Ht: 6-0 Wt: 198 lbs. | Class: Sophomore (RS)
Analysis:
After losing A.J. Bouye via free agency, the Texans could target a cornerback if they can't get a quarterback to fall to them. Marlon Humphrey could be a good fit, and if they view him as someone who could potentially switch to safety, this pick makes even more sense as they have a big need there.


26. Seattle Seahawks
Obi Melifonwu, CB, Connecticut
Ht: 6-4 Wt: 219 lbs. | Class: Senior (RS)
Analysis:
Will they pass on an offensive lineman again? If they really want Obi Melifonwu, there is a strong possibility. While he played safety at UConn, Seattle is one of the teams who view him as a corner, and he checks off all of their boxes when it comes to cornerbacks.


27. Kansas City Chiefs
Corey Davis, WR, Western Michigan
Ht: 6-3 Wt: 209 lbs. | Class: Senior
Analysis:
Not sure if the Chiefs would expect this, but if Corey Davis lasts this long they should run to the podium with the glaring need they have at receiver. Lack of athletic testing and pre-draft workouts could cause him to slide.


28. Dallas Cowboys
T.J. Watt*, EDGE, Wisconsin
Ht: 6-5 Wt: 250 lbs. | Class: Junior (RS)
Analysis:
A "war daddy" pass rusher. Cornerback. Those are the ways Dallas can go here. They have numerous options. EDGE rusher seems to be of higher priority in round one. Which one will they choose? The best fit could be someone like Taco Chartlon or T.J. Watt. The latest buzz is that Watt doesn't make it out of round 1, and while I'm not a huge fan, he could make a lot of sense.


29. Green Bay Packers
Tyus Bowser, LB, Houston
Ht: 6-3 Wt: 245 lbs. | Class: Senior
Analysis:
If Dallas goes T.J. Watt one pick earlier, Tyus Bowser could be in play for Green Bay. He has raw upside as a pass rusher, but can also transition to off ball linebacker. He is athletic, versatile, and talented enough to warrant a first round pick.


30. Pittsburgh Steelers
DeShone Kizer**, QB, Notre Dame
Ht: 6-4 Wt: 237 lbs. | Class: Sophomore (RS)
Analysis:
I was going to leave DeShone Kizer out of this first round mock because I could not find a team that seems interested in pulling the trigger in round one. The Steelers, who seem to have legitimate interest, could change that. They are looking for their quarterback of the future with Big Ben's long term future in question.


31. Atlanta Falcons
Derek Rivers, EDGE, Youngstown State
Ht: 6-4 Wt: 249 lbs. | Class: Senior
Analysis:
It isn't a secret that Atlanta wants and needs to add a pass rusher early. An interesting name is Derek Rivers. He could be very high on their draft board. He is an early to mid-second round talent, but they would have to pull the trigger in round one if they want him.


32. New Orleans Saints (via Patriots)
TreDavious White, CB, Louisiana State
Ht: 5-11 Wt: 193 lbs. | Class: Senior
Analysis:
John Ross as a potential replacement for Brandin Cooks would make too much sense, but I have the feeling the Saints want to snatch up a corner right here. White could fill that need and give them some much needed play making in the secondary.